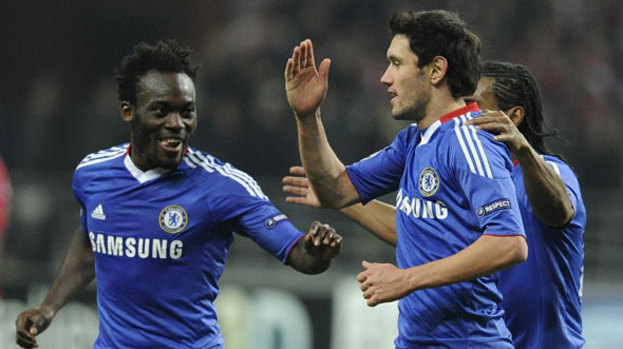 Since Roman Abramovich turned up at Stamford Bridge, his pockets bulging with gold, the aim has always been to win the Champions League.
The Premiership titles were great, the spell of domestic dominance under a certain Jose Mourinho was even better, but the Russian billionaire hasn't ever been content with just being the best in England. Why take a country if you can take the continent?
Picking up trophies has become a regular feature of Chelsea's season, even in the relative paucity of the post Jose era. Need further proof? In the last nine years Chelsea have picked up nine trophies, not including Community Shields, but the narrative is always about what they haven't, rather than what they have managed to win. What's never really noted is how unfortunate they've been.
Chelsea have come tantalisingly close to realising their Champions League ambitions on several occasions. A semi-final defeat to Monaco in 2004 was blamed on Claudio Ranieri's tactical fickleness, but was as much down to the brilliance of Fernando Morientes. A year later it was the contentious decision to allow Luis Garcia's Liverpool goal that kept Chelsea from the final.
While they were in their domestic pomp, Chelsea lost on penalties in the semi-final, again to Liverpool, in 2007. A year later and they suffered the same fate in their first ever final, this time against Manchester United. In 2009 it was the hugely controversial away-goals exit to Barcelona which killed off their challenge. In the moneyed, "golden era" (so far) of Chelsea's history they've always been just on the periphery in Europe.
In the past two seasons the Chelsea challenge has been distinctly less threatening. For the best part of this term it followed the same pattern; stumbling through a relatively unthreatening group, losing to Bayer Leverkusen, drawing with Genk and only surviving an outright thrashing in Napoli thanks to the heroics of Petr Cech. The consensus that the squad was aging was an awkward counterpoint to Andre Villas Boas' attempts at revamping the team. When he was fired pundits agreed that it was because he attempted to do too much, too soon.
And yet somehow out of this fractured season Chelsea have made the final. It's easy to highlight the negatives of their campaign, but it must also be remembered that they have been exceptional in their home matches. A clean sweep in the groups without conceding a goal was followed by an almost cavalier win against Napoli and a sticky, disciplined victory over Benfica.
And then there was Barcelona, one of the adversaries of Chelsea in recent years. While many of the clashes between the two sides in the last decade have been a showcase for some of the finest footballers in the world, this year's game was The Greatest Club Side In the World (Ever?) against the Chelsea Pensioners. But where in previous games the West London side were expected to match their Catalan opponents in guile, this time they relied on wits and tactics.
Much was made of the way in which Chelsea won the match, with sections of the Spanish press declaring that it was a defeat for "real football". What was glossed over was the fact that a team had managed to impose their way of playing on Barcelona for probably only the second time in three years. I would hope this is not unfair, but if the city of Barcelona conjures images of thoughtful sophistication, London – and perhaps Chelsea in particular – remain tied to notions of lor'-luv-a-duck-sir 'ard work, adversarial passion and perhaps even a little bit of niggle. Even in it's relatively nouveau-riche state. Whether intentional or not, Roberto Di Matteo's European Chelsea side hark back to the values (imagined or otherwise) of the pre-Abramovich, pre-Made In Chelsea, pre-Premiership days.
Now they face Bayern Munich, conquerors of Real Madrid, for the change to finally capture that most elusive of trophies, and the Big One as far as Roman's Empire is concerned. Bookmakers would suggest that the Germans are favourites, not least because they will host the final. Chelsea will also be missing John Terry, Ramires and (as he's all too aware) Branislav Ivanovic, the latter two having been exceptional performers during the campaign. But these omissions only feed into the idea that this Chelsea team are against the world. Somehow they've gone from feted, moneybags superstars to plucky underdogs, and it suits them.
It is said that it is better to be lucky than good. At various points during the last decade Chelsea have excelled in the latter category without much of the former when it came to the vital matches. This season they've been both fantastic and fortunate at different times. Who's to say they can't combine the elements for one more game?
People who read this story also read