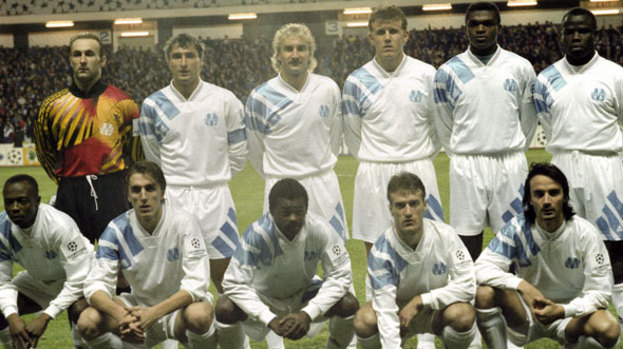 Since the inception of the Champions League in 1993 there have been 348 different players who have played in the final.
There have been 30 players who have played in finals with different teams. However, there have only been nine players who have actually won the trophy with two different clubs.
To clarify, we're only looking at the Champions League era, so that's since the tournament's rebranding in 1993. Also, we are only counting the players who have actually taken to the field at some point for the winning sides. If they were unused substitutes, they're not counted.
So, who are the nine?
Deco Portugal's playmaker won his first Champions League trophy under Jose Mourinho at Porto in 2004. Two years later and he added a second, this time whilst at Barcelona.
Marcel Desailly The stalwart of the French and Milan sides actually won his first Champions League trophy with Marseille in 1993. A year later and he won the title for a second time, scoring for AC Milan in their 4-0 win against Barcelona.
Didier Deschamps Current Marseille manager Deschamps won the first of his titles with Marseille in 1993. He won again in 1996 when Juventus defeated Ajax. He also tasted final defeat on a further two occasions.
Samuel Eto'o The Cameroon striker was part of the Barcelona side which won the Champions League in 2009. He became part of the exclusive back-to-back winner club when he repeated the feat for Inter against Bayern in 2010.
Owen Hargreaves Initially underrated in his homeland, Hargreaves showed his value when he was part of Bayern Munich's win in 2001. He was also part of the Manchester United team which beat Chelsea in 2008.
Christian Panucci Italian defender Panucci was part of the AC Milan side which demolished Barcelona in 1994. He also won the trophy when Real Madrid beat Juventus in 1998.
Clarence Seedorf The only man on this list to have won the trophy with three different teams. First up, Seedorf won the trophy with Ajax in 1995. In 1998 he won it again with Real Madrid, before winning another two trophies with AC Milan in 2003 and 2007.
Paulo Sousa The Portugal midfielder won back-to-back trophies with Juventus against Ajax and then with Borussia Dortmund against Juventus.
Edwin Van der Sar The Dutch goalkeeper was part of the all dominating Ajax side which won the trophy in 1995. 13 years later he won a second trophy whilst at Manchester United.
More About SPL trivia
Related articles
People who read this story also read