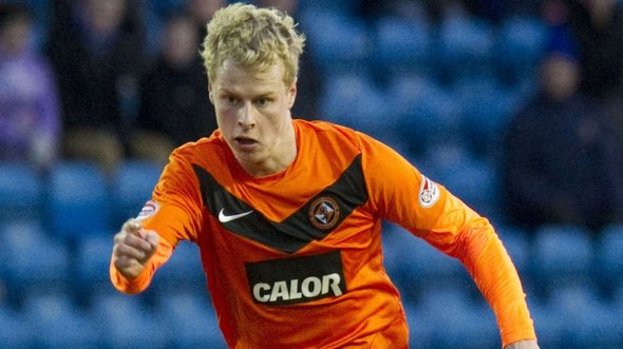 When Craig Conway scored his second goal at Hampden in 2010, United fans were left wondering how would we replace him? The answer would be found entangled in the departure of the other cup final hero David Goodwillie.
At the end of the 10/11 season, with Goodwillie's departure expected, Peter Houston spoke to Airdrie about having a closer look at the young Thurso lad they picked up from the Liverpool academy scrapheap.
It speaks volumes for the professionalism and patience of the young winger, as it was well into pre-season before he was officially signed. With the Goodwillie departure taking longer than expected Thomspon decided that Gary Mackay-Stevens (GM-S) was worth the risk, and signed him before a deal had been finalized for Goodwillie. It proved to be a excellent decision, with the winger going on to win PFA Youth Player of the Year and an U21 international call-up in the following year.
It wasn't an explosive start for Mackay-Stevens. His first few appearances from the bench ended in injury, which led United fans to worry if this youngster wasn't cut out for the physical nature of football at the highest level. It wasn't until a cup game against his former side Airdie that GM-S got to show his true potential, and he hasn't looked back since.
Mackay-Stevens is the type of player that fans created the phrase "players you pay to see" about. He has pace, power and skill and with each game under his belt he develops the confidence to put these talents on show. This was epitomized in a match against St Johnstone where we saw a piece of skill that has now been labeled the 'gazgetaway'. I wouldn't even know where to begin explaining what this move entails so I will prompt you to watch the link for yourself. Warning – do not try this at home. That is speaking from experience, and a sore ankle … and face.
As well as his skill with the ball at his feet he has can put in an excellent cross and has managed to notch a few goals as well. You only have to look at the goal tally rate of Jon Daly and Johnny Russell to see how productive he has made this United team.
It takes more than some flashy pieces of skill to gain the plaudits that the youngster has received this season. United already had Danny Swanson in the squad with the capability to show that type of flair. Whilst Swanson has a similar level of talent, he finds himself leaving the club on freedom of contract whilst Mackay-Stevens has been signed on for a further year. The difference in the two is their ability to handle the burden that comes with the being a winger. When you try the tricks these two do, you will get heavy challenges.
Mackay-Stevens has seen more and more of these as the season has progressed, and must now surely be close to the top of the "most fouled" player list. The difference is that Mackay-Stevens has not missed a game through injury since breaking into the team, whereas Swanson has, essentially, missed the last two seasons. It also shows his level of temperament. Mackay-Stevens has never retaliated after any of his challenges, whereas Swanson has seen more red cards than most United players.
Mackay-Stevens undoubtedly deserves his place in the top 10, and that says a lot considering this is his first season with the club. Whereas most young talents in Scotland worry if they have the ability to play at a higher level, GM-S has already competed against the likes of Jack Wilshire and knows fees that is where he belongs. I expect him to be knocking on the door of the senior Scotland squad next season, and looking to be at the top of this Top 10, as long as no Premiership teams agree with my opinion of him.
Kevin Taylor is the editor of Arabyze This, a place for all things Dundee United. You can follow them on Twitter.
People who read this story also read