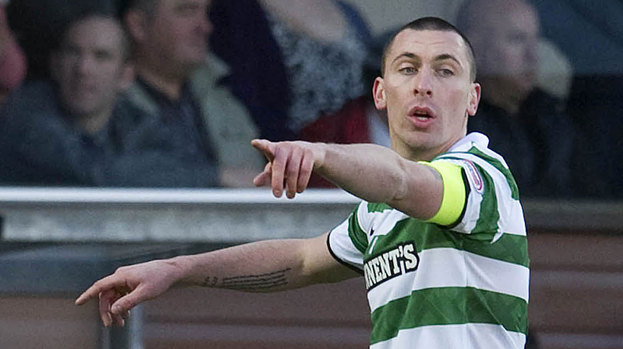 I have a Hibs supporting friend who still waxes lyrical about the foraging runs Scott Brown made into opposition boxes before he came to Celtic, and complains about 'what Celtic did to him'.
Aside from maturing him into a more level-headed player and putting a couple of league winners medals into his collection, this is a curious line to take, but a cursory glance at his scoring record at Hibs and Celtic is indicative that Scott has played a different role from at Celtic to the one he made his name with at Hibs.
In 110 appearances for Hibs, who were invariably mid-table, he scored 13 goals. In 141 appearances for Celtic he's managed just one more, despite taking up penalty kick duties this season for the champions.
As a Celtic player, Scott Brown is a very modern midfielder. During the season just ended you will read words like industry and commitment describing his play, both accurately. But in very simple terms, he's trouble to play against.
When Celtic destroyed Rangers 3-0 last month Scott Brown put his body between opponent and ball dozens of times. He has a burst of acceleration which closes 10 yards in little over a second which puts pressure on opponents' first touch. Instead of a forward move, they are often forced into a clearance, or worse, a tackle against a whippet-like player with a low centre of gravity, which means his recovery from the initial challenge is sprightly.
Industrious central midfield players are often anchored to that position but Brown can also play wide right, indeed many Celtic fans, myself included, think this is his best position. Like many teams, Celtic typically play with a diminutive player on the right. James Forrest flourished in this role before injury in the Scottish Communities League Cup final, but Celtic can add a more overtly physical threat in wide positions with Brown playing in the right midfield berth.
It is perhaps this flexibility that has been the most effective tool in Scott's locker this season. Without fear of contradiction, I can say that Neil Lennon has varied formations and tactics more often this season than any other Celtic manager in history. We often see several formations during a single game. With Scott Brown able to playing the holding role, push forward into the box, of cover every blade of grass on the wing, his manager knows he can spring new challenges on opponents throughout the game.
Celtic supporters watched rigid formations for years but as defensive play becomes more rehearsed, even against lower league opposition, all teams have to be able to change and adapt in the modern game. Scott Brown was crucial in delivering this kind of performance for Celtic this season.
*You can read the latest opinion and discussion of all things Celtic on Celtic Quick News . You can also follow them on Twitter.
People who read this story also read