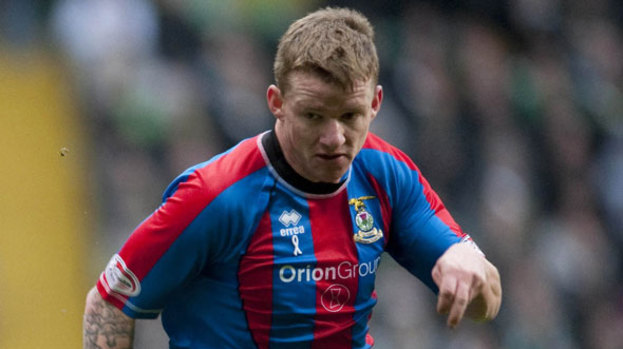 It's around now that speculators all over the country will be putting together their teams of the season.
During the course of the campaign pundits will observe the players and now that we're finished, they'll pick who they think performed best. This is an attempt at doing something different.
This team of the season is entirely picked based on statistics, and as such is something of an alternative team of the season. Each position has been filled by a player who, according to the numbers, offered something extra-ordinary over the course of the campaign. The usual gut instinct and observe-and-report theories when picking a Team of the Season haven't applied at all here. This is solely based on the numbers.
There's one final rule that I've adhered to when picking this team, but I'll keep that as the twist in the tale. So please, before anyone starts giving me grief about not picking any Celtic players, leaving out Allan McGregor or Jon Daly, or questioning why their particular player of the season didn't make it, please read to the end. There's a reason for it, trust me.
The Stats team of the season.
GK – Jason Brown (Aberdeen) Of the goalkeepers who played at least 15 matches last season, Welsh international Brown had the fourth highest save percentage in the entire SPL last season with 82%, behind Fraser Forster (85%), Allan McGregor (85%) and Marian Kello (83%). Of course, this statistic on its own would be fairly useless, but Brown also made the second most saves per game of any shot-stopper. Only Paul Gallacher (4.83) made more than the Aberdeen goalkeeper (4.6). He's not just busy, he's been effective.
RB – Jamie Hamill (Hearts) Only Tom Hateley provided more assists from right-back than Jamie Hammill last season, and his defensive record also holds up to scrutiny; he was part of 11 of Hearts' 13 clean sheets this season. Hamill is also a goal threat, and has the fourth highest shot accuracy in the division (66%) amongst players who have made at least ten attempts at goal.
CB – Andy Webster (Hearts) Hearts finished the season with 13 clean sheets, and Andy Webster was part of the team for 11 of those. In the domestic matches in which he didn't feature, Hearts won just two from eight, losing to Celtic, Motherwell, twice to Dundee United and being eliminated from the League Cup by Ayr United.
CB – Frazer Wright (St Johnstone) It is difficult to quantify the importance of a central defender based solely on statistics. Numbers don't tell you how last-ditch a tackle was or how well they tracked the runs of an opposing forward. What is more apparent is Frazer Wright's importance to St Johnstone's season.
The Perth side recorded the third highest number clean sheets last season with 15. When Wright was fully fit St Johnstone recorded 11 clean sheets and conceded 24 goals in 23 games (1.04 goals per game). Even then, that statistic is skewed by the nine goals leaked to Motherwell and Rangers at the end of the season. St Johnstone averaged 1.48 points per game when Wright was part of the defence. When he was unavailable St Johnstone conceded 26 in the 15 matches (1.73 goals per game) and picked up just 16 points (1.04 points per match).
LB – Paul Dixon (Dundee United) The modern full back needs to not only be able to defend but provide ammunition for more attack minded players. Only three players in the entire SPL provided more goals (9) last season than Paul Dixon; Steven Davis, Kris Commons and Anthony Stokes.
MF– Keith Lasley (Motherwell) Lasley has the third highest shooting accuracy in the SPL for players who have taken at least ten shots. Only Liam Buchanan and the departed Ryan Stevenson can better his 74% shooting accuracy. He's also in here because the Motherwell midfield is so formidable a unit, so we've got to include…
MF – Steve Jennings (Motherwell) Although not an out-an-out holding player, it has been Jennings' energies that have glued together Lasley's experience and the more attacking sensibilities of Nicky Law.
To further emphasise this we need only to look at the comparison of how Motherwell do when he is in the team and when he is not. When he took his place in the Motherwell midfield they were victorious just under 50% of the time. When he wasn't part of the team Motherwell won 20%, a period that coincided with the sticky spell they endured around Christmas.
MF – Nicky Law (Motherwell) The final part of the Motherwell midfield trio, Law has been the most attacking presence of the three. Eight assists, four goals and a 50% shot accuracy are all good indicators as to why.
FW – Paul McGowan (St Mirren) The former Celtic player was the single most fouled player (98) in the SPL last season, mainly because of his direct style and willingness to run at players. He was also ranked third in the players that drew the most fouls per game (2.7), alongside the likes of Gary-Mackay Steven (3.2), James Dayton (3.3) and Kris Commons (2.4).
McGowan's other statistics add up well too. He had a respectable 53% shot accuracy percentage, and managed around 1.48 shots per game, which is comparable to the more overtly striking players like Garry O'Connor or Jon Daly.
FW – Jonny Hayes (Inverness CT) Hayes scored 9 goals and created a further 7 in the past season, which is a formidable record for any wide player. What is all the more remarkable is he did so whilst only managing to play two thirds of a season. Inverness only managed 42 goals all season, and Hayes had a direct hand in 38% of them.
He had a respectable 46% shooting accuracy and provided either a goal or an assist for Inverness every 1.6 matches. With him in the team the Highlanders managed 33 goals in 25 matches (1.32 goals per game, a rate better than third placed Motherwell), without him they scored just 11 goals in 13 games (0.85 goals per game).
ST – Francisco Sandaza (St Johnstone) Not only do you want your lone striker to be able to hold up play, win headers and run at defenders, you want him to be able to finish whatever the creative players in the team provide. Of players who had taken a significant number of shots, only two players in the SPL had a better shot accuracy percentage than Sandaza, top scorer Gary Hooper (64%) and second top scorer Jon Daly (55%).
The Spaniard also managed to work himself plenty of opportunities to shoot. Of the strikers in the SPL, he ranked fifth overall in the ratio of shots to matches played. Nikica Jelavic finished first amongst forwards (2.6), followed by Anthony Stokes (2.5), Kyle Lafferty (2.4) and Leigh Griffiths (2.3). Sandaza managed 1.8 shots per game, and with a very high level of accuracy.
Sandaza's conversion ratio was also very respectable. For forwards who have taken at least ten shots at goal he ranks ninth in the division, and last season he averaged a goal or an assist once every 1.2 matches.
Summary
So, now we've named the team, you'll want to know why some players have made it and others haven't. I'm sure there are fans who, understandably, want to know why no players from the SPL winners made the list or why the likes of Steven Davis or Allan McGregor – who were statistically exceptional – were left out.
Quite simply, this is a team made up not just from the players who performed very well statistically speaking, but could have been part of your team at some point in the last 12 months for no money at all. Despite what Liverpool's attempt at "Moneyball" might suggest, the whole point in the exercise, and practices such as sabermetrics in general, is to use statistics to find players who are underrated in their team and available for a lower price than a more stellar acquisition.
Each of these players has been available under freedom of contract in the past 18 months. With the exception of Andy Webster, each has been available for free within the last year. With a bit of foresight, theoretically at least, this could have been your SPL team for 2012/13 with an outlay of £0 in transfer fees. Don't tell me there aren't bargains out there.
People who read this story also read