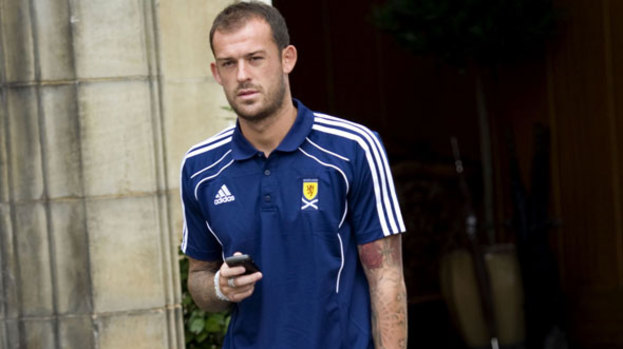 Exiled from the Scottish national team and playing for a club that was relegated from the English Premier League before the last day of the season.
You would be forgiven for not jumping to the conclusion that this is the description of a candidate for the Online Writers' Player of the Year.
However, despite Wolves' late season slump Steven Fletcher has established himself in the past three years as a heavyweight striking force in what is arguably the most competitive league in the world.
In the 11/12 footballing year, former Hibee Fletcher netted a very commendable twelve goals in thirty-two games. This is even more impressive when you look at the fact that Wolves only scored forty goals all season, meaning the Scot provided more than a quarter of his club's causes for celebration.
Fletcher has shown regular composure, confidence and character on the pitch this season, and his record of netting headed goals in particular has been as good as many of the league's more high profile strikers.
With top class finishing and a solid tactical mind Fletcher scored the goals that kept his club in the relegation battle until late in the season, making him a fans favourite at Molineux. It is only unfortunate for the tartan army that the international outcast isn't as popular with Craig Levein as he is with the Wolves support.
Despite being relegated twice in three years, firstly with Burnley and now with Terry Connor's Wolves, there is no doubt Fletcher is a proven Premier League striker. The attacker has scored twelve goals in three consecutive seasons since hopping the border and is a shining example of the rare occasion when a Scots' transfer from the SPL to English Premier League turns out hugely successfully.
Unfortunately for the Molineux faithful, it will be a big shock if Fletcher is still playing in the gold of Wolves come next season, as the striker will likely be a target for various established clubs during the summer.
The left footer will be hoping to find the kind of security that fellow former SPL man Nikica Jelavic has stepped into at Everton, and if Fletcher does make the move to a side fighting at the right half of the Premier League then there is every chance he will go above and beyond his quality Premiership performances so far.
Whilst the international career of Steven Fletcher would appear to be, frustratingly, over for now, the twenty-five year-old's club form has seen him attract praise from many for consistently high calibre performances and an exceptional eye for goal.
When all is said and done, it is hard to think of another current Scottish footballer who could have equalled Fletcher's success in front of goal this season in a league which provides top class opposition in every match.
Stuart Kenny is sports editor at The Brig newspaper. You can follow them on Twitter.
More About Scottish Player of the Year
People who read this story also read