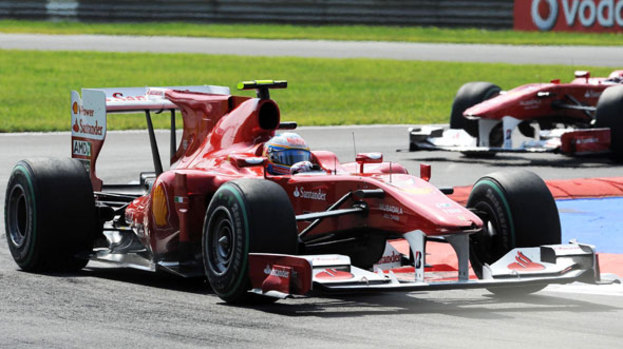 I have to admit, I was a little blasé going into the Valencia race this weekend. It was really one to just get out the way before we go to Silverstone in two weeks time.
Typically, Valencia is one of the most mundane races of the year, but in keeping with the tradition this vintage, you never can tell.
The race was exciting and unpredictable, and I'm always happy to be proved wrong when it goes that way.
Nobody could have predicted the podium line-up this week. Qualifying set up a pretty unusual top 10 and the race threw even more surprises into the mix.
Red Bull brought a raft of updates with them and it looked like current world champ, Sebastian Vettel, could make it a hat-trick of victories. Although it is not a popular one with most drivers, he is very comfortable on the Valencia track and he has won there for the last two years.
Vettel pulled a stunning gap of 0.3 seconds to take pole position on Saturday, and considering positions two to 10 were separated by just over half a second, that was an impressive result even by his high standards.
In his now established style the German scampered away at the start of the race on Sunday, and it looked like it was set to be another easy win for the driver as he eased out a 19 second lead. Then the safety car came out.
Contact between the Toro Rosso of Jean Eric Vergne and the Caterham of Heikki Kovalainen on lap 28 meant we saw the emergence of the safety car, so marshals could collect debris from the track. This bunched up the cars and instantly destroyed Vettel's lead.
It then went from bad to worse for Vettel, as shortly after the restart his car suddenly died and he was out of the race entirely. He reported that they didn't know what the problem was but they couldn't rule out something happening because he had to slow down under the safety car.
It was clear to everyone watching Vergne should certainly be penalised; he crossed back in front of Heikki far too soon after passing him. Handing down their ruling after the race, the stewards clearly agreed. Vergne was given a 10 place grid penalty for the next race and a £25,000 fine. Considering Toro Rosso are supposed to be the Red Bull feeder team, I'd predict Vergne won't be moving up to the big boy team any time soon after that stunt.
However, in a fairy tale style result, Fernando Alonso took the win in the second Spanish race of the year, and the joy at being able to deliver this in a country where he is considered a national hero was obvious to see.
Alonso stopped his car half way around his victory lap to get out and wave to the screaming crowds in the grandstand. Marshals raced over to congratulate the obviously emotional Spaniard.
Considering he had started the race outside the top 10, this will have been even more rewarding for him as well as for Ferrari.
A gripping qualifying saw some of the so-called "stars" of F1 lining up in odd positions. Both Alonso and Massa were out of the top 10, and on a day when Ferrari's big boss Montezemolo was at the circuit to watch, this will not have been pleasant for any involved!
The other shock was Mark Webber, who started in a surprising P19. His car struggled with brake, hydraulic and DRS problems during the final free practice session on Saturday and he was left to sit most of it out.
This set the tone for his day on Saturday and the problems continued throughout qualifying, but on race day he drove a mature race and managed to finish in an impressive P4.
However this clearly wasn't good enough for the Aussie, who accused the man who finished in front of him, one Michael Schumacher, of using his DRS under the yellow flags.
This was instantly dismissed by Mercedes team boss Ross Brawn, who said he had made sure Michael hadn't done just that by switching off his DRS 30 metres before the flags. The stewards also cleared Schumacher of any wrongdoing.
This is Schumacher's best result since he returned to the sport in 2010, but it has to be said that while he drove well, he probably wouldn't have managed it had there not been crashes and engine failures further up the pack. However, that is the world of F1 and the seven-time-world-champion took his place on the podium for the first occasion in nearly six years.
There were quite a few casualties during the race, one such notable was Lewis Hamilton. The Brit had been hanging on to a podium position despite seeming to have to fight with the car and having to sit through yet another gut-churning McLaren pit stop.
Hamilton jumped into the pit lane from P3 when the safety car came out, but in what has become an almost predictable turn of events, McLaren messed up the stop, with the front jack failing. This left Hamilton sitting in his box while others came and went, eventually feeding him out into P6.
Pit stop problems have dogged McLaren all season and for a championship winning team this is surely something that requires a serious investigation. For fans of the team it has become a tense moment when the drivers have to enter the pits.
However Hamilton drove an impressive race and pushed as hard as he could, while still having to look after his tyres. It looked like he could have finished in P2 or P3, but thanks to a catastrophic coming together with Pastor Maldonado it was not to be.
To coin the overused but very descriptive phrase from the last couple of years, Hamilton's tyres totally fell off the cliff just two laps from the chequered flag, and he was a sitting duck for cars behind him.
First came Kimi Raikkonen, who had been sitting patiently behind the McLaren waiting for his chance. He passed him with relative ease. And then came Pastor Maldonado.
The Venezuelan and Hamilton battled fiercely for position, but with both of the drivers refusing to give up it could only end one way. Hamilton defended hard and Maldonado was forced into a run off area, but when Pastor moved to rejoin the track he drove right into the side of the McLaren taking him out the race.
Opinions on social networking sites seemed to be split over whether Hamilton defended too hard against Maldonado and it was just a racing incident as he tried to get back in the mix, or whether Maldonado should have waited for Hamilton to pass him before rejoining behind and trying again later.
Since the end of the race, stewards have issued Maldonado with a 20 second time penalty for "failing to rejoin the track in a safe manner."
He finished the race in 10th place so this penalty simply lost him a point and gave it to Bruno Senna, who had been in P11. My personal view is that Maldonado should have be handed a penalty for the next race as the sanctions had hardly any effect, while Hamilton's race was ruined.
This wasn't the only contact on Sunday however, Bruno Senna and Kamui Kobayashi came together on lap 21; an accident which somewhat controversially caused Senna to be handed a drive through penalty even though he was the car in front and it didn't look like his fault.
Just after the safety car pitted and the race restarted on lap 34, Massa also had a collision with Kobayashi. Massa was forced to pit for new tyres and new nose due to the damage and Kobayashi retired, but stewards have given him a five-place grid penalty for the next race.
It just goes to show you never can tell what the stewards will decide, or whether they will apply consistency in their verdict.
On top of all this Romain Grosjean, who had looked like he could battle Alonso for the win at one point, was forced to retire with an alternator failure on lap 41. It would have been good to see what the Frenchman could have done as he had been driving well up until then.
The Force India's had their best team result of the year this weekend. The cars had looked really strong during the free practice sessions but unfortunately during the final qualifying session Paul di Resta made a mistake in the last section of his flying lap and he lined up to start in P10, while his team mate Nico Hulkenberg managed P8.
Considering they had been hoping to be around the P6 mark this was a bit of a blow for the team.
As a result Force India put Scotsman di Resta onto a riskier one-stop strategy, which he managed to make work despite also being a sitting duck like Hamilton in the closing stages of the race thanks to tyre degradation.
However the collisions and retirals further up the field also played into Force India's hands, with Hulkenberg eventually finishing in P5 and di Resta in P7.
The excitement of a traditionally boring race is hopefully a sign that this season will continue to surprise and enthrall fans, and with Silverstone next on the calendar it will be even more exciting for the British fans.
Fernando Alonso may have ended the streak of different drivers winning every race but it hasn't dampened the season by any stretch of the imagination. Bring on Silverstone!
*In case you haven't already picked up, I will be heading to Silverstone for the race this year. Rest assured that I will be armed with my trusty phone and plan on taking LOADS of photos, and posting lots on my Twitter account to paint a picture for those of you who can't make it.
Make sure to follow me on Twitter to get all the info first.*
More About Formula One
Related articles
People who read this story also read