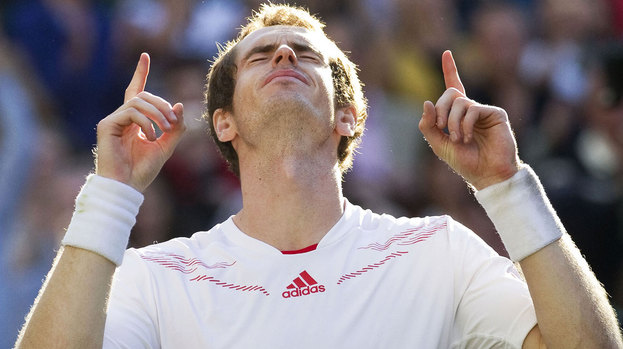 Scotland's Andy Murray has done what no other Briton has done for almost 80 years and made it to the final of the men's single competition at Wimbledon.
The 25-year-old will take on six-time champion Roger Federer in their 16th meeting – their first on grass and the third in a Grand Slam final.
Murray was in imperious form in his semi-final as he took a two set lead against Jo-Wilfried Tsonga, last year's semi-finalist and world number five.
Tsonga made a commendable comeback in the third set as he looked to repeat his quarter-final match against Federer last year where he stormed back from two sets down.
Murray, however, held strong in the fourth set to book a place in Sunday's final.
While Murray has lost in his three previous Grand Slam finals, twice against Federer and once against Djokovic, this is his greatest opportunity to break the 76-year drought for a British male Grand Slam winner.
Here Martin Owens examines Murray's chances of claiming the title.
Since his last Grand Slam final at the Australian Open in 2011, Murray's game hasn't changed a lot.
While he now delivers venomous inside-out forehands on a much more consistent basis, the main change, which could lead to a first Grand Slam title tomorrow, is his new-found maturity on court.
Thanks to working with Ivan Lendl for the past seven months, gone are the days of Murray berating himself and the members of his entourage in the player's box.
Lendl has, in their short time together, managed to install in Murray a sense of belief that has been lacking in his previous Slam assaults.
Statistically, Murray's route to the final has been the more difficult of the two finalists.
Out of Murray's six opponents in the previous rounds, only one has not, at some stage in their career, featured inside the world's top 10 – and that man was 6ft 10 inch ace machine Ivo Karlovic, who peaked at world number 14.
There were some worries before Murray started his 2012 Wimbledon campaign that his fitness and form would hamper any chance of him winning his breakthrough Slam title.
The fashion in which Murray has dispatched some of the world's toughest players to reach his fourth Grand Slam final, however, has shown that any worries were unfounded and that Sunday is be the perfect opportunity to break his Grand Slam jinx.
You can follow Martin Owens on Twitter.
More About Wimbledon
Related articles
People who read this story also read