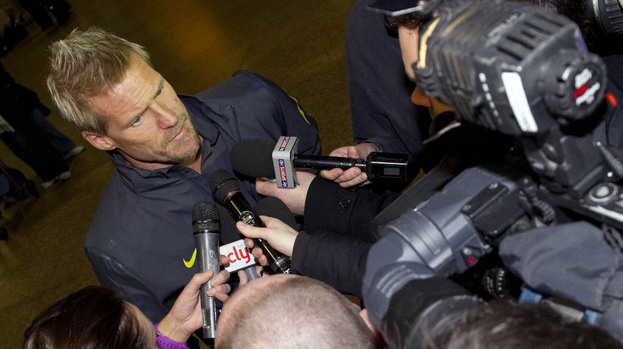 Celtic just cannot score, sparking crude clichés across the internet.
Johan Mjallby wants an end to images of rolled up tenners and barrels of dubious content and reckons his Hoops are the on the right track, despite firing blanks again.
The Kevins Kyle and Thomson are back fit again and making targets for themselves. They could hire motivational speaker Kenny Shiels to inspire them to achieve their goals.
Down south we have glance lower down the leagues, including the Amazing Travelling Joseph Barton Circus ("Gasp as he tries and fails to tame himself! Cheer as he shoots his career out a cannon!") rolling into sleepy Fleetwood.
TOP STORIES
Mjallby insists Celtic are showing improvement in pre-season
Another friendly defeat for the Celts, but towering Nordic prince Johan insists everything's cool in the Parkhead hood.
Dundee could have season opener postponed if SPL share is not transferred
Recently anointed SPL boss Barry Smith is doing is finest to remain cool as a cucumber after being thrown into a promotion. "We're not fazed," quoth the horizontal gaffer.
Kevin Kyle will pursue a move to Rangers if can't win a deal at St Johnstone
Gargantuan centre forward Kevin Kyle could sign for St Johnstone just in time for them to play Marseille. Or he could sign for Rangers just in time to play Peterhead.
Kenny Shiels tells Killie fans get out their armchairs and back the club
'The Gaffer' delivers a sermon from the mount, quoting Barack Obama, Nelson Mandela, Abraham Lincoln, Winston Churchill, Jean-Paul Sartre, Soren Kierkegaard, Stephen Hawking and EL James in a short interview.
Darren Barr fit again for Hearts clash with Rotherham
The Jambos defender or midfielder is likely to be back in contention for the glamour trip to industrial South Yorkshire.(Daily Record)
Fit-again Kevin Thomson wants to get back on the international scene
Ex-Rangers and Hibs man is back from the 34th long-term injury of his Clouseau-esque career and gunning for a place in the Scotland squad. (The Scottish Sun)
MUST READ
Ten Football League talents you may not have heard of
If your club is looking for a bargain, maybe you could send them this list of under-the-radar talents from down south. (Lovely Left Foot)
ESPN ties up Bundesliga rights
Getting a TV deal in kein Problem over in Germany, where ESPN have signed up to show the top football from the Bundesliga. (Bundesliga Football)
Joey Barton: Why I'm training with Fleetwood
The country's foremost cutter and paster of clever-sounding quotes now comes with spanking new website, so you'll never go wanting for your fill of Joey madness.
MUST SEE
Grant Wahl on MLS, David Beckham and Rangers
Sports Illustrated's Wahl talks to STV about Major League Soccer, Becks The Brand and the Ibrox American trio of Edu, Bocanegra and Bedoya.
MUST WATCH
Do you fail at keepie-uppies? Prepare to seethe with jealousy as the embarrassingly talented FC Barcelona squad keep the ball up whilst all holding hands. Awww.
More About Football Talk
Related articles
People who read this story also read