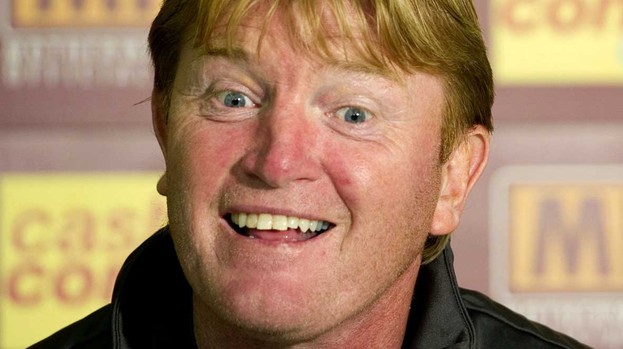 Far be it from Football Talk to make judgment on such things, but it's pretty funny to see little Motherwell metaphorically waving a wad of tenners in the face of 20-times Greek champions Panathinaikos.
In a pre-match chat which ramped up the pressure on the empty-pocketed Athenians, Stuart McCall stopped short of spitting on the floor and telling them: "See that? That's your swimming pool, that is."
Speaking of hard up, SPL chief Neil Doncaster and Celtic's Peter Lawwell are holidaying at home due to the recession.
The loved-up pair flew to London to take in a show, ride the London Eye, beg television companies for money and pitch a script for a rom-com featuring the unlikely coming together of a hardened silver fox executive and the fish-out-of-water Englishman whose eyes meet across the corridors of Hampden.
TOP STORIES
'Desperate Panathinaikos need the cash from beating us'
Ahead of Motherwell's biggest European match of all time, manager Stuart McCall plays it cool.
Keith Lasley wary of away goal risk
New club captain Lasley pinpoints the importance of keeping a clean sheet to take to Athens next week.
Neil Doncaster and Peter Lawwell travel to London as talk continue over SPL television deal
Please give us your money Mr Murdoch. We'd be ever so grateful. Thomas Rogne expects a tough league campaign
The Norway centre half is taking nothing for granted on the home front, as Celtic battle abroad to make the Champions League group stages.
Samaras is the dangerman, says Helsinki ace
As the big Greece forward flips a coin to decide whether he is going to be sublime or ridiculous on Wednesday night, the Finns will be ready for the former. And hoping for the latter. (Daily Record)
Tight Finns travel in separate groups to reach Glasgow
HJK arrive over the horizon in three Skodas, a Ford Fiesta and the gaffer's sister's mate's husband's mini van. (The Scottish Sun)
Deal for Craig Beattie is in the balance
Scottish Cup winner Beattie could be a Ger this week, unless he gives in the sultry, seductive charms of Notts County. (Daily Express)
MUST READ
Next up for Motherwell – Panathinaikos
Motherwell fans site takes a look ahead to their glamour opponents. (Fir Park Corner)
Before Tiki Taka and Total Football, there was 'Champagne Football'
Another beautifully crafted retrospective looks back at the "disciples" of beautiful football, the mid-20th Century's Stade de Reims team. (In Bed With Maradona)
Bringing 'soccer' to Boston's hallowed turf of baseball
A look at how Liverpool and Roma brought football to the legendary Fenway Park. (The Shin Guardian)
MUST WATCH
Christian Eriksen – quite good at free kicks (too late for my Euro 2012 fantasy team mind you).
More About Football Talk
Related articles
People who read this story also read