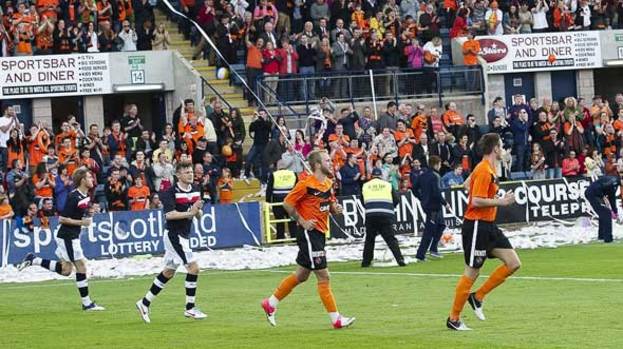 It is not every day you get to pick the brains of members of one of Scotland's most celebrated families.
There are few more recognisable faces to Scottish newspaper readers than that of Hen and Joe Broon, Glebe Street's finest, who have given us their thoughts on the dark blue and tangerine sides of Dundee.
Hen Broon discusses Dundee's chances in the SPL during season ahead, while his brother Joe is looking at Dundee United.
We brothers Broon dinna actually come frae Dundee but we've turned up for work there on The Sunday Post every week since 1936 – so we take a lot o' interest in the city's fitba teams.
How do you think the Dundee clubs got on last season?
HEN: Dundee are sleeping giants. Crivvens! They won the League as recently as 1962! So last season was a disappointment, it was like oor summer - over before it got started. Mind you, the closed season has been fantastic. Heh! Heh!
JOE: United had a good season generally, 4th in the League with a team that was being rebuilt. (Dinna speak aboot cup quarter finals in the Arab quarter.) United ken how tae get the best oot o' youngsters, I wonder if Peter Houston uses the same methods that PC Murdoch does on Oor Wullie? A size sixteen boot applied to the rear on occasions.
Have you got any favourite players in the Dundee and Dundee United lineups?
HEN: Big Rab Douglas. How many times did he save the Dees last year? Once he has the ba' he never lets it go. A bit like my sister Daphne wi' a scone.
JOE: For United keep your eye on Gary Mackay-Steven and Jonny Russell and for clubs wi' bigger cheque books keep your eyes aff them. My other sister Maggie says she micht take up watching fitba if these laddies were playing every week…but even more tempted if big Davie Dodds made a return!
There's a Dundee derby in the SPL for the first time in 7 years. Are you looking forward to it?
HEN: Fantastic for Dundee after all the years. It's made all the more special because in Dundee, Dens Park and Tannadice are only a few yards apart and this will be the first League derby since 2005. Bring it on!!
JOE: The games wi' St Johnstone just up the river in Perth are braw heated affairs tae. Three Tayside teams in the SPL is worth lookin' forward tae.
Where do you think Dundee and Dundee United are going to end up at the end of this season?
HEN: Finishin' in the same league as they started in will be the Dees main aim but deep doon the dream is tae be above United, no' matter how unlikely.
JOE: Tell you whaur I think United will finish up – if Dundee finish above them, then they'll hae won the league! Work that ane oot for yersels.
If you could sign one player, from any era of football, for Dundee or Dundee United, who would you sign?
HEN: I'd resign the keeper who played for the Dees 1949 – 59. He was so good he was capped for Scotland 28 times. Reason I'd sign him? He was a Broon – Bill Brown to be exact.
JOE: Pele, I'd sign Pele. He'd never get booked. By the time the ref spelled oot his whole name – Edson Arantes do Nascimento – he'd wish he hadnae started. The boy was no' a bad player either.
Hen & Joe Broon ©DC Thomson & Co. Ltd. 2012
Huge thanks to DC Thomson for letting us get in touch with Hen and Joe. You can see them every weekend in The Sunday Post, and buy their annual on the DC Thomson website.