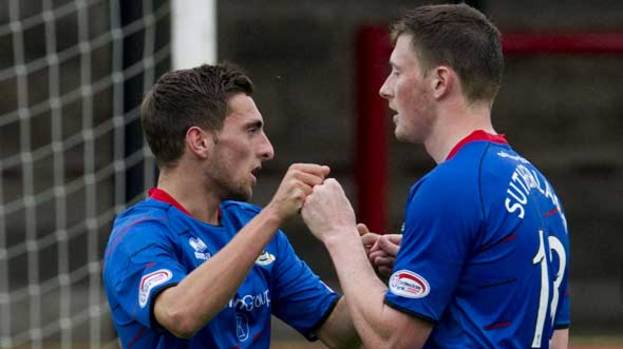 Inverness couldn't quite get going last season, but kept the relegation battle at an arm's length for the duration of the campaign.
It's been another rebuild for Terry Butcher this summer, but supporter Ross Paterson hopes the Inverness manager can put together another team to suprise the division.
How would you rate last season on a scale of one to ten?
Two out of ten; where only SPL survival and a helping hand from Dunfermline's Chris Smith in the Scottish Cup prevented a one out of ten assessment. This has led to us bucking the trend in the upcoming season, being the only SPL team to suffer a decline in Season Ticket purchases compared to last season. This is not a big surprise considering last season's regular poor performances, long-ball-to-small-striker tactics, loan-signing 'mercenaries' and further loss of club stalwarts, leaving fans feeling less connected to the team compared to previous years.
How do you think the current squad is shaping up?
Our annual pre-season wins against Highland League teams seemed to prepare the team well for the home friendly against Coventry City; when fans came away raving about a new tactic of passing the ball on the ground. The bubble soon burst though with a loss to Brechin City, who themselves were humbled by plucky lower league opposition soon after.
In terms of personnel, the goals and assists of Jonny Hayes is a huge setback, but hopefully with the returning Andrew Shinnie and Aaron Doran they will replace his attacking contribution. Another player highlighted by Terry Butcher to emulate Hayes' wing play is local lad Shane Sutherland, whose game time has increased steadily over the past few seasons. This is a view that isn't popular with the ICT fans however, with many feeling Sutherland is better suited to leading the line.
Further attacking additions include young Crewe striker Jason Oswell, former QPR youth midfielder Connor Pepper and Macclesfield midfieler Ross Draper; who has brought back memories of a young Bobby Mann both in distribution and physique.
One of the biggest problems with last season was our back four, where regular injuries led to weekly changes in defensive personnel. To address this problem Butcher has signed Gary Warren and Simon King from the lower English Leagues. Both performed brilliantly in their pre-season debuts... but then succumbed to the ICT curse and got injured and missed the following week(s). Butcher also signed former Liverpool defender David Raven, who worryingly struggled against our lower league opponents and then quickly joined Warren and King on the treatment table.
With these injuries we've relied upon captain Ritchie Foran to play in centre defence, where he has been excellent. Should cloning technology advance I would encourage ICT to invest in further Foran's to play in centre midfield, on the wing and up front.
Are there any areas that you think need strengthened?
We still appear to be light in certain areas in defence and attack but it's quite apparent that the budget won't allow any further additions. In particular I'm concerned that we don't seem to have a left back replacement should Graeme Shinnie be injured.
Butcher will be looking to the younger players to step up this season to fill these areas. Thankfully the encouraging recent performances of Polworth, Laing, Pepper and especially defender Matthew Cooper (also now injured unfortunately) has suggested they are up to the challenge.
We could also maybe do with a Nandos in Inverness city centre to help keep players like Jonny Hayes, who regularly tweet about the lack of this particular chain restaurant in the centre.
Who do you see as being the team most likely to challenge at the top of the division (other than the obvious)?
SPL team budgets have been cut following the uncertainty over television contracts. Motherwell have lost Clancy, Jennings and Craigan without similar replacement. St Johnstone will have to do without Morris and prolific strike duo Sheridan and Sandaza. Whilst Hearts have continued their January cutbacks by letting Black, Beattie, Obua and Skacel all go.
A few teams like Dundee United and Ross County have on paper perhaps strengthened, but the team I see as challengers is Aberdeen. Despite the recent rumours regarding the finances of the club and chairman, Stewart Milne has really invested in the team for this upcoming season. Niall McGinn and Gary Naysmith join Union Square food court regular Hayes, with Russell Anderson bringing additional composure at the back. Should they continue their positive defensive record from last season and improve their attacking play, then I imagine they'll be leading the charge for European places by the end of the season.
What are your feelings on the prospect of the very first SPL Highland derby?
Our feeder club have done well to reach the SPL and with the squad they have, I see them avoiding relegation for at least a season or two. Joking aside I am slightly concerned at how well funded they are in comparison to us, thanks to the generous Roy MacGregor. This could lead to increased rivalry over potential signings who used to have a very easy decision to make when offered a deal from both ICT and County.
Recent derby matches have seen ICT come out on top, but with County recruiting ex-ICT players like Vigurs, Munro, Tokely, Fraser and Duncan they will be going into our match with increased motivation. With this in mind, aside from Richie Foran, I have my doubts on whether our players will have that same desire to win as theirs. My heart will say three (or four) ICT wins in the derbies, but my head (and betting slip) may say different.
What would constitute a successful season for Inverness?
Each year we say that Top six is the aim and this season is no different. We've come close in the past, but we'll perhaps need other teams to under perform in order to reach the top half next April. If we are safe from relegation early doors and are challenging for a top six place I'll be a happy man.
We also need to go on a Cup run again, as our fans haven't been to Hampden for almost a decade, when we managed two semi final appearances in quick succession. This would give the club a much needed financial boost and perhaps coax back some of the fans that have drifted away from games recently. I also imagine the media will be quite happy to throw in another 'Super Caley go ballistic' headline or two...
If you could sign one player from any era of football for your club, who would it be?
Despite the best efforts of my Dons supporting father to raise me as an Aberdeen fan, I found more enjoyment watching the weekly Gazzetta Football Italia televised matches instead of David Winnie et al. Each week I would practice the Giuseppe Signori one step penalty and Faustino Asprilla's acrobatic celebrations. These were the players I connected with and 'supported' as a boy, prior to my commitment to the Caledonian Thistle Newco in 1994.
From this era one player stood out as the most complete striker I'd ever seen, scoring regularly for many seasons at the same club - Gabriel Batistuta. ICT have struggled to find a striker with the ability to lead the line and still get on the scoresheet with consistency. We also need someone who is prepared to remain at the club for the long term, even through times of hardship similar to how Batistuta helped Fiorentina out of Seria B. We could also then sell him for £22 million when he comes to the end of a successful ICT career...
You can follow Ross Paterson on Twitter.