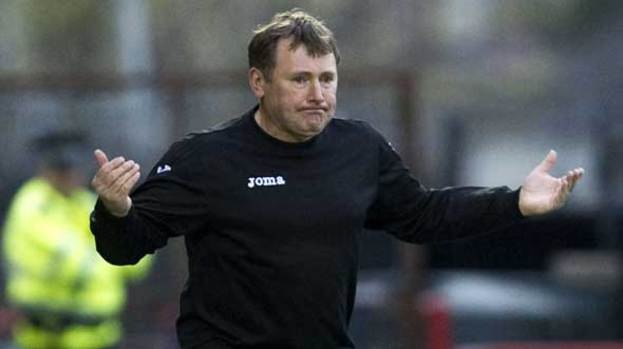 The Rangers saga has turned Scottish football into somewhat of a soap opera of late, but thankfully for the Airdrie United support, their club was one of the few sides scripted to reap the rewards of the Gers' demise.
Jimmy Boyle's Airdie United will now play in the First Division this year, and this sees the club receiving yet another league boost from a fellow club's financial misfortune.
After gaining promotion due to Gretna's downfall in 2008, and being saved from relegation by the demotion of Livingston in 2009, Supporters' Trust Chair Willie Marshall believes his club deserve their spot in Division One, and also hinted that Airdrie's supposed fortune may not be quite as obvious as it first appears.
"I don't think luck enters in to it," noted Marshall.
"Three times in recent years Airdrie have lost play-off finals and, subsequently, other league clubs have had sanctions placed upon them which has meant that we, along with other clubs, have either gained promotion or staved relegation.
"On every occasion, the club have only been given a few weeks' notice, and therefore were placed in a difficult situation in terms of preparation. I think it will be a difficult season for the club given that we were preparing for life in the Second Division.
"We are one of three part time clubs in the league, which places us at a disadvantage compared to the full time teams; however, we have shown in the past that we can compete against teams in higher divisions.
"If we play like we did in the latter half of last season then we will be able to compete with other teams in the league. Ideally the club would have liked the whole of the close season to prepare for life in the First Division, but the delay in any decision making regarding the Rangers situation did not allow for that to happen.
"Jimmy Boyle has used recent friendly matches to see what new players have to offer and I'm sure he'll be working right up to the end of the transfer window to ensure that he maximizes all the resources at his disposal and sign those he feels can facilitate survival in the First Division. It's a great opportunity for the team and players and I'm sure they will do their utmost to prove that they are up to the challenges that lies ahead"
The underlying irony in Airdrie gaining promotion from Rangers loss of course, it that it was David Murray who acted as Rangers chairman to put the final nail in the coffin of Airdreonians when the club were liquidated in 2002. Despite insisting the issue is not an overriding topic amongst the Diamonds' support, these star-crossed events are not lost upon Trust Chair Marshall.
"At the time David Murray was reported, after the granting of an interdict freezing the clubs gate receipts, as saying "I feel very sorry for Airdrie and their supporters, but we're running a business. We have given them repeated warnings and felt they were playing on our good nature,"" noted Marshall.
"Perhaps in this respect a certain irony is apparent, in that if the word 'Airdrie' is replaced by 'Rangers' in this statement, Mr Murray and many of Rangers creditors would no doubt wholeheartedly agree."
"From a supporter's perspective, in an Airdrie Supporters Trust survey of views taken before the recent SFL vote, [fans] were unanimous that Newco Rangers should apply for access to the SFL as Airdrie had to ten years previously."
"They wished to see the same rules apply to the Newco as did to Airdrie, no more and no less."
"Rangers supporters, like Airdrieonians' supporters of the time, are suffering as a result of the decisions of others and, having gone through a similar fate ten years ago, we can relate to their feelings of helplessness."
"Very few of those working at [Airdrie United] now were around during this period," added Marshall. "Given the fact that we have so many 'young' players in our squad, most of them were probably in primary school at the demise of Airdrieonians."
"I wouldn't have thought that as a Club [Airdrie] are overly concerned about perceived links between what has occurred at Rangers and what happened with Airdrieonians."
You can follow Stuart Kenny on Twitter.
People who read this story also read