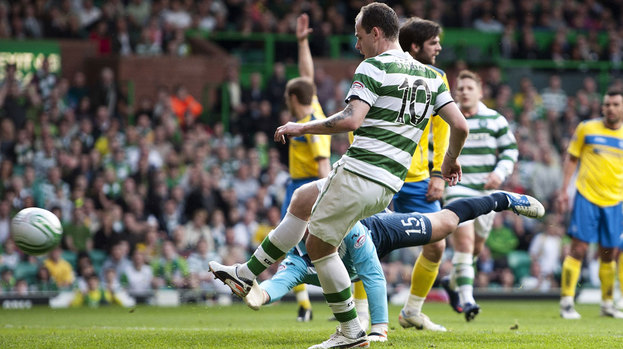 When it comes to statistics like "who is the top scorer of all time" in the SPL, we all know the answer.
It wouldn't take someone particularly initiated into the ways of the division to have a confident stab at players like Kris Boyd and Henrik Larsson occupying the top spots.
Instead, we've decided to look at the players who have amassed the most goals, but also remain in Scotland's top-flight.
So, who are the top goal-getters amongst players in the SPL?
Anthony Stokes - 62 goals for Falkirk, Hibernian and Celtic
Celtic's Irish striker is the top-scorer amongst players in the current division, after a hugely prolific loan spell with Falkirk, and equally deadly strike-rates at Easter Road and with his current employers.
John Sutton - 55 goals for Dundee, St Mirren, Motherwell and Hearts
Sutton first came to the attention of SPL supporters when he appeared on loan at Dundee in 2004/05, scoring eight goals. The following season he joined St Mirren, helping them win promotion and then adding a further 11 goals to his SPL tally in 2006/07. In 2008 he joined Motherwell after a spell with Wycombe, scoring another 32 goals at Fir Park, before moving to Hearts in 2011. He has four goals at Tynecastle.
Jon Daly - 49 goals for Dundee United
A sub trivia question, for anyone wanting to know which player has scored the most goals for a single club in the current SPL, Jon Daly is one goal short of his half-century of Scottish top-flight goals. Since joining Dundee United in 2006/07 he has enjoyed two especially prolific seasons, getting 13 in 2009/10 and 19 in 2011/12.
Steven Thompson - 48 goals for Dundee United, Rangers and St Mirren
St Mirren's striker started his career at Dundee United, where he managed 18 goals in the SPL. After a move to Rangers he added another 17 to his tally. Seven years after leaving Scottish football, Thompson returned to the Scottish top-flight to add a further 13 goals in 2011/12.
Michael Higdon - 47 goals for Falkirk, St Mirren and Motherwell
The English striker arrived in Scotland from Crewe, scoring 15 goals in two seasons for Falkirk. From there he moved on to St Mirren, where a further 18 goals were added in two years. Last season he moved on again, this time to Motherwell, where he provided a profitable return of 14 goals.
Gary Hooper - 44 goals for Celtic
Since joining Celtic from Scunthorpe in 2010, Hooper has scored 20 and 24 goals in his two full campaigns. Smart money will be on him rising this table before the season is out.
Georgios Samaras - 37 goals for Celtic
Celtic's Greek forward scored five goals for the club during an initial loan-spell in 2008. Since joining the club permanently in he has added a further 32 goals to his overall tally.
Richie Foran - 35 goals for Motherwell and Inverness
Foran joined Motherwell in 2004 from Carlisle, and promptly scored 23 goals for the Fir Park side. After a spell with Southend and Darlington he returned to Scotland with Inverness, where he has scored 12 goals in the SPL.
Scott Brown - 27 goals for Hibernian and Celtic
The Celtic captain scored 13 goals for Hibernian in five years at Easter Road. Since moving across to Glasgow he has added 14 goals to his total.
Gavin Rae - 24 goals for Dundee and Rangers
Although he has yet to open his account for Aberdeen, Gavin Rae has already scored 24 goals in the SPL. 21 of his strikes came for Dundee, before another three goals for Rangers.
Jamie Murphy - 24 goals for Motherwell
The Scotland under-21 international enjoyed his best-ever season in front of goal last term, adding nine goals to his 15 in the previous four seasons.
Steven Milne - 24 goals for Dundee and St Johnstone
Credit to trivia regular Stuart Milne for this one. Milne scored 23 goals for Dundee between 1997 and 2004, and added one sneaky one for St Johnstone vs Motherwell in March 2010.
Players who could make the Top Ten soon?
There are a few players who may yet break into the top ten in the coming season. Liam Craig of St Johnstone has 22 SPL goals to his name, and is just two short of a place on the list. Aberdeen's Scott Vernon has 20 goals for the club, and he too may find a place if he repeats last season's goalscoring figures.
Three players on 19 goals are Charlie Mulgrew, Carl Finnigan and Johnny Russell. The latter two will certainly get enough goals to propel them into the Top Ten, while Mulgrew may also break into the list in the coming two years.
More About SPL trivia
Related articles
People who read this story also read