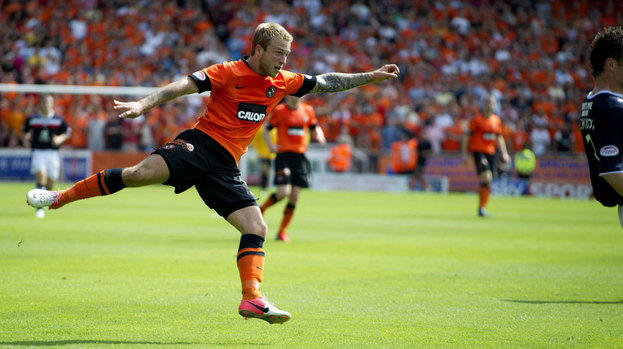 Hello and welcome to another eagerly anticipated edition of You're The Ref.
(Cue compassionate, almost patronising 1970s Blue Peter/Public Service Announcement voice)We all know being a referee is a tough ask, so why not see how you do in our quiz?
Scenario A: Dundee have signed Raiden from Mortal Kombat ahead of the big derby match. You decide to allow his diving header from the half-way line, but minutes later you suspect that the Thunder God has used his teleportation powers to trip Jon Daly's advance towards goal, clearly denying an obvious goalscoring opportunity.
However, it was done at the speed of light by an omnipotent player who is, to the confusion of commentators, literally everywhere on the pitch. How do you react?
Scenario B: Motherwell are holding on to a narrow 2-1 lead, with the game deep into injury time. The fourth official had signalled for only three minutes of additional play, but you have played more, realising that time is not a constant and does not flow in a linear way like a stream, but is in fact a Moebius band and can be entered and exited by a series of points, like an ocean. Realising the fallacy of "additional time" is beginning to draw jeers from the home fans, how do you placate them and end the match?
Scenario C: After a goalkeeper claims the ball from a corner, a particularly nimble fingered striker ties the 'keeper's shoelaces together. When he attempts to clear the ball slapstick hilarity ensues, allowing the aforementioned forward an easy tap-in. How do you treat such japes?
Yes, it's no easy task being the referee, as the SPL fixtures proved this week. There is no victory for them no matter the sterling efforts they put in, just levels of defeat.
The showcase event of the weekend was the Dundee derby, taking place in the SPL for the first time in seven years.
Allow us to refer to our Current Affairs Headline Creator for a second… yes, this one put the Dandy back into Dundee. Har har har.
Despite the pre-match suggestion from the Dark Blue side of the city that the pressure was all on United, the match was effectively over before half-time. Rab Douglas threw himself at Willo Flood's free-kick like Superman with a pocket full of kryptonite (or, indeed, like a nimble striker had tied his shoes together…?), allowing Gavin Gunning to score after quarter of an hour. Johnny Russell's deflected shot doubled the lead, and the same player hit a third that Douglas probably still hasn't seen.
Still, this was a derby, and of course there was time for a bit of pwopa naughtiness. Stephen O'Donnell's tackle on Russell got the Dundee United striker's waters up, and both were sent off. On first viewing, it appeared to be the correct decision, but with subsequent passes there didn't appear to be much in it. Still, everyone loves mass handbags, don't they?
There was significantly more grump directed at the officials after Ross County's 1-1 draw with Celtic. Richard Brittain gave the Dingwall side a deserved lead with a free-kick that married 'av it levels of power with the utmost precision; like successful keyhole surgery with a jackhammer. However, Derek Adams' side were denied victory when Kris Commons scored a late equaliser.
The Ross County manager was unhappy with the amount of injury time added, suggesting that for three minutes additional play, there were only three substitutions. Equally, the Celtic support had issue with the lack of penalty given to Gorgeous Georgious when his ball-in-a-revolving-door run was stopped through questionable means by Brittain.
Maybe that's what managers mean when they talk of "giving 110%": you plan for 90 minutes in the knowledge that, including additional time, matches usually last at least 95 minutes. More accurately, staff should refer to "giving 106%".
Aberdeen gave at least 50% more than St Johnstone in Perth as they picked up their first victory of the season. Isaac Osbourne scored his first ever career goal at the ripe old age of 26, before Frazer Wright went on a fine little jaunt round his own goalkeeper, only to be robbed by Jonny Hayes for the second. Nigel Hasselbaink got a late consolation, but it was 18-year-old Ryan Fraser who created all the headlines. Despite being smaller than Kevin Kyle's shinpads, the winger created havoc whenever he got forward. Which was often.
Despite the victory, and in keeping with the theme of the week, there were a few controversial calls. Scott Vernon beat Alan Mannus twice, only to be ruled offside in what must have been the narrowest of margins. The striker also had a shot cleared wide of the post by the arm of Dave Mackay.
If you've been paying close attention, you'll also know what to expect from Hearts' 2-2 draw with Inverness. John McGlynn's side were 2-0 up at half-time thanks to Arvydas Novikovas and a penalty from John Sutton. If anyone can comprehend just what the spot-kick was given for then answers on a postcard. In fact, this is the 21st century, email will suffice.
On Friday Terry Butcher suggested that Richie Foran was "chomping at the bit" after missing the first two matches of the season following suspension. What he failed to point out was "the bit" actually meant Ryan McGowan, and the Irish midfielder was sent-off. Terry B was none too pleased with the decision, which after last week's acceptance of the red card for Owain Tudor-Jones, returns us to some semblance of reality.
Still, 2-0 up and a man to the good, that'll be that then? Hearts certainly seemed to think so, and started the second half with lethargy that would require entirely new metaphors to describe. That was until Bobby Madden to shake things up by throwing a greased pig into the cock-fight by awarding Caley Thistle their own iffy penalty. Andrew Shinnie scored the resulting kick.
Terry Butcher has made his name by rummaging in the pick'n'mix of obscurity and always coming up with a chocolate truffle. The latest such acquisition, Conor Pepper, may sound like a character from Neighbours, but in actual fact appears to be just such a steal. The young Irishman got a last minute equaliser.
There was less controversy about Hibernian's win over the previously table-topping St Mirren. Leigh Griffiths' double was enough to give Hibs their first win of the season, but Danny Lennon's side shot themselves in the foot more times than a self-medicating podiatrist. Missed a penalty? Check. Defensive lapses? Oh aye. Missed chances? But of course. For Hibs, they seem to have a new talisman in Griffiths.
Equally, Motherwell found Jamie Murphy in fine fettle, the striker getting a double either side of Gary Harkins' goal for Kilmarnock. It was his 26th league goal for the club, opened his account for the season and later on caused a rip in the space/time continuum.
The ref waved play on.