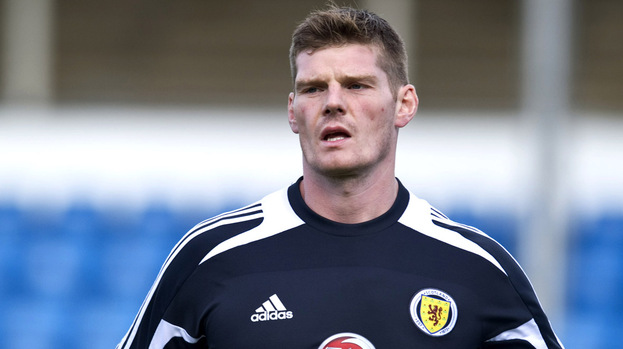 It wouldn't be an international week without the now-traditional gnashing of teeth about some aspect of Craig Levein's Scotland squad.
This week Gary MacKenzie found himself in similar company to Ian Black after being brought into the national squad following a series of call-offs, only to become the subject of ire from some sections of the Tartan Army.
Like Black, some fans deemed MacKenzie's status at English League One side MK Dons too lowly to be included in the squad, especially while some SPL defenders missed out.
Yet, Dan Palmer, sports reporter for the local MK News, believes Scotland fans should have no worries about him being pitched in for his debut on Saturday.
Palmer said: "He's a very strong character, a leader at the back, so I certainly don't think he'd be overawed by the occasion."
Signed by MK Dons in the summer of 2010 from Dundee, MacKenzie has been a regular in a side that has finished in the top five in each of past two seasons, only losing out on promotion after consecutive play-off defeats.
Indeed, such were his performances during the previous campaign that he was first called up to the Scotland squad for the friendly with Cyprus last November. Although he did not play, it is clear that he has been on Craig Levein's radar for some time.
This season he has been influential in helping his side pick up seven points from four league matches and defeating Championship side Blackburn Rovers in the League Cup.
Palmer said: "He's had a very strong start. He's a no-nonsense centre-back, very strong in the tackle and commanding. "MK Dons have had four sendings off in four games and a couple of defenders among them so he's been the ever-present.
"If he wasn't there the defence, arguably, could have been in disarray, but he's held it all together and got a couple of man of the match awards too."
As well as being adept at the more traditional skills of a centre half - good in the air and strong in the tackle - under Dons manager Karl Robinson Mackenzie has also improved other aspects of his game.
Palmer explained that Robinson coaches a patient style of football, with MacKenzie urged not to panic in possession.
He said: "Robinson demands passing football and won't allow any hoofing [of the ball] so, as well as being able to defend, head clear and deal with long balls and crosses, he can play it out from the back.
"He's so comfortable and composed on the ball and he's been a real leader in the back four."
MacKenzie's attitude this season has also, thus far, impressed Palmer. Sent off twice last season for head-butting opponents off the ball, the Scottish defender appears to have calmed down somewhat.
"Karl Robinson has come out publicly and praised him for his new-found maturity. He does seem to be getting into less arguments and while it's too early to tell if he's turned the corner, it's certainly looking like he might have done."
With his temperament seemingly under control and a good start to the season under his belt, Palmer is in no doubt that MacKenzie is deserving of his place in the Scotland squad.
He added: "It's early days but he's been very impressive and I can see why he's been called up on the evidence so far."
Andy Harrow is a football blogger and former Raith Rovers match magazine editor, now based in Milton Keynes. You can follow him on Twitter @andyharrow.
Related articles
People who read this story also read