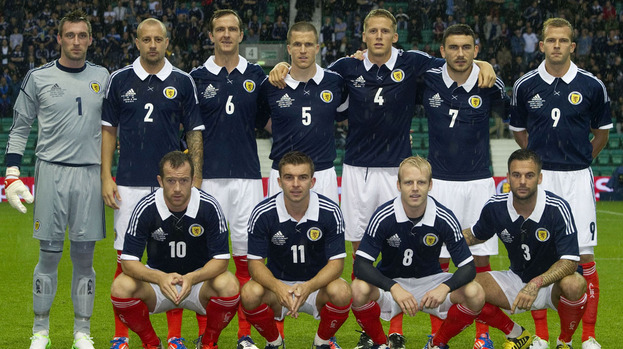 The existence of any football team is as cyclical as the area between Sir Chris Hoy's thighs – sometimes you're up, sometimes you're down.
Sometimes you're a free-flowing attacking unit of marvellous flair and precision, then one managerial change and a cost-cutting exercise later and you're craning your neck to follow the flight of a ball lumped over a midfield of narrow stodge, struggling to recall the last time you felt anything close to joy in your blighted heart.
These vicissitudes of footballing circumstance go double when you're playing with the genetic roulette of a national side, and triple if that country is trying to fish its prime talent from a smaller gene pool.
Just ask any Hungarian fan – they'll likely be able to wax lyrical for hours about a team of world-beating superstars who revolutionised the game decades before they were born, then treat you to the hardest stare they can muster if you beg their opinion on how Tamás Priskin and the lads are going to get on in next World Cup.
Back in the days when Craig Brown was steering the Scotland peloton, fate seemed to have decreed that Scottish mothers had produced a nation of 97% strapping centre-halves.
Perhaps this was fortuitous in an age where 3-5-2 was king, but the sight of Scotland trying to muster some width from that hard-tackling, header-winning group of players by fielding Mobility's Christian Dailly as a left wingback will keep me well stocked in night-terrors for the rest of my life.
Nowadays however, width is not a problem for Scotland, the positional imbalance having tipped in the favour of the short and the scurrying.
There is in fact only one natural central midfielder in amongst the squad currently camping on the Hampden Park turf ahead of the World Cup qualifiers against Serbia and Macedonia, raising the worrying prospect of Charlie Adam trying to work up enough pace in his ponderous legs to cover an area greater his favourite six square yards just to left of the centre circle.
Or – even more alarmingly – Gary Caldwell doing that uncanny impression of an octopus trying to pilot a light aircraft that he performs whenever he's pressed into midfield service.
(At this point I'd like to enjoin the Scottish medical community to forego their research on such trifling topics such as degenerative disease or epidemiology, and instead turn all their attention to fixing Darren Fletcher. Physicians, this is your solemn duty, your country needs you.)
But is there a way to utilise this surfeit technical, forward roamers to Scotland's best advantage? The short answer is 'yes'. The longer answer is 'yes, but you might not like it'. The longest answer is 'yes, it's to play them in a 4-6-0, oh God, please stop hurting me, I know it didn't work before but just hear me out it's not an inherently flawed system you just have to implement it properly ow ow ow'.
The theory behind the 4-6-0 – as initiated by Luciano Spalletti's Roma and perfected by Pep Guardiola's Barcelona and Vicente del Bosque's Spain – is to employ four quick, technically adept forwards in constantly shifting patterns in order to retain possession and disrupt the positional discipline of the opposing defence.
Clearly, this works best if your false nine is Lionel Messi or Francesco Totti rather than Jamie Mackie or Steven Naismith, but the system relies on a collective effort of falseness in all surrounding positions as well.
At Barça, Messi is surrounded by players who are barefaced liars about their roles on the field – with Pedro starting wide but cutting back and forth across the penalty box in search of reverse passes or dinked through-balls, Cesc bursting into the goal-scoring positions from areas of the pitch so unexpected they may not actually exist in this dimension, and the ability of Andrés Iniesta to suddenly leap from the tiniest pocket of space into a wide-open area twenty yards away with no apparent interstitial phase.
Compare this situation to that of Argentina's, where Messi attempts to perform his elusive magic with some incredibly hard-working and talented players who have not had the benefit of decades learning how to hoodwink a tactics board.
And this is the real crux of employing a successful 4-6-0 – it takes time. Lots and lots of time, with lots and lots of harsh losses and lessons along the way.
This is why – when I look at an immediate future of trying to qualify past Serba, Croatia, Wales and a Belgium team as clogged with talent as Marouane Fellaini's bathplug is with springy hair – coupled with a Scotland squad containing Dorrans, Forrest, Morrison, Phillips, Snodgrass, Mackie, McCormack, Naismith, Bannan, Swanson, Russell and Mackay-Steven all under the age of 26 – I think it is perhaps best if Scotland put short-term results to one side and look to a longer view towards putting in the effort to make a strikerless system work.
Even now though, I can hear the grumblings of those who first sharpened their pitchforks on that fateful October night in Prague, and have kept their agricultural implements honed ever since.
"What about Jordan Rhodes?" they cry, with good reason. "We finally have a decent centre-forward, and you want to make him redundant?"
To this I say: fine a talent as he is, there is literally only one Jordan Rhodes. As back up, we have only the fitful promise of David Goodwillie, the capricious whims of Steven Fletcher, and the forlorn hope that Kenny Miller finds the Fountain of Youth in a Vancouver suburb.
How much better then, to embrace a system that would maximise the potential of the players at our disposal, be robust and deep enough to survive the inevitable injury call-offs that plague any national team, make Scotland a different, more difficult opponent to play against and may even – you never know – produce some vaguely entertaining football to boot?
Nicol Hay is a writer, film maker and football blogger. You can follow him on Twitter @nicolhay.
Related articles
People who read this story also read