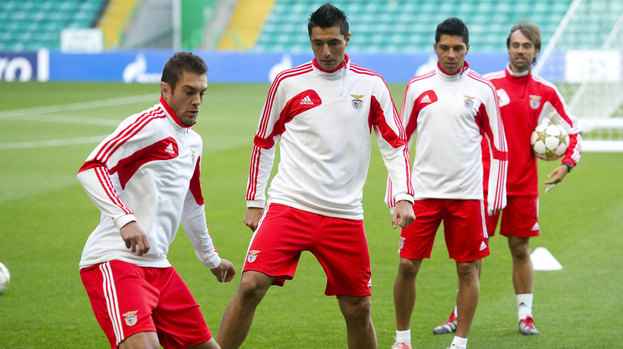 On Sunday, September 2, Benfica played their final competitive game before the Champions League Group G opener at Celtic Park, winning 3-0 at home against Nacional in the Portuguese Primeira Liga.
Following a 2-2 home draw with Braga and a 5-0 win at Vitória Setúbal, the result saw Benfica sitting top of the table heading into the international break.
The Eagles got off to a slow start but boss Jorge Jesus fired the troops up at half-time and they ran away with it in the end thanks to an Oscar Cardozo brace and one from Rodrigo.
Benfica lost midfield lynchpin Javi Garcia to Man City on transfer deadline day and, having not signed a direct replacement, this resulted in Belgian international Axel Witsel being deployed in a deeper role, with Carlos Martins coming into the side to play as a more advanced central midfielder. However, following the sale of Witsel to Zenit on September 3, the midfield will need another re-jig for the game in Glasgow.
Benfica started the game against Nacional in a 4-4-2/4-1-3-2 with Artur in goal; Maxi Pereira, Luisão, Garay and Malgarejo at the back; Witsel; Salvio, Carlos Martins and Enzo Pérez in midfield; with Rodrigo and Cardozo up top.
However, they finished the game, not unusually, in more of a 4-2-3-1: Artur; Maxi Pereira, Luisão, Garay, Melgarejo; Witsel, Matic (replaced Martins at half time); Salvio, Aimar (replaced by Rodrigo in the 73rd minute), Nolito (replaced by Pérez in the 66th minute.); Cardozo.
Benfica play fluid, attacking football and like to keep the ball. They have pace and skill on the flanks and serious goalscoring potential up front in Cardozo and former Braga player Lima, who were joint top scorers in the Primeira Liga last season. Jorge Jesus has already stated that he believes the two can play together, but whether or not Celtic Park will be the first testing ground for the pairing remains to be seen.
Rodrigo and Cardozo each have three goals in the league this season so Lima will have to fight for his place. Any two of the three centre forwards are sure to prove a real handful for Celtic's defence.
Celtic should know all about Óscar Cardozo, he scored the only goal when Benfica hosted The Bhoys in the Champions League group stage in October 2007. Celtic won the game at Celtic Park 1-0 two weeks later.
Cardozo is one of three survivors from that era in the present Benfica squad; the others are Maxi Pereira and captain Luisão. Scott Brown is the only current Celtic player who featured in those games.
In central midfield the departures of both Javi Garcia and Axel Witsel force Jorge Jesus into a complete rethink. The loss of two such key players is massive and will be keenly felt by the Eagles, especially as their late sales left no time for replacements to be drafted in.
It seems likely that Matic, who still has a lot to prove in a Benfica shirt, will now assume a more important role in the squad. Alongside him – or slightly ahead – would have been Carlos Martins but the Portuguese midfielder has failed to shake off the thigh strain that kept him out of international duty last week.
Veteran Argentine Pablo Aimar exudes class in the number ten role but his minutes come largely from the bench nowadays; starring as a substitute he has laid on three assists in his last two competitive games. Another option is winger Enzo Pérez, who has been tried in a central position in recent training sessions. Brazilian Bruno César is a further possibility.
Rival fans have taunted Benfiquistas that the summer transfer window left them without a solid holding player or left back. Melgarejo, who spent last season on loan at Paços Ferreira, is not a natural full back and has been unconvincing in the opening fixtures.
Against Braga he scored an own goal and his poor clearance led to the opposition's second as well; however, he did provide an assist for Rodrigo to open the scoring in Setúbal the following week. The Paraguayan looks good going forward but his defensive frailties will concern Benfica fans. With the pace and drive of James Forrest being one of Celtic's strengths, Neil Lennon might sniff an opportunity here to put pressure on a possible weak link.
On the other side of the defence Benfica will be missing the powerful Uruguayan Maxi Pereira through suspension. It was he who provided the assist for Benfica's first goal against Nacional and the loss of his athleticism and attacking threat should not be underestimated. Taking his place will almost certainly be 23-year-old centre back Miguel Vítor, although André Almeida, 22, also played 45 minutes at right back in a friendly against Betis last Wednesday.
Between the sticks the dependable Brazilian Artur is the man that Hooper and co. will be trying to beat. In front of him Jorge Jesus will not be able to field his established pairing of Luisão and Ezequiel Garay in central defence; with the former being told by FIFA his two-month suspension from the Portuguese Football Federation (FPF) will be extended to include all international competitions (ie. the Champions League).
The Brazilian was given the punishment for barging into referee Christian Fischer, who has suggested he will take legal action against the player. Fellow Brazilian Jardel will likely come into the side in his place.
On the wings the Lisbon club have plenty of options. The early-season absence of Nico Gaitán had been questioned but the talented Argentine – who was linked with Manchester United in August – returned in the draw with Betis, scoring Benfica's only goal. He is likely to start on the left, with his compatriot Eduardo Salvio on the right.
Celtic fans might remember that Salvio played against their side in the Europa League last season with Atlético Madrid. He joined Benfica in the summer for a club record €13.5m.
The Portuguese manager can also call upon new €9m recruit Ola John, former Barcelona B winger Nolito, who has already found the net from the bench this season, and Bruno César for reinforcements in the wide areas.
One could argue back-and-forth over whether the fact that Benfica had no league game on the weekend preceding the clash at Parkhead, whereas Celtic did, will favour the Portuguese or the Scots.
On the one hand, Jorge Jesus has had a clear focus for most of this month and his charges should be fresher, but on the other, Celtic's defeat against St Johnstone could have allowed for any post-international break cobwebs to be purged from the system.
Benfica's aforementioned friendly with Betis last week, however, did afford Jorge Jesus a chance to try one or two things, including giving Lima his first run-out in a Benfica jersey.
What is certain is that it will take a huge effort and a top performance for Celtic to get anything from this match. If they have ambitions to make an impact on this group then a loss won't be acceptable for the home team, but the Portuguese side have arrived in Glasgow expecting to become the first club from their nation to win at Celtic Park.
Expected Benfica team (4-1-3-2): Artur; Miguel Vítor, Jardel, Garay, Melgarejo; Matic; Salvio, Aimar/Enzo Pérez, Nico Gaitán; Rodrigo, Cardozo.
You can follow Andy on Twitter.
Related articles
People who read this story also read