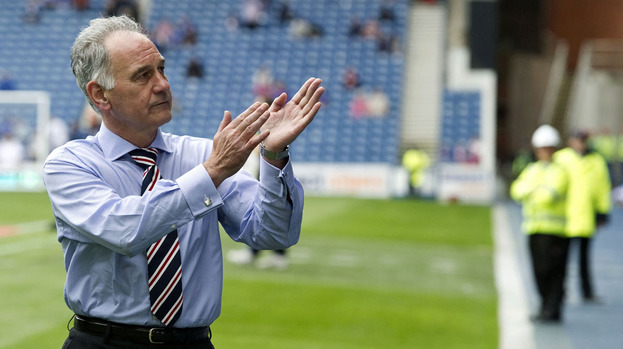 So far, season 2012/13 is going almost perfectly for Rangers.
Oh sure, it could have started better – that whole liquidation, reformation and banishment to the land of wind and ghosts and terracing fringed by luxuriant hedges probably won't make for most fans' favourite chapter in the Bumper Book of Rangers History – but everything since then has just about ticked every box on the Ibrox checklist.
Many of you will now be pointing forcefully at the prominent zero sitting in the Away Wins column next to Rangers' entry in the Division Three league table, making impatient tutting noises and insisting that perfection is pretty evidently not being achieved – but you would be missing the point of Rangers season. Football is a secondary concern this year. Instead, Rangers are focused on making money.
A football story that is fundamentally about money? How refreshing! Do tell more about this thrilling novelty!
Despite the painful downsizing experienced at Ibrox over the last few months, Rangers are still a gigantic enterprise that requires lots of capital to keep running. That cavernous stadium, the state-of-the-art training complex, the merchandising operation that services a global fanbase – all of these things need major financing to keep in place, and all the Third Division away victories in the world aren't going to provide that kind of bankroll.
In any case, Rangers can't actually win the Third Division. They can of course finish first in the table, but that is very least that is expected of them. To finish as low as second and win promotion via the playoffs would be to invite humiliation and derision on a scale as widespread as that reserved for Steve Kean's managerial career.
Rangers could only be considered to have had an impressive league campaign if they end up with the division's record points total, having scored a mathematically inexpressible number of goals with every outfield player hobbling around with their laces tied together and performing a light operetta during their set-piece routines.
This is why Rangers have invested in the SPL quality players that still pepper their playing staff. If they simply wanted to win enough games to be promoted from Division Three (and Division Two, given the restrictions of their 12 month transfer embargo), Rangers could have done so with a much cheaper and more level-appropriate squad.
Something like the Gretna team that tore through the leagues like a mother bear with twenty-nine unprepared Scottish football clubs between it and its cub would have cost a fraction of the current Ibrox squad and still got the club where it needs to be in two years time.
But that's not enough to keep the Rangers machine fed. They need to keep the home crowds happy and attending in their thousands, and the worldwide TV viewers subscribing and tuning in – and to do that they need more than the promise of piling multi-goal spankings onto a rotating cast of spirited semi-pros.
They need star names, faces that can legitimately shift posters and shirts and let the Bluenose faithful hold on to their identity as Scotland's joint-biggest club, no matter where their current exiled location may be.
It's no coincidence that all of Rangers' significant investment has been in forwards and attacking players – the names that get on scoresheets and lift bums from seats and inspire songs with easy, identifiable swings of their boots.
In particular, poaching David Templeton from Hearts was the most important business they could have done this summer – sending a clear message to their fans that Rangers still have the money, the power and the pull that all the other clubs and footballer in the country wish they had for their own. That feeling of prestige will sell a ticket far more effectively than the prospect of knocking five past a semi-pro goalkeeper/carpet-fitter ever could.
Which is where the 'almost' part of Rangers almost perfect season comes in. The exit from the Challenge Cup at the hands of Queen of the South not only deflated their invincible self-image slightly, it also lost them a competition they would have loved to win.
It doesn't matter if their final opponents might have been Cowdenbeath or Partick Thistle – a big day out at Hampden with some silverware and a parade at the end would have been exactly what the curiously specific doctor ordered for Rangers right now. Regardless of the level, a cup final produces precious cash and self-esteem.
So you could sense Rangers chasing that feeling with all the more determination as they defeated the current SPL leaders Motherwell in their League Cup meeting this week. Moreover, the two 'bigger' cup competitions allow Rangers to have their cake and eat it, being both the dominant club performing on the stage that is rightfully theirs, and simultaneously the plucky underdogs from the small-time, punching above their weight against the bullies from the big show.
The games are almost irrelevant to Rangers right now. What they are selling is the show – the duelling narratives of redemption, domination, paying their dues and taking back what's rightfully theirs.
Their only aim over the next three years is to play out the storylines and keep the entertainment fresh; playing the part that the current stage demands – overlords in the league and underdogs in the cups, being all things to all supporters until their inevitable comeback special at Celtic Park.
Rangers are in show business. And so far, business is good.
Nicol Hay is a writer, film maker and football blogger. You can follow him on Twitter @nicolhay.
Related articles
People who read this story also read