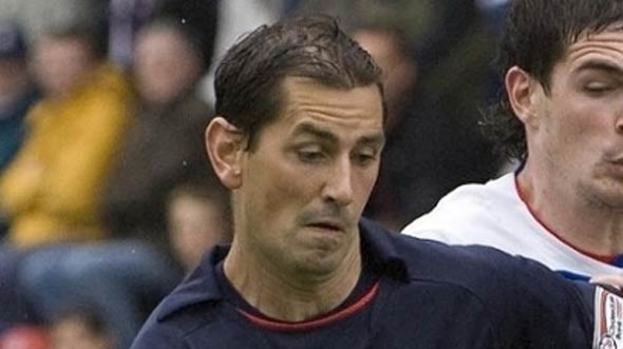 It takes quite an effort to pass the 200 appearance mark in the SPL. Not only do you have to stay fit for a good few seasons, you've got to stay in the team.
We at SPL Trivia are even more convoluted than that when we want trivia, so we decided to look for the players whose name ends in a vowel.
You'd think the list would be full of foreigners, with all those Italians and Spaniards loving a vowel on the end of their name. With a couple of exceptions, it's actually a largely Scottish list.
Equally, we didn't accept any Bazzas, Gazzas, Tommos, Jonnos, Petes or Dodes. It's surnames only!
Alan Combe
The Hearts goalkeeper coach is currently sitting on 219 appearances during a career at Dundee United and Kilmarnock.
Craig Dargo
The Dunfermline striker has the second most appearances on this list, appearing 274 times in the SPL while at Inverness, Kilmarnock and St Mirren.
Danny Invincibile
The Australian very nearly made the cut based on his Kilmarnock appearances alone, playing 199 times for the Rugby Park club. His brief stint at St Johnstone took him up to 208 in total and over the magic double century.
Darren Mackie
It wouldn't be an SPL trivia question without Mackie as one of the answers. The former Aberdeen striker is the only player on this list to have the triple century, playing 312 times in the SPL.
Phil McGuire
The one that almost nobody got, Phil McGuire played 212 times in the SPL for Aberdeen, Inverness and Dunfermline.
Jackie McNamara
McNamara managed 229 games in the SPL, despite a brief departure to England. As well as his notable time at Celtic the full-back also turned out for Aberdeen and Falkirk in the SPL.
Grant Munro
Now of Ross County, Munro made the vast majority of his 213 SPL appearances while slightly further south at Inverness. He'll probably move up to fourth in this list by the end of the season.
Nacho Novo
The Spaniard made 250 appearances in the SPL while at Rangers and Dundee.
Gavin Rae
The Aberdeen midfielder is sitting on 218 SPL appearances and counting, after spells in the Scottish top-flight with Dundee and Rangers prior to his move to Cardiff.
More About SPL trivia
Related articles
People who read this story also read