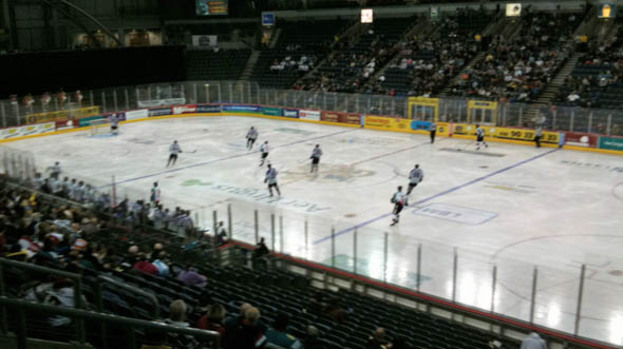 Edinburgh Capitals and Braehead Clan do battle with one another in the Gardiner Conference on Saturday night, with the Clan looking for revenge for their defeat last time out at Murrayfield.
Dundee Stars take on Hull Stingrays, with the Stars ending the weekend in Edinburgh, while the Rays take on the Belfast Giants in the big league on Sunday. Clan then travel to Sheffield to face the EIHL topping Sheffield Steelers.
Edinburgh Capitals host Braehead Clan on Saturday, with Rene Jarolin's overtime winner for the Caps the last time these two sides met, denting Clan's hopes of making the Challenge Cup quarter finals.
However, in recent weeks, it has been Richard Hartman's Edinburgh side who have struggled for form in the cup. Both sides are on Gardiner Conference duty for this one, with the Clan still searching for a first win over Scottish opponents in all competitions.
With the Caps having lost to Dundee in the Cup last Sunday, Jarolin, Martin Cingel and James Flavell, netminder for the Billingham Stars, who has been drafted in by Scott Neil as cover for the suspended Tomas Hiadlovsky and the injured Craig Holland, will all be looking to keep Clan in their pocket at Murrayfield for a second time this season.
In contrast, Clan's penalty shot win over Hull should see them continue the momentum gained by the return of Jade Galbraith. Garret Zemlak's recent shootout shutouts also suggest that Braehead are not far away from hitting the heights that most expected of them.
On Sunday, Clan travel to the Sheffield Steelers in the EIHL, coming face to face with one of their top performers from last season, Jim Jorgensen, who has starred for the Steelers' D this term.
With the change to a Conference set up for the 2012/13 season, these are the kinds of games that many thought would be missed throughtout the year, as Braehead looked to become one of the big boys alongside the Steelers, Nottingham Panthers and Belfast Giants. With Ryan Finnerty's men coming off the back of two defeats last weekend, including a sore one to arch rivals Nottingham Panther's they will be out for blood against what will need to be, a well organised Clan.
Edinburgh travel to Dundee on Sunday night, with their hosts hoping not to carry over any road legs from their match versus Hull Stingrays on Saturday. Mike Wirll has been a man on fire for the Stars since the start of the season, bagging a hat trick in the Challenge Cup match between the two sides last weekend.
Sami Ryhanen chipped in with some goals as well in that match, and despite Stars' captain AJ McLean admitting the win wasn't pretty, he'll be more than happy with a similar result this time out.
Sylvain Cloutier's Stingrays will be looking to shore up their defence ahead of their games with Dundee and Belfast after sharing 17 goals with Edinburgh over two nights last weekend.
Their D will need to perform as well as forwards Janis Ozolins and Dominic Osman have in recent weeks, if they are to take any points over the two nights.
Their comeback in the third against Braehead last week showed that they have the fight that could take Dundee to the wire, but Belfast may be a different task altogether.
Having lost at home to Belfast last Sunday, thus ending their home winning run, Fife Flyers and their EIHL Player of the Month, netminder Brian Pitton, get the weekend off.
So, here are this weekend's Scottish (and Hull) fixtures and face off times:
Saturday
Edinburgh Capitals v Braehead Clan 6pm
Hull Stingrays v Dundee Stars 6pm
Sunday
Belfast Giants v Hull Stingrays 6pm
Sheffield Steelers v Braehead Clan 6pm
Dundee Stars v Edinburgh Capitals 6.30pm
The rest of the EIHL fixtures:
Friday
Nottingham Panthers v Coventry Blaze
Saturday
Belfast Giants v Nottingham Panthers
Cardiff Devils v Sheffield Steelers
Sunday
Coventry Blaze v Cardiff Devils
Kris Jack is a sports blogger and commentator. You can follow him on Twitter @krisjack85.
Related articles