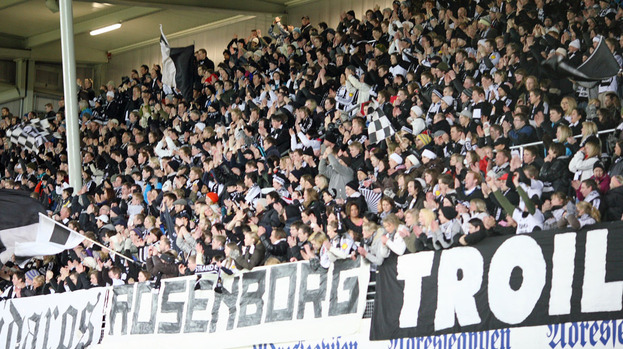 The 25th round of this year's Tippeligaen was never going to be the main event.
With the five following matches set to involve top of the table clashes and title winning score-lines, this weekend's games was all about cleansing the pallet before the main course, the qualifying round deciding the grid line-up before the start of the title race.
With only two points separating the top three teams, second placed Strømsgodset was first out of the blocks on Friday evening, facing a tricky away tie against a Vålerenga side that have been ridiculously inconsistent this season.
The visit of Strømsgodset, only one point behind league leader Molde, must have been an awkward reminder for Vålerenga coach Martin Andresen of the position his team, with its large squad and deep pockets, should have been in at this stage of the season.
Instead it is Ronny Deila's superior tactical knowledge and man management skills that have lead this Strømsgodset team to the brink of an astonishing success, with only a fraction of the extensive resources at Andresen's disposal.
It is a sign of how far Strømsgodset have come under Deila that they can go to a place like Ullevaal and totally dominate the game from kick-off.
They were rewarded after 15 minutes when Abdisalam Ibrahim lost his marker on the back post and side-footed in Stefan Joahnsen's corner.
Strømsgodset should have been out of sight by halftime. Hirschfeld needed to save well from Øyvind Storflor, before Peter Kovacs received the ball completely unmarked on the penalty spot a few minutes later.
In acres of space and plenty of time to set up his shot, the Hungarian veteran snatched at his chance and sliced the ball wide. Predictably, it was a miss his team would be left to rue.
Strømsgodset continued to create chances in the second half, with both Storflor and Kovacs again going close. If anything, the missed opportunities only signalled the inevitability of what was to come. 14 minutes from time Bojan Zajic received the ball in front of the visitor's defensive line and sent a lovely through ball for Chuma Anene to run on to, the 19-year-old striker from Oslo finishing calmly to get his second goal in as many starts for Vålerenga.
Johansen's deflected shot hit the bar during Strømsgodset last push for the win, but it was destined to be an incredibly frustrating night for the away team, as no matter have hard they tried to hold on their grip on the league trophy seemed to slowly slip away.
While Strømsgodset experienced a night that would make them question whether this is their year, Molde's game will have left them convinced that their name is on the trophy.
While they almost dropped points at home to bottom club Stabæk in the last round, they had played one of their best matches of the year mid-week beating Stuttgart 2-0 at home in the Europa League, in a game showcasing the great inherent potential in this Molde team.
Ole Gunnar Solskjær made six changes on Sunday as his team welcomed Sandnes Ulf to a pitch that was close to un-playable after a heavy rainfall in Molde, the wet weather continuing throughout the match.
It didn't seem to bother the home team who went ahead after just three minutes, Mattias Moström's heavy shot going in off the post. Jo Inge Berget made it 2-0 from the penalty spot twenty minutes later, Molde seemingly coasting against the team lying second from the bottom.
They continued to look in complete control until seven minutes from time, when a scrappy melee after a Sandnes Ulf corner ended with Tommy Høiland nodding the ball into the net from a few inches out.
In their very next attack, the visitors got another corner which this time led to Anel Raskaj emphatically thumping the ball past Espen Bugge Petersen in the Molde goal.
Aker stadium was shell-shocked. A win that had looked safe for almost the whole game had dramatically slipped away in the space of two minutes, two crucial points potentially lost in the most careless way. It is moments and minutes like these that decide league seasons.
Just seconds after the re-start Molde received a free-kick about 20 yards from goal. Centre-half Vegard Forren, arguably one of Norway's finest defenders, stood over the ball with his team-mates far away – the space and moment reserved solely for the 24-year-old.
Forren takes three measured steps before hitting the ball with an incredible power and precision, the shot flying straight over Aslak Falch with the net behind the Sandnes' goalkeeper barely able to stop the flight of the ball.
With one glorious swipe of his left foot Forren had got his team out of jail, clawing back two points and giving them the momentum that could propel them towards defending their title.
Molde have now stumbled through consecutive home games against the bottom two clubs, conceding five goals but still capturing six points to put them in pole position in the title race.
While they have extended their lead over Strømsgodset to three points there is still very much a third candidate for the title - the silverware hoarder above anybody else in Norwegian football, Rosenborg.
The Trondheim side should have been far ahead by half-time in their away game against Odd Grenland, but they were literally saved by their substitute goalkeeper Alexander Lund Hanssen seven minutes after the interval.
As Frode Johnsen rose to head an Odd Grenland corner down and back across the goal, a stunningly quick reaction from Lund Hanssen somehow allowed him to claw the ball away, a hair's breadth from crossing the line.
Rosenborg continued to press on and was rewarded with the goal and the win when John Chibuike slipped the ball through to Rade Prica, the former Sunderland striker turning almost 180 degrees in one movement as he sent a wonderful finish past Odd goalkeeper Andre Hansen from a tight angle.
With that hard-fought win Rosenborg go past Strømsgodset into second place, two points behind Molde. But this is where the fun really starts.
In the three next rounds Molde is faced with arguably the three toughest games imaginable in this league. After the international break they will first travel to Drammen to meet Strømsgodset on the artificial pitch where the hosts are undefeated this season.
They will have to play on another artificial surface when they travel to Tromsø two weeks later, the northerners also undefeated at home.
In-between those gruelling away games Molde host none other than Rosenborg. While Molde won the cup tie between the two teams this summer, they have lost all three league games against Rosenborg since Solskjær has been in charge.
This is the two weeks that will surely define Molde's season, especially as they also go to Bucharest for a Europa League tie against Steaua in the same period.
Strømsgodset and Rosenborg meet the same weekend as Molde take on Tromsø, the three next rounds seeing all three title contenders facing each other in what is undoubtedly the most exciting championship race in Norway since 2005.
It's looking pretty tasty at the other end as well, where three teams have been fighting to avoid relegation and the 14th place that means a two-legged match against the winner of the Adeccoligaen play-off.
With Stabæk doomed at the bottom, Sandnes Ulf saw an unexpected point against Molde slip away due to Vegard Forren's spectacular strike and were left in 15th place, the second relegation spot.
Sogndal and Fredrikstad were both tied on points before this weekend's game, the former ahead due a slightly better goal difference. It looked like that stale-mate was going to continue for another week until two late goals changed the complexities of the whole relegation battle.
In Haugesund, Fredrikstad finally conceded a few seconds before full time, Geir Ludvig Fevang with an easy tap-in after Håvard Storbæk's shot had hit the bar. At the same time about 200 miles north, Sogndal got their injury time winner through a great individual effort from Malick Mane.
That goal takes Sogndal three points clear of the play-off spot and also drags Lillestrøm into the danger zone, the team with the longest continuous streak in the Norwegian top-flight after their promotion in 1974 now only a point ahead of Sogndal.
Along with the rest of Europe, Tippeligaen now takes an international break that will see Egil Olsen's Norway team travel to Switzerland and Cyprus for two crucial World Cup qualifying games. When they return, Norwegian football fans can brace themselves for the most anticipated and important league games for many years.
Round 25 results: Vålerenga 1-1 Strømsgodset; Viking 1-1 Aalesund; Haugesund 1-0 Fredrikstad; Sogndal 1-0 Lillestrøm; Stabæk 0-1Tromsø; Molde 3-2 Sandnes Ulf; Odd Grenland 0-1 Rosenborg; Brann 3-2 Hønefoss.
Christian Wulff is a Norgwegian football expert and writes the blog A Hell of a Beating. You can follow him on Twitter @aHellofaBeating.
Related articles