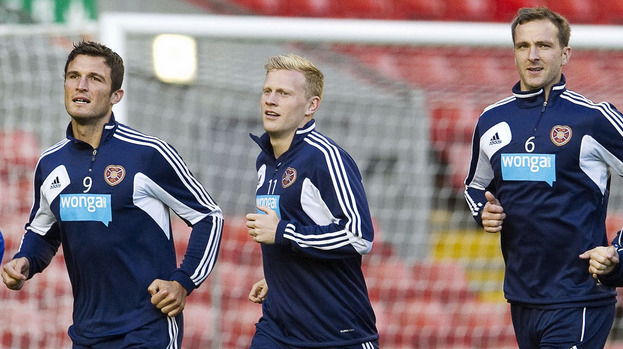 Oops, Hearts did it again – for the second month running, several senior players at Tynecastle found their wage packets to be emptier than a Rio de Janeiro hotel operating a strict 'Scots Only' policy for the summer 2014 season.
As always, information about the reasons behind the pay delay is thin on the ground. Prising a statement from the tight lips of the Romanov regime when news is bad is difficult in normal circumstances, but this situation isn't helped when you find out the September's salary-tardiness caused the SPL to place Hearts under double-secret transfer probation.
Under this season's new rules concerning the timely payment of wages, any team that fails to meet its contractual obligations to its staff is automatically barred from registering any new players "until the [SPL] Board is satisfied that such Remuneration Default shall no longer continue or subsist".
As Hearts' previous period of default lasted all of three days during a time when the transfer window was tightly shut, it is perhaps understandable that never party felt it particularly worth mentioning.
Now though, with the problem recurring and the embargo being slapped on the Gorgie club in a much more public fashion, the consequences of the defaults are mounting.
Quite beyond the questions of cash flow, liquidity and operational competence that have dogged Hearts since the reassuring rhythm of money hitting BACS transfers became more syncopated than accountants generally care for in autumn last year – the problem of not being able to bring in any fresh faces mid-term is far more pressing.
On the park, Hearts are woefully short of goals. The close season's plan of crossing all available fingers and hoping that John Sutton reverted to his reliable Motherwell 2008-11 vintage form have so far proved as successful as Polish weather-forecasting.
Instead, their best hopes for getting on the scoresheet involve either playing seventeen year-old winger Callum Paterson out of position, or having their petition to play a Gary Mackay-Steven-less Dundee United every week accepted by the league governors.
If Hearts don't find some way to turn around their penalty-box impotence, a bottom-six finish and a possible flirtation with relegation begin to look as grimly inevitable as Craig Levein's forthcoming Jobseeker's Allowance interview.
Fortunately for them, there is a man with a vicious left foot and a strong working knowledge of the back of the Tynecastle nets lurking in the shadows of free-agency – Rudolf Skácel.
To add Skácel's uncanny knack for finding a 20 yard face-melter to a team is to practically guarantee top-six safety and a tilt at a European place – but even if Hearts could agree a contract with the Czech maestro and sneak him into the dressing-room between periods on the transfer naughty-step, is it right for them to add a hefty salary to their already haphazard payroll?
Hearts find themselves in a high-stakes Catch-22 situation. After years of spending at a level as appropriate to an SPL club's income as Vin Diesel selecting his evening outfit from Dakota Fanning's wardrobe, costs have to be cut.
However, cut those costs too far, or too fast, and Hearts could find themselves sailing into the First Division, where their ends would be as willing to meet as Nick Griffin and Spike Lee.
All of Hearts' current problems – the ballooned debt, the trickling cash flow and the subsequently slashed playing staff – are of the Gorgie club's own making.
Though they should be commended for at least attempting to address these issues – especially while also contending with the shifting financial landscape of today's SPL – no matter how many wrongs and bananas you cram into a blender, you'll never make a delicious Right Smoothie. If Hearts keep breaking the rules, they will deserve to be punished.
This all rather assumes that Hearts continue to behave like a vaguely normal football club however. There's always a chance that Vladimir Romanov's heart lurches into another of its characteristic u-turns, and he announces an unprecedented January investment that clears all debt, and sees maroon shirts wrapped around Lionel Messi, Cristiano Ronaldo and a fire-breathing centaur that can score 60 goals a season while keeping the halftime pies piping hot with a series of well-timed sighs.
Such an outcome seems unlikely, but unlikely outcomes are something of a special move for this Heart of Midlothian administration.
Whatever event finally resolves the Tynecastle Wages Impasse, the chances are you won't be able to see it coming.
Nicol Hay is a writer, film maker and football blogger. You can follow him on Twitter @nicolhay.
Related articles
People who read this story also read