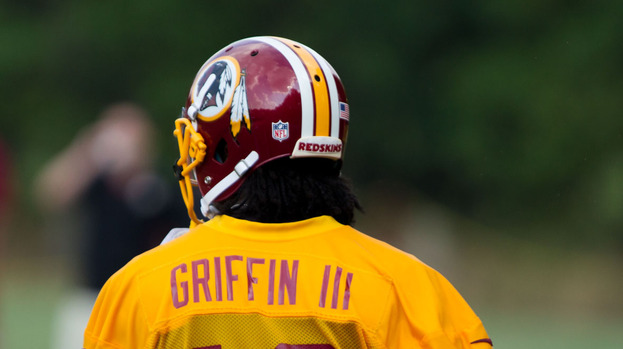 After their last-gasp victory over the Washington Redskins at Meadowlands earlier in the season, the New York Giants defense to a man spoke about their dismay at having Robert Griffin III turn up in their division.
After Monday night in Maryland, they will not have changed their opinion as the electric quarterback orchestrated a revenge mission for the Skins.
Back in New Jersey, Mark Sanchez experienced the ignominy of being benched for a third string thrower as his awful form continues for the Jets.
The St Louis Rams struck an impressive victory at home, Drew Brees record-breaking run came unstuck and Adrian Peterson's legs were no match for Aaron Rodgers' arm.
GOING UP TOP
Who else but RG3 for his duel threat display to lead the Redskins to victory over fierce rivals, the Giants. The rookie QB has developed a devastating play fake routine with fellow draftee Alfred Morris which has Ds misbalanced more often than not. Morris pounded 124 yards as they Giants scratched their heads about where the ball was going. And when it came for Griffin to put on the afterburners? He could do things like this…
Nobody gave the Pittsburgh Steelers a chance in Baltimore with 37-year-old Charlie Batch under centre. In an immense show of togetherness the team rallied behind the back-up to put the Ravens to the sword. Batch, nothing short of woeful the previous week in stepping into the injured Ben Roethlisberger's shoes, put up 276 yards and a touchdown as the Steelers snatched a dramatic win. It meant everything to the 15 year veteran.
THREE AND OUT
His pre-game routine told his New Orleans Saints they were going to show Atlanta who is boss of the NFC South, but Drew Brees threw away the game to the dominant Falcons, as well as consigning his consecutive touchdowns record to the dustbin. "This is our division – they know it, we know it." Ouch, Drew.
Brees racked up a five interception match for this first time in his career and could not put up a throwing TD to counter. The Saints go 5-7 while the Falcons dominate the division, taking an 11-1 record into week 14.
The comic capers of the New York Jets quarterback position continue unabated as Mark Sanchez was finally benched after another insipid showing of 97 yards and three INTs. But wait! Tim Tebow is injured, so third string Greg McElroy had to step in. He did better than Sanchez anyway, as a tight (for tight, read boring) match with the Arizona cardinals came down to a touchdown from the man picked 208th in the 2011 draft. Sanchez made some notes on the sidelines, stuff like throw ball in end zone and don't throw ball to opponents, most likely.
MUST READ
Dan Snyder (bleeping) animated after defeating Giants
The Redskins owner doesn't like their Divisional rivals much. (Livingston Daily)
Rex Ryan leaning towards starting McElroy
The longest-running starter saga of the league takes a new twist. (Jets Blog)
The Dread Pirate Fisher
St Louis Rams's Coach Fisher has taken aim at the NFC West…and he hasn't missed. (Turf Show Times)
WEEK 13 RESULTS
New Orleans Saints 13-23 Atlanta Falcons
Jacksonville Jaguars 18-34 Buffalo Bills
Seattle Seahawks 23-17 Chicago Bears
Indianapolis Colts 35-33 Detroit Lions
Minnesota Vikings 14-23 Green Bay Packers
Carolina Panthers 21-27 Kansas City Chiefs
New England Patriots 23-16 Miami Dolphins
Arizona Cardinals 6-7 New York Jets
San Francisco 49ers 13-16 St Louis Rams
Houston Texans 24-10 Tennessee Titans
Tampa Bay Buccaneers 23-31 Denver Broncos
Pittsburgh Steelers 23-20 Baltimore Ravens
Cleveland Browns 20-17 Oakland Raiders
Cincinnati Bengals 20-13 San Diego Chargers
Philadelphia Eagles 33-38 Dallas Cowboys
New York Giants 16-17 Washington Redskins
PICK OF NEXT WEEK
If you want passing prowess, the place to go is Lambeau Field this Sunday as Matthew Stafford's Detroit Lions visit Aaron Rodgers and the Green Bay Packers.
The Lions are on a poor season, with a 4-8 record pushing them out of play-off contention. However Stafford, with the formidable Calvin Johnson to aim for, still leads the NFL in passing, with 3742 yards and 16 TDs under his belt.
Rodgers, the reigning MVP, has led the Packers to an 8-4 record and a fascinating race with the Chicago Bears in the NFC North. He has 29 touchdowns and 3124 yards to his name.
The match-up in Wisconsin provides a good bet for a shoot-out in the upcoming NFL schedule.
People who read this story also read