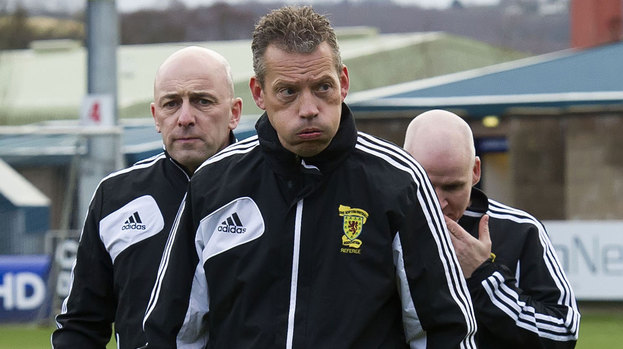 So here we are. Another year is coming to an end. 2012 has been yet another unforgettable one for Scottish football, inevitably for nearly all the wrong reasons.
Rangers in administration, liquidation and then the Third Division. Hearts in financial trouble. Scotland giving up a World Cup qualification campaign after four games. Danny Lennon impersonating both Elvis and Santa within the space of two months. It was quite a year.
Celtic provided the rare chink of light, reaching the last 16 of the Champions League and beating Barcelona on the way. Their run will keep us going into 2013, with Juventus lying in wait next.
We'll save the bigger retrospective for later on. The biggest story of 2012 arrived with two days to spare in any case.
David van Zanten, threatened with having to don a mankini and perform Like a Virgin on the final day of the season if he failed to find the net this campaign, called the whole thing off with an effort against Dundee United.
Football Talk, understandably, is furious.
We hope you have a great Hogmanay and a very Happy New Year. We also hope Only an Excuse is decent this year, but we're not staking our eternal contentment on it.
Here's what is making the news on the final day of 2012.
The SPL Goal Rush: Enjoy every goal from the weekend's action
Watch every goal from the final round of SPL matches in 2012.
Celtic target Rami Gershon ready to quit Belgium
The Israeli defender is reportedly close to a loan move to Glasgow. (Scottish Sun)
Celtic goalkeeper Fraser Forster can become best on the planet, says Gigi Buffon
The Italian keeper believes his Celtic counterpart has what it takes to be the best in the game. (Daily Record)
One small step from a mankini
David van Zanten pulled off his escape from training ground humiliation with a goal at Dundee United on Sunday. (Evening Times)
Hearts to demand SFA stump up compensation after Ross County call off leaves them out of pocket
Dingwall bosses have already offered to pay for hundreds of Hearts fans to be bussed north for the rearranged fixture. (Daily Record)
Andrew Driver not desperate to leave Tynecastle in January The Hearts winger says he and other players would prefer to stay with the club. (Sky Sports)
Eoin Doyle says victory over Celtic will have Hearts running scared for New Year derby
The Hibs striker reckons his team's home win against the Glasgow Goliaths will have their city rivals anxious. (Daily Record)
Motherwell captain says Jamie Murphy is destined for great things
Keith Lasley says the forward has been 'a pleasure to play with'.
There's some further reading to be had as well.
The unusual travels of Stuart Duff
The former Aberdeen man has settled nicely into life with Kazakh side Kairat Almaty. (The Inside Left)
Should Paddy McCourt start when Celtic play Motherwell?
No, says Ronny Cully. (Evening Times)
Some viewing pleasure to round off your 2012.
We've got all the highlights from the weekend's SPL games.
Dundee 1-3 Aberdeen
Dundee United 3-4 St Mirren
Hibernian 1-0 Celtic
Motherwell 2-2 Kilmarnock
St Johnstone 0-0 Inverness CT
More About Football Talk