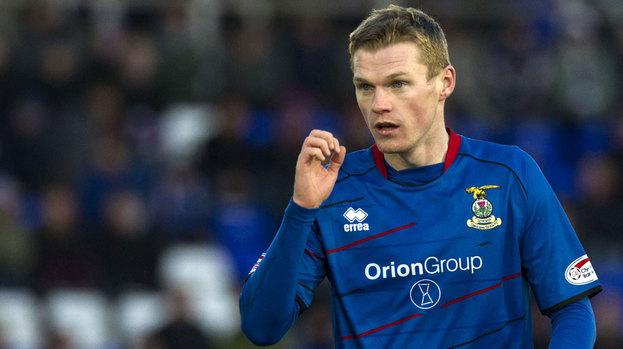 It's the most frenetic time of the year if you are a footballer, manager or a dressing-gown wearing football statto.
Still, no rest for the wicked, or even the moderately evil, as we plug the latest findings into the Stat-o-tron for this week's Power Rankings.
There were five matches in the SPL at the end of the year, with only Ross County's match against Hearts succumbing to the weather. So, who will end the year at the top of the table?
The Top Ten
1) Billy McKay - 8.018
The Inverness CT forward tops the table for a third consecutive week. Despite not scoring in either of his last two matches, his goalscoring run in the matches before Christmas was enough to keep him at the top of the table, only just ahead of...
2) Jamie Murphy - 7.921
Last week's number three moves up one place and only just fell short of taking the top spot for the first time this season. Murphy scored his 10th of the season, a personal best for the SPL, in the 2-2 draw with Kilmarnock at Rugby Park.
3) Gary Hooper - 7.575
It wasn't an ideal week for Hooper and his Celtic team-mates, going down 1-0 to Hibernian, but the Englishman has been in sensational form in the last five weeks. Only half of his 16 goals have come in the SPL so far, but that's just three short of his SPL tally at this time in 2011/12, when he finished top scorer.
4) Niall McGinn - 6.28
5) Stuart Armstrong - 5.933
6) Gary Teale - 5.2
7) Jonny Hayes - 4.99
8) Steven Thompson - 4.75
9) Jon Daly - 4.65
10) Richie Foran - 4.298
Player of the week - Niall McGinn - 3.42
Although scoring a hat-trick doesn't guarantee you PotW status, Niall McGinn's trio of goals combined with a generally exceptional performance to edge him ahead of St Mirren's Gary Teale. The three goals against Dundee means that he's on 13 for the season in the SPL; a tally which hasn't been bettered by an Aberdeen player since Arild Stavrum's 18 in 2000/01.
Dundee United: no reason to panic yet
You only need a cursory look at the Power Rankings to see what a threat Dundee United would be if they could defend a little better. Stuart Armstrong has been the standout player for Peter Houston's side this season, and his recent form in the Power Rankings shows that; 5.933 from midfield is (if memory serves) as high a score as we've seen from a central midfield player.
Equally, Barry Douglas' delivery causes no end of problems. He's currently just outside the Top Ten in 11th place (4.293), and has five assists and one rather spectacular goal to his name. Jon Daly continues to show his threat with his position in the top ten.
The defensive frailties are all too apparent. St Mirren players picked up a total of 6.1 points from the match at Tannadice, which shows not only the goals and assists, but also that Danny Lennon's players were getting their shots on target. The stats don't look good - only two clean sheets in ten games, and 32 goals conceded. However, put into context these stats aren't quite so worrying.
This time last season Dundee United were sixth, this season they are eighth. The difference? One point. Last year they had conceded 33 to just 30 goals scored, this year it's 32 goals to 31 scored. If anything they're showing exactly the same form as a year ago, and if that was anything to judge by, others should be wary for 2013.
Related articles