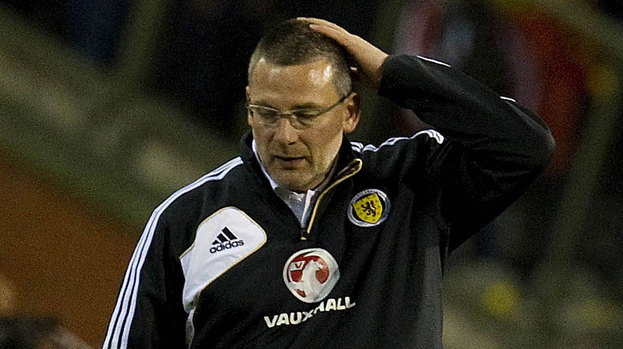 We've got mere hours left in 2012, so what better time to look back on some of the most important events from the last year, as tweeted by those who were there?
It might be an over-used phrase, particularly at this time of year, but it's safe to say it has been a fairly momentous year in Scottish sport.
What were the events that shaped the year in Scottish sport? We could have gone into great detail about each and every event, but we thought we'd let the tweets talk for themselves. Can you match the tweet to the event?
January
Lawrence Tynes has kicked the @giants to the Super Bowl AGAIN! Watch MY9, WFAN660AM or Giants.com for Postgame Coverage! #ALLIN

— New York Giants (@Giants) January 23, 2012
February
Congratulations to our champion - Paul Lawrie wins again in Dohaqatar-masters.com/news_detailed.…

— CB Qatar Masters (@CBQatarMasters) February 5, 2012
Rangers to go into administration bit.ly/wWUIv6

— STV News (@STVNews) February 13, 2012
March
119 - 110, 120 - 110, 117 - 111 - It's a unanimous decision win for Ricky "Rickster" Burns who retains his WBO World title #BoxNation

— BoxNation (@boxnationtv) March 10, 2012
thanks everyone!!! still enjoying whit the family and friends...

— Dieter Van Tornhout (@VTDieter) March 19, 2012
Sometimes things are put into perspective and today was just that, should have been Liam's best day yet it was his worst. Heartbreaking #RIP

— Rory McKeown (@rmckeown23) March 18, 2012
April
Good times. Who would have thought...

— Mike Blair (@mikeblair9) April 7, 2012
GLASGOW CELTIC CHAMPIONS!!

— Joe ledley (@joe16led) April 7, 2012
Massive result and team effort from @clubforce this weekend. Thanks again guys, @pierobiase did an awesome job under big pressure on his own

— Paul Di Resta (@pauldirestaf1) April 22, 2012
May
There is only one team in Edinburgh!!!The cup is safe home! Thanks for the best memories!!!#heartsarehavingpartyandhibsareinthebed

— Rudi Skacel (@RudiSkacel51) May 19, 2012
June
we're tough in scotland, this is how we celebratetwitter.com/GSALaw/status/…

— Ally Strokosch (@thebigstroker) June 5, 2012
July
IRN-BRU SFL3: Peterhead v Rangers (Sat 11th Aug) will now kick-off at 12.45pm (Live on Sky Sports)

— The S.F.L. (@OFFICIAL_SFL) July 31, 2012
August
Heather Stanning: "I'm absolutely shattered and absolutely ecstatic at the same time." #OurGreatestTeam

— GB Rowing Team (@GBRowingTeam) August 1, 2012
Wow. Totally surreal day, still not even remotely sunk in, thanks for all the msgs, will get back to everyone eventually. Cheers Tim

— Tim Baillie (@timbaillie) August 2, 2012
Anna Watkins, Katherine Grainger and coach Paul Thompson. W2x GOLD at LONDON 2012. Dreams can come true #OurGreatestTeam

— GB Rowing Team (@GBRowingTeam) August 3, 2012
Thanks for all your messages during the @olympicstennis. We'll leave you with one final look at the @teamgb medallists! twitter.com/BritishTennis/…

— British Tennis (@BritishTennis) August 5, 2012
First chance to check my messages, what can I say except thank you to all of you, so kind! Still buzzing from yesterday, what an experience!

— Chris Hoy (@chrishoy) August 8, 2012
September
'Born-again' David Smith rows for gold medal at London 2012 - British Paralympic Association paralympics.org.uk/gb/news/born-a…

— David Andrew Smith (@D_Smith_2012) September 1, 2012
Thanks to everyone for your congratulatory comments.

— Craig MacLean (@craigmaclean5) September 3, 2012
What a historic night! Tonight Andy achieved his dream. He got the result his talent dedication and perseverancedeserved. So proud of him.

— Jamie Murray (@jamie_murray) September 11, 2012
Taking my postbox home with me! twitter.com/neilfachie/sta…

— Neil Fachie (@neilfachie) September 15, 2012
Thank yous all so much for the messages, was a great nite! Well done to all boxers n teams that put the show together! What a nite!!

— Ricky Burns (@ricksterko) September 23, 2012
Paul Lawrie wins over Brandt Snedeker 5&3 to give @rydercupteameur an additional point. Total score 10-8 @rydercupteamusa #RyderCup

— Ryder Cup (@rydercup) September 30, 2012
He's done it, Europe retains the Ryder Cup!

— Ryder Cup Team EUR (@RyderCupTeamEUR) September 30, 2012
October
Amazing game last night! So happy to get the goals for the team & buzzing to get 1st win of the campaign! #teamspirit twitter.com/GarethBale11/s…

— Gareth Bale (@GarethBale11) October 13, 2012
Proud of my team, proud of our fans, proud of our country. Together we can achieve anything. #Belgium

— Vincent Kompany (@VincentKompany) October 16, 2012
Invite to SPOTY received. Have to check the diary!

— Scott Brash (@scott_brash) October 18, 2012
Goal for Spain. Agony for Scotland. Vero scores with the last kick of the match to make it 3-2 to Spain on the night.

— Scottish FA (@ScottishFA) October 24, 2012
November
Scottish FA Board Statement: Craig Levein relieved of his duties bit.ly/REnYfm

— Scottish FA (@ScottishFA) November 5, 2012
Congratulations to @celticfc for well-earned victory a day after their 125-year anniversary. #FCBLive

— FC Barcelona (@FCBarcelona) November 7, 2012
FT: Luxembourg 1-2 Scotland (Gersen 47'; Rhodes 10', 23')

— Scottish FA (@ScottishFA) November 14, 2012
Andy Robinson has decided to step down as head coach of the national team. Full story here scottishrugby.org/content/view/3…

— Scotland Rugby Team (@Scotlandteam) November 25, 2012
December
Full time: Celtic 2 (Hooper 21, Commons 82 pen) Spartak Moscow 1 (Ari 39) and full time in the Nou Camp 0-0 ...Celtic are in the last 16!

— Celtic Football Club (@celticfc) December 5, 2012
Celtic v Juventus!!!

— Celtic Football Club (@celticfc) December 20, 2012