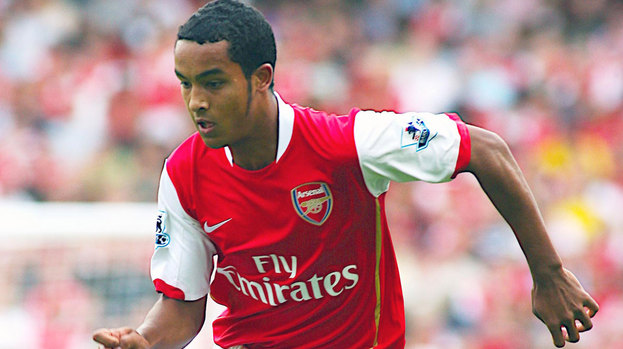 The concept of proper value is a tricky subjective to grapple at the best of times, but trying to apply it to football is an exercise in wanton frustration.
Take the ongoing Theo Walcott contract impasse. Arsenal say they would like to sign the player up for a few more years, if only because keeping a player after spending years developing him would be a refreshing change of pace for feederiest club in Western Europe.
Walcott says he would like to sign the offered contract, but only if he can play as a central striker, rather than his more familiar role offering flickering glimpses of speedy potential on the right wing. Walcott also says he's not looking for too much of a pay rise, but in a tone of voice that suggests that if a significant pay rise doesn't swim into view he'll be terribly, terribly disappointed.
So really, it's time for Arsenal to delete the number 5318008 from their calculators and start working out whether or not Theo's worth all this extra money that he's definitely not explicitly asking for, wink wink. The first question the club has to ask then, is which Walcott do they wish to buy, the winger or the striker? Which is his best position?
In a devastating blow for lovers of a simple solution everywhere, the answer is that Walcott doesn't have a best position. Rather, he is equally gifted and flawed in both the wide and the central roles. When played on the wing, Walcott zips past fullbacks at a pace that makes them look like their legs have been cut off, cast in cement and hurled into a pond of treacle. Once he gets into the wide-open spaces behind the de-limbed defender though, his crossing ability is exposed as being as patchy as achievement-orientated Boy Scout's blazer.
Through the middle, his pace is still an asset, but be can be countered by burly centre halves lying in wait in deep positions with cruel grins and honed pectorals for Theo's frail frame to bounce off of. His finishing is far more consistently accurate than his crossing, but his lack of either an imposing musculature or a finessed close-control on the ball makes it difficult for Walcott to bulldoze or bamboozle his way out of a defender's clutches once play becomes compact in the penalty area. If his pace hasn't stretched the defence by the time he arrives within shooting range, Walcott can find it difficult to find enough space to unleash.
If Walcott is faced with an obliging opponent – such as the Newcastle United team who appear to have dedicated this season to proving that Mike Ashley deserves to be considered the most consistent decision-maker in the game, with Alan Pardew's eight-year contract sitting proudly alongside SportsDirect.com @ St James' Park, trying to canvas buyers for club via a classified ad and employing Alan Shearer in any capacity other that burly goal-torpedo in the greatest hits section of Ashley's CV – Theo can be a devastating striker, as his poise, balance and clinical touch in the face of Danny Simpson demonstrated.
Against an organised and determined Southampton however, Walcott looked as meek and lost as green salad on Sam Allardyce's Christmas dinner table.
Unless Walcott makes an unexpected leap forward in either his crossing or control – not impossible, as he is still only 23 years old, despite seeming to have arrived onto the football landscape at the same time as the invention of the crossbar – Arsenal will probably have to continue juggling him between the two positions, playing Walcott's deficiencies off of Olivier Giroud's on the one hand, or Alex Oxlade-Chamberlain's on the other, desperately hoping that the frustrating panoply of almost-good-enough talent can be mixed and matched into more than the sum of its rag-tag parts.
But is that jambalaya of a football team worth the money Walcott demands? This is obviously difficult to answer while we don't know the exact figures that are contained within either the pockets of Arsène Wenger's coat of many duffles or the recesses of Theo's wildest dreams, but I'm going with a tentative yes.
Not only would re-signing Walcott be a statement of intent, reinforcing the long-term capture of Jack Wilshere as a signal that Arsenal would really rather not continue as the under-21 side of the Champions League Elite – but there is also at least a reasonable chance that Walcott will grow into his wages.
As I mentioned before, he is only 23, and has this season already grabbed more goals and more assists than in any of his previous full seasons. Even if the experience of just watching Walcott still betrays the callowness, the frustation, the nearly-thereness that has characterised the past six years of his career, these numbers suggest that he is capable of taking on the responsibility of being the main man at a club like Arsenal.
Theo Walcott, he's worth it.
Probably.
Nicol Hay is a writer, film maker and football blogger. You can follow him on Twitter @nicolhay.