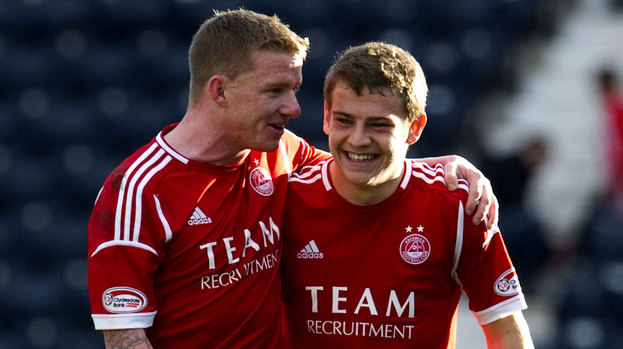 Players who draw the most fouls aren't necessary the players who opposition defenders fear the most, or who cause the most danger to opponent's goal.
However, they do tend to be a certain sort of player who we are constantly told are in decline in Scotland – the fleet of foot.
Tricky players draw more fouls because defenders find it harder to deal with quick changes of direction, direct running and pace. Each of these attributes are on show in the players who have drawn the most fouls this season.
1.Ryan Fraser (Aberdeen) Despite being restricted to just 13 starts so far this season, Fraser has drawn more fouls than any other player in the SPL. A low centre of gravity, quick feet and surprising upper-body strength have caused no end of consternation to opposition defenders. Should he stay at Aberdeen, he could break the century for fouls drawn.
2=Andrew Shinnie (Inverness CT) One of the standouts of the season so far, Shinnie has drawn 44 fouls so far this season as a result of his late runs into the box, and support play. Although not a traditional forward player by any means, his 11 goals this season show just what a threat he has been from behind the strikers.
2=Dougie Imrie (St Mirren) As with Fraser, Imrie has been in and out of the team at St Mirren, only making 10 starts so far this season. However, his direct running and tricky wing play mean he picks up plenty of fouls. Perhaps his place is by virtue of his frequent substitute appearances (10 so far), when he runs at tired legs?
4=Johnny Russell (Dundee United) See a pattern emerging here? Russell's pace and willingness to run at defenders have been the main attacking threat for Dundee United this season. He's picked up 42 fouls this term.
4=Murray Davidson (St Johnstone) As with Shinnie, Davidson has shown just how useful an advanced attacking midfield player can be in the SPL. The Scotland international has been fouled 42 times this season.
6.Paul Cairney (Hibernian) Again, the attacking playmaker appears on the list. Players such as these will often be identified as the main attacking threat, so may be marked more closely than other midfield players. Cairney also happens to be very useful with the ball at his feet, and can be a threat with his dribbling ability.
7.Jonny Hayes (Aberdeen) Fitting neatly into the idea that two sorts of players draw the most fouls, Hayes has been fouled 37 times this season. It's somewhat symptomatic of the change in style at Aberdeen that both wide players have drawn so many fouls, while last season it was the likes of central midfielders Fraser Fyvie and Rob Milsom who were most sinned against.
8.James Dayton (Kilmarnock) Kilmarnock have been praised for their willingness to keep the ball on the ground in recent seasons, and this is just one reason why James Dayton has been fouled 36 times so far.
9.Nicky Riley (Dundee) It has been tough going for Dundee so far this campaign, but one of the few bright spots has been the form of winger Riley. Two goals so far this season, and a willingness to get beyond opponents, have offered one of the threats at Dens Park. He's been fouled 33 times.
10.Liam Kelly (Kilmarnock) Occupying the same string-pulling role in the midfield for Kilmarnock is Liam Kelly, who has six goals so far this season. He's been fouled 31 times.
Fouls by club
Hearts - 250
Inverness CT - 242
Hibernian - 240
St Mirren - 238
Kilmarnock - 236
St Johnstone - 236
Dundee United - 232
Aberdeen - 221
Celtic - 217
Ross County - 210
Dundee - 198
Motherwell - 182