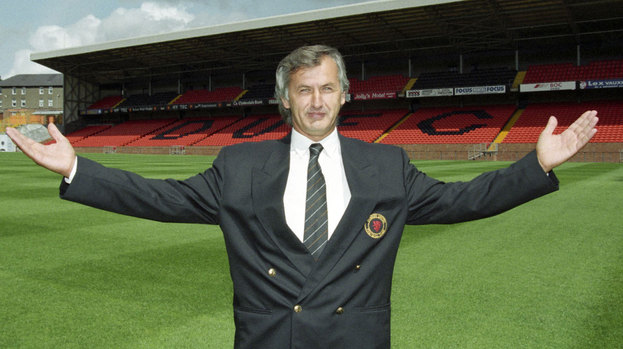 Ivan Golac may be best remembered in Scotland for leading Dundee United to cup success but in a varied career he also had a stint as manager of a chocolate factory in Belgrade.
Football's answer to Willy Wonka returned to Scotland this week to talk about United and says that if he had stayed in place, life could have been sweeter for the Tangerines. He doesn't go as far as suggesting his successors in the dugout were as useful as chocolate teapots.
Elsewhere, if you thought the day Rangers learned if they were to make a saving on silver polish was a good day to bury bad news, think again. Announcing the departure of managers and directors of football does not go unnoticed. Hearts and Livingston, we're looking at you.
And there's a story of football in a freezing, desolate wasteland. That's the bit on football in the Antarctic below the Rangers section, before you start.
Dunfermline players set to go on strike after receiving only a fifth of their February wages
The Pars squad will be meeting today to discuss whether to withdraw their services ahead of Saturday's home game against Partick Thistle (Daily Record).
Parky's Jam role
The Bradford City boss has emerged as a target for Hearts (Scottish Sun)
John McGlynn sacked by Hearts following St Mirren defeat
The manager has parted company with the Tynecastle club with immediate effect.
Steven Pressley rules out Hearts move and reveals sympathy for McGlynn The Falkirk boss says he's happy with the First Division side.
United would've won EVERYTHING if they'd kept me
Ivan Golac says he'd have won more trophies than United legend Jim McLean if he hadn't been sacked (Scottish Sun)
John Collins and Gareth Evans leave management roles at Livingston
The director of football and manager leave the club with immediate effect.
Rangers talk
Charles Green: Those who wanted Rangers' titles stripped should apologise
The chief executive reacts to the decision of an SPL commission to fine the oldco £250,000.
Ally McCoist: 'Rangers guilty of an administrative error, not cheating'
The Rangers hit out at the SPL commission after the verdict was delivered.
Alex McLeish: SPL commission decision is vindication for Rangers
The 54-year-old, who was in charge of the club between 2001 and 2006, says the club have been vindicated.
Rangers players 'were eligible' despite club's failure to declare EBTs
Rangers were not stripped of Scottish Premier League titles because their players were eligible to play in league matches, despite EBT payments not being made.
Key points from Lord Nimmo Smith's ruling on Rangers
A summary of the key points from the ruling.
Something a little bit different
Killie cup winning subbuteo squad arrived this morn. Thnks @florentholland. Complete with @paska29 on crutches. twitter.com/Sctlndg/status…

— Graham Torrance (@Sctlndg) March 1, 2013
Must read
1000 not out: A salute to Ryan Giggs
Daniel Taylor reflects on the career of one of the game's greats. (The Guardian)
Global United, football and climate change The story of Lutz Pfannenstiel— one of foo tball's most travelled men, having played for twenty-five clubs in twelve different countries and being the only player in history to have played on all six FIFA-recognised continents. (In Bed With Maradona)
Must watch
One of the #FootballTalkfamily has never seen a Harlem Shake video. He'll never get to appreciate Dimitar berbatov's involvement then.
More About Football Talk
Related articles