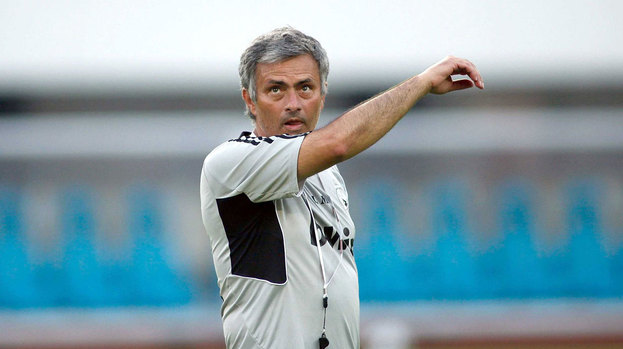 After a night of barely believable drama, the dream of an El Clásico final may have gone, but in Barcelona's absence the ambitions of Real Madrid and Bayern Munich burn even brighter.
For the Spanish league leaders, they have already slayed their Barça demons. A first win in eight league matches since Pep Guardiola took charge in the Catalan capital four years ago means the Spanish title is headed back to the capital for the first time in that period.
Now, they want even more. The one side seemingly capable of stopping them for the past two years has been cleared from their path. Jose Mourinho may have publicly stated his wish to reunite with some old faces and friends in May with a Real-Chelsea final at the Allianz Arena, but more than anything a coach with such a winning mentality knows there will never be a better opportunity for him to become the first man to win European football's greatest prize as a manager with three different clubs.
The Londoners have defied all the odds to reach their second final in four years, a stage to which Mourinho never managed to take them, but whilst they crawled across the line in sheer exhaustion at the Camp Nou, they will also limp into the final without four key players through suspension.
Roman Abramovic is still waiting on the trophy he bought the club to win nine years ago, for Real the wait has been 10 years. A decade waiting for La Décima - their 10th European crown.
There has never even been a final appearance since Zinedine Zidane sent the raindrops flying off the back of Hans Jörg Butt's net at Hampden in 2002.
Mourinho lamented the circumstances in which they failed to progress from the final four last season. Barcelona, he reiterated on Tuesday, had won because of what "everybody knows". The Portuguese's insinuation that the Catalans receive the benefit of the doubt when it comes to refereeing calls from Uefa officials.
That particular gripe, whether well-founded or only structured in his own mind, can now be put to the back burner. His concern now, how to beat Real's other nemesis? Bayern have lost just six of 19 meetings between the two in European competition.
Mourinho also claimed yesterday that it was Bayern's name and standing in the game that worried him most, that answer most likely another cover up for a much more tangible threat to Real's prospects.
It came as no surprise to anyone who has watched both these sides in recent months that the first-leg, which ended 2-1 in Bayern's favour, was decided down the flanks.
Full-back has been one rare area of weakness for Madrid this season. Fábio Coentrão's first season in the Spanish capital has been a stop start one but the €30m that Mourinho saw fit to spend on him in the summer suggests the Real boss sees something special in his compatriot (apart from his agent) and has tended to play him in all the biggest games.
Unfortunately for both that has led to the statistic that the former Benfica man has played the 90 minutes in all five of Madrid's defeats so far this campaign and Mourinho wasn't best pleased with pointed questions at his selection after the game in Munich when his ill-timed lunge on Philippe Lahm allowed the German captain the space to cross for Mario Gomez to prod home the winning goal.
Lahm is far from the only wide threat to contend with. One of many intriguing side plots is the role of Arjen Robben, discarded from the Bernabéu three summers ago, despite being arguably their best player the previous season, to make room for the Galácticos II project.
On the other side, Franck Ribéry may have infuriated many in Spain with his attempts to outdo Didier Drogba in a spread bet to see who could take more unnecessary tumbles last week, but the Frenchman scored the crucial opening goal that set Bayern on their way.
Meanwhile despite Real's 10-year hunt for a 10th trophy and Roman's billions spent to buy one for Chelsea, does anyone have more motivation than the Bavarians who are preparing for the party in their own backyard?
Real have conceded at home to 17 different sides so far this season and kept only three clean sheets at the Bernabéu in 2012, a continuation of that trend would see them needing at least three and the Germans well-placed to advance.
The self-styled FC Hollywood have had an 11-year wait of their own to be crowned European kings and even have their own score from their recent past to avenge.
Six of the side expected to start tonight were in the team defeated in the final by Inter Milan at the Bernabéu just two years ago. The man who plotted that downfall? Well he'll be in the opposition dugout once again.
Real Madrid v Bayern Munich is live on STV tonight and you can watch it online at live.stv.tv from 7.30pm.
You can follow Kieran on Twitter @KieranCanning.