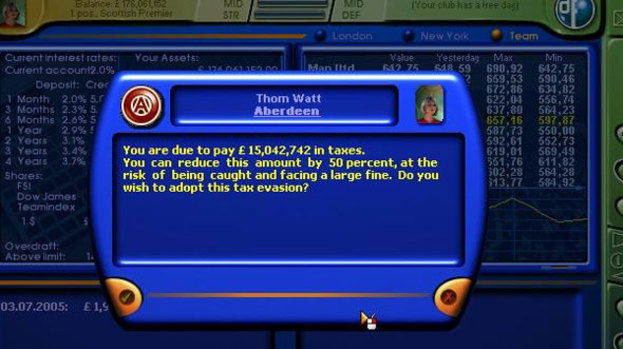 The field of football computer games is a hugely competitive sector, with games like the Football Manager franchise attracting fanatical support.
There have been numerous games throughout the history of the genre which have fallen by the wayside: Sierra's Ultimate Soccer Manager, Elite's Complete Onside Soccer and... Ally McCoist's Director of Football.
Released in 2001, the game allows you to manage some of the less glamorous sides of the game, including the expansion of your stadium, negotiating contracts and finding sponsorship. If you ever wanted to be part of the decision making process on the number of car parking spaces by your stadium, you genuinely can in this simulation.
However, given the current state of Rangers, McCoist may regret his name appearing on a game which appears to offer the opportunity for wannabe Directors of Football to avoid paying tax. At the end of each in-game season your club is presented with a tax bill, but you can decide to risk further repurcussions by only paying a fraction of the money owed.
The screen reads: "You can reduce the amount of tax by 50 percent, at the risk of being caught and facing a large fine. Do you wish to adopt this tax evasion?"
Obviously the real McCoist would have had nothing to do with such gameplay options and has condemned the non-payment of taxes under Craig Whyte, which led to the club going into administration. Even then it appears the makers of the game were poking fun at the precarious state of football finances.
There are several satisfying features that could well be brought into modern management simulations. The option to build an airport by your stadium, choose how to renovate your training ground, whisk your players off to assorted different recuperation facilities or even book them time on the psychiatrists' coach are nice features.
You can also generate large sums of money for your team by playing the stock market, investing in fictional companies based in London, New York and Tokyo or in the fates of other football clubs.
The football side of the game is unlikely to offer much that the modern fan can't find elsewhere. The transfer system is managed via auctions and it is very easy to pick up star players from around the world even when you are a relatively lowly club.
Interference with team tactics is an option if you wish your DoF role to be more hands on, but if you do your job then your manager has an easy job to put together a winning team.
There may be time yet for it to become a cult concern amongst gaming hipsters and collectors. It is currently available from Amazon for £1.97. It also begs the question, which other characters from Scottish Football deserve their own football game?