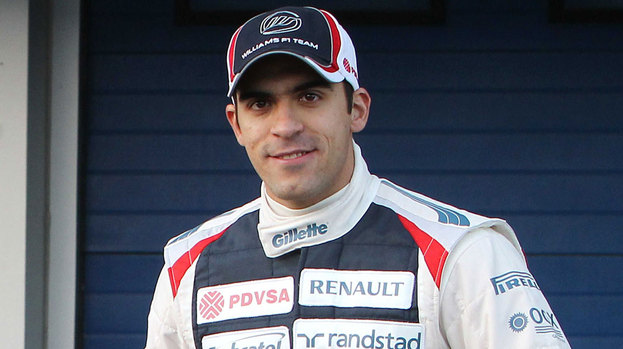 It's only five races in and already the 2012 season is a year for the history books. Five different winners in the first five races for the first time since 1983, and there has been a Venezuelan winner for the first time ever.
The win will have been even sweeter for Pastor Maldonado who is widely regarded to be a "pay" driver. He was given the seat because of the sponsorship he brought with him rather than on talent alone.
In a fairy tale ending, the famous Williams team, who had their worst ever season last year, took their first win since Brazil in 2004 in front of owner Frank Williams and his family, who travelled to celebrate the legend's 70th birthday.
The win, however, was quite literally overshadowed by a fire that tore apart the Williams garage in the midst of celebrations.
The cameras were still rolling when the flames started and personnel from teams up and down the paddock raced to help. The blaze was eventually brought under control as fire and ambulance crews stepped in.
Reports from the medical centre said that four Williams staff, one HRT, one Caterham, one Force India, and one circuit worker were being treated for burns, smoke inhalation and a reported broken wrist. It's understood there were no serious injuries though and the teams have been praised for their handling of the situation.
Back on the race track, the result was not what the home fans will have been hoping for. Spaniard Fernando Alonso looked like he could have taken the win with a strong start from P2, jumping Maldonado to take the lead.
Maldonado though managed to undercut him at the second round of pit stops and despite Alonso keeping up the pressure, Maldonado kept his head right until the end and took home a deserving first time win.
The pace of Ferrari was a surprise to many this weekend as they have looked continuously off the pace this season, but if anyone can get results out of nearly nothing it is Fernando Alonso.
The 30-year-old bagged P3 starting position, P2 once penalties had been imposed, and lined up ahead of Lotus, who many had tipped for a win this weekend.
His team mate Felipe Massa could only manage P17 and for the first time the team publicly voiced their displeasure with his result. Massa blamed his starting position on traffic, but Ferrari spoke out saying they were "disappointed with his performance".
The Brazilian only managed to translate this into a P15 finish, which is sure to fuel rumours of his possible replacement, most notably of which is Mark Webber who is said to been in discussions with the team for a drive next year.
One of the most impressive performances of the day though has to go to Lewis Hamilton. While last year the team may have been carrying him, he is definitely repaying the favour this season.
For after a series of ruined races following disastrous pit stops, Saturday's qualifying saw yet another catastrophic error from McLaren. After a blistering qualifying lap which saw him comfortably take pole with a 0.5 second gap to next man Maldonado, Hamilton was ordered to stop the car on the track.
The team believed he didn't have enough fuel on board to make it back to the pits, plus ensure the mandatory one litre remained for FIA testing.
However it was revealed that the Brit did in fact have enough and the stewards issued a back of the grid penalty to the driver. The fans outrage quickly swept social media sites with many saying the penalty was too harsh.
However the stewards stand firm that they were following FIA rules and the punishment is hard on purpose to dissuade teams from under fuelling the cars to gain some advantage.
Rumours began circulating that four McLaren staff had left as a result of the incident, but it emerged that the reports were in fact an elaborate Twitter hoax, that included the creation of false accounts and even fake interviews. You've got to admire some people's desire to stir up drama.
Hamilton ignored the histrionics that surrounded them this weekend, got his head down and drove an impressive race. He displayed his characteristic aggressive driving style with some admirable overtakes but he also managed to look after his tyres in his final stint, making them last 30 laps.
Many speculated he would be forced into another stop as there was no way they would last, but he proved his critics wrong and he was rightly proud of his result. After starting from P24 he finished at Barcelona in P8. Yet despite some impressive driving, Hamilton has yet to win a race this year.
With Monaco next up in the calendar, Hamilton, who has frequently expressed his love of the street circuit, could finally be about to have his day.
On the topic of drama, Mercedes are currently in the middle of heated talks with sport chief Bernie Ecclestone. The team are threatening to pull out of the sport entirely if they are not given more favourable terms under the secretive Concorde Agreement.
This could prove disastrous for not only the Mercedes team but for McLaren and Force India, both of whom have their engines supplied by the manufacturer.
Not much is known about the terms the team are asking for as everyone involved is staying tight lipped. However the team have said they want to stay in F1 and Bernie needs to get the new Concorde Agreement signed, sealed and delivered, so it will be interesting to see who's willing to bend.
Back to this weekend however, Mercedes will quickly want to forget this race. After winning just two races ago in China, Nico Rosberg could only manage a P7 finish - and he was the team's top finisher.
Fans of seven time world champ Michael Schumacher will be wondering if the German will ever deliver the results that keep being promised. In the last five races, Schumacher has failed to finish three of them.
This time he had a strange coming together with the Williams of Bruno Senna, where Schumacher seemed to be caught off guard when the Brazilian braked and careered into the back of him.
He protested his innocence, screaming down the radio that Senna was an "idiot". However the stewards did not agree and issued a five place grid penalty for the next race.
Force India also had a fairly disappointing weekend. Paul di Resta and Nico Hulkenberg lined up to start in P13 and P14 respectively and their best finisher Hulkenberg could only grab the final points place finish, P10. Di Resta finally crossed the line in P14.
Red Bull also seemed to struggle this weekend with both drivers having their nose replaced during pit stops and unexplained lack of pace, but with the season going the way it has been, who knows? Next week could be very different.
The pack is so closely matched now it's really anyone's guess who's going to be the next winner. The final testing session, which took place in Mugello, Italy last week, only really served to show that the season is anyones.
As Adrian Newey, chief technical officer at Red Bull, put it: "We learned that the pasta in Mugello is still the best in the world but that's about it."
To follow me in between races find me on Twitter @JenBuchanan_F1
People who read this story also read