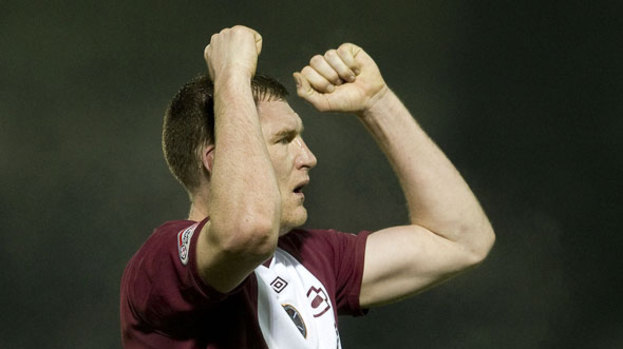 How are those nerves doing? Sleepless nights? Or dreaming about Leigh Griffiths/Rudi Skacel crisply striking the ball into the net at Hampden?
Here at Cup Final Talk we are not here to help. In fact, let's ramp up the excitement a bit more.
Nobody knows derby goalscoring like John Robertson, and the Hearts great sees Hibs front men as a major threat to the men in maroon on Saturday.
Meanwhile Pat Fenlon knows his best line-up and already has the team picked to walk out at the national stadium.
Allowing your thoughts to creep forward to after the game? Check out our fantastic interactive maps of the top Hearts and Hibs pubs to help you celebrate in style.
It's just four more sleeps folks. Good luck with that.
TOP STORIES
John Robertson fears Hibs frontline
The Ace of Hearts knows a thing or two about hitting the net, and he sees Garry O'Connor and Leigh Griffiths as key men for Hibs.
Pat Fenlon set on cup final team
The Hibernian gaffer is over in his native Dublin preparing the team, and knows the men he will pick to lead them to glory. (The Scotsman)
Kevin Kyle: I'll watch final in my old Hearts top in Spanish resort
The former Tynecastle hitman is recovering from a career-threatening hip injury, but will miss the final as he is away on a stag party. (Daily Record)
MUST READ
Map: Hearts pubs around Gorgie
Map: Hibs pubs around Easter Road
There are a plethora of drinking holes to toast your team's win. STV Edinburgh has done the dirty work of showing exactly where you can do it.
Scottish Cup Final 1896 – match report
Just the 116 years since the Edinburgh teams met in a final – here's remarkable archive reports of the win for Hearts at Logie Green.
Celtic v Hibernian – the 1902 Scottish Cup final
As if Hibees needed reminded, it is 110 years since they could call the world's oldest football trophy their's. Here is how they went about winning it back in 1902.
MUST WATCH
Young Saskia is quite a singer for her age, and she has been delighting Jambos online recently with a Gorgie-flavoured take on some pop hits.
Get involved in the cup final build up on Twitter using the hashtag #saltnsaucefinal
More About Scottish Cup Final 2012
Related articles
People who read this story also read