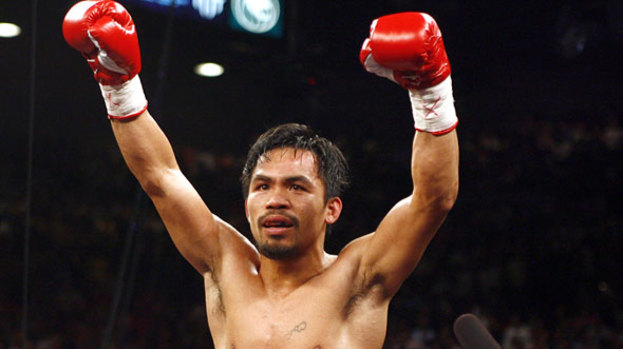 Manny Pacquiao's training in his native Philippines was disrupted after a typhoon hit the islands. But the fighter's trainer Freddie Roach has maintained that the problems won't distract the fighter in his preparations for his bout with Miguel Cotto in Las Vegas next month.
Pacquiao, a superstar with political aspirations in his homeland, was training on home soil for his November 14 showdown with Puerto Rico's welterweight champion Cotto when the natural disaster struck. The typhoon killed over 700 people and made more than six million homeless.
The boxer visited some of the worst-hit areas around the capital Manila and distributed food and supplies to some of those affected by the typhoon.
Pacquiao has now returned to Roach's Wild Card Gym in Los Angeles, California and the American trainer said that though the sights took their toll on Pacquiao it would not stop his fighter knocking out WBO champion Cotto.
"It left him mentally drained and very sad, naturally," Roach said during a Wednesday conference call from Los Angeles. "But, once we got in the gym, he put it aside.
"Manny is able to put that side of real life aside when he gets into the gym.
"I feel Manny, the way he's punching right now, with the power that's there at this weight, he's going to knock Cotto out."
Roach downplayed scenes shot by a TV series for the build-up to the fight which showed the trainer threatening to leave their camp in Baguio as another typhoon was forecast to hit the country.
"I was concerned for the safety of the sparring partners, Manny's crew, Manny and myself and very concerned the typhoon was going to come quicker than it did," Roach said.
"Manny was more relaxed about it and so I said 'Manny, I'll be waiting for you in Manila'.
"I was just trying to get him motivated to go and then that night at midnight he got motivated, he called me up and said 'let's go'. So we left at midnight and went back to Manila."
There were also bumps in the road for Roach in the capital city as his fighter was in-demand by the political community.
"The last week in Manila was a little bit difficult because we had so many politicians there, trying to make meetings with Manny and everybody was trying to pull him in every direction they could. So Manila wasn't that great for us."
Pacquiao was back to his sharpest, the trainer said, now he had returned to Los Angeles to finish his camp at the Wild Card.
"He was distracted in Manila and our last day of boxing there I was really disappointed, he didn't do that well. His mind was just somewhere else.
"Then we got to LA and he boxed yesterday. We still had a bit of jet lag and I didn't really expect a great day from Manny, he looked a little tired in his eyes, but he gave me 10 great rounds, he's back on track and he's very close to being ready for the fight."
Pacquiao agreed, adding: "I feel I'm in 100% condition and I'm excited for the fight. I can't wait for November 14. I'm looking forward to a good fight because our styles are kind of similar."