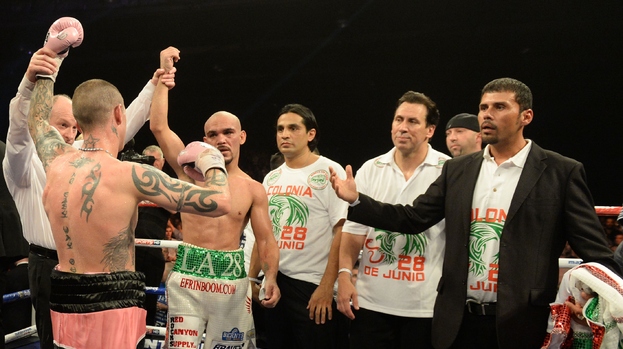 Raymundo Beltran is adamant he should have been named the new WBO lightweight champion after his fight with Ricky Burns was declared as a draw.
The Mexican impressed during the bout in Glasgow, producing a number of strong left hooks and sending Burns to the floor in the eighth round.
However only one judge called the fight in his favour, with one giving the fight to Burns by 115-112. The third judge scored the contest at 114-114, allowing Burns to keep his crown.
After the fight an emotional Beltran told Sky Sports 2, he felt he should have been named the victor.
He said: "Yes I do, absolutely."
On why he was not given the nod, the Mexican said: "Politics, always the same thing in boxing.
"There is money involved, it is business, every time they have a chance to protect their investment they do it.
"They play with the business, they have the power.
"If I got beat I got beat, I've been getting robbed every time.
"It is just so frustrating, there is so much sacrifice. We put ourselves on the line. "But it is business."
The 23-year-old said he would consider a rematch but called for it to take place in the United States, adding: "I fight anybody but I want to fight in a fair place, I want to fight in America.
"Let's do it in America, I think I deserve a chance.
"Let's go to America and have a fight there - I am a champion."
Burns had surgery on his broken jaw after the contest and Beltran admitted he knew the Scot was struggling throughout the contest.
"He was trying to be defensive," he added.
"I heard he was going 'agh' with the pain.
"He is very brave.
"But I think I did everything I had to do to win the fight.
"It was horrible, he was holding too much.
"Everything was against me, it always is.
"In the people's eyes I am world champion."
Related articles
People who read this story also read