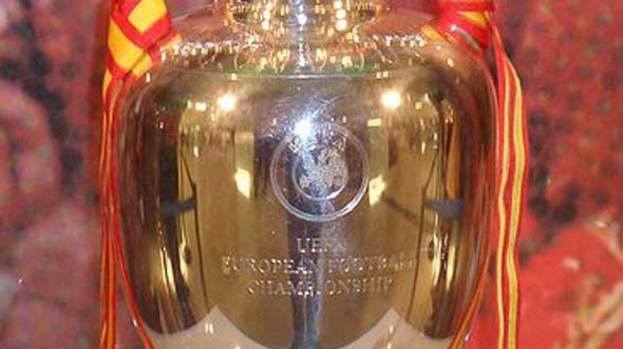 It's the calm before possibly the most perfect of storms.
With hours to go before the tournament kicks off, all 16 teams have a chance to qualify and are full of optimism over their chances.
That of course may quickly change.
In a packed summer of sport, three weeks of Europe's best national teams going head to head truly is a mouth-watering prospect.
Spain are aiming to make history, Germany believe they can beat them to the crown after defeats in 2008 and 2010.
Holland, France, Portugal and of course England would suggest they could come out on top on July 1, while the competitions so-called minnows will draw inspiration from Greece's 2004 triumph.
And while Scotland fans are forced to play the role of frustrated spectators once again, keeping tabs on World Cup 2014 rivals Croatia should prove interesting viewing.
Discussions surrounding hooliganism and racism continue to plague organisers, with Holland ace Mark van Bommel demanding action from UEFA over monkey chants directed at his team-mates in Krakow.
Hopefully when the tournament gets underway in Warsaw tonight, it will be the action on the pitch that everyone wants to talk about.
TOP STORIES
Poland v Greece: Follow live updates from the Euro 2012 Group A match
Follow all the Euro 2012 action from Warsaw in the 5pm Group A match.
Netherlands players suffer racist abuse during public training session
Monkey chants were heard at the Stadion Miejski as the team prepared for the Euro 2012 opener.
Morten Olsen hoping to return to the days of Danish Dynamite at Euro 2012
Neil Paterson discussed Denmark's chances of keeping up their impressive record at the European Championships.
Poland know Greece will be tough
Poland coach Franciszek Smuda has faith in his young team ahead of their opening match. (UEFA.com)
Prandelli curious to see whether Italians will sink or swim
Preparations for the Italian campaign have not been as smooth, as Forza Italian Football's David Schiavone explains.
MUST SEE
**108-Foot Roy Hodgson Erected On English Coast
"Roy the Redeemer" was unveiled this week, a massive statue of the England manager aping the famous Christ sculpture in Brazil (DeadSPIN).
MUST READ
Two teams provide key elements for Russia
Zonal Marking examines Dick Advocaat's bid to replicate Spain's blueprint of bringing a solid club connection to international level.
Which sides are using social media
On the eve of the tournament, Digital-Football.com takes a look at how the tournament international teams are represented on social media.
MUST WATCH
STV's favourite goals from the last 25 years at the European Championships
Here are our favourite Euro goals from the past 25 years
More About Euro 2012
Related articles
People who read this story also read