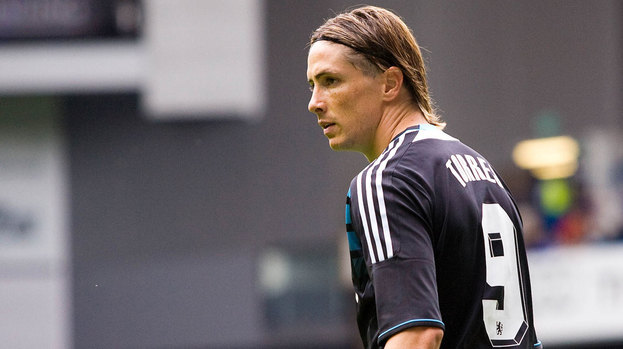 As the Irish head home and the World Champions look back in control, here are five things we learned from Group C's second round.
Spain do have a striker
The debate had raged everywhere you turned in the Spanish media since Sunday's 1-1 draw with Italy. Con o sin nueve (with or without a number nine)? That was the question.
Vicente del Bosque's answer was to go with. Fernando Torres replaced Cesc Fabregas in the only change from the Italy game and he took less than four minutes to atone for his two glaring misses that cost Spain all three points in the first match.
Those wasted chances overshadowed the fact that the Chelsea striker's presence made a huge difference when he came on against the Italians. His speed adds a vertical threat to Spain's play and forces defenders to hold a deeper line, hence allowing more space in front of them for the European champions' posse of talented creative midfielders to work their magic.
Torres has also shown in recent times to be every inch a confidence player. With two goals to his name the danger is clear to the pretenders to the Spanish crown. Their one major deficiency coming into this tournament – the lack of a first-choice striker – may yet prove to be just another strength.
Ireland shot themselves in the foot time and time again.
Spain, in patches, were very good, but Ireland failed to produce any of the qualities that got them to Poland in the first place.
Giovanni Trapattoni's men conceded just eight times in 12 qualifying games but have conceded just shy of that mark in two matches thus far. The Italian lamented afterwards that his side simply "didn't make these mistakes before" and what must be most galling for him is that three of the goals they have conceded to Croatia and Spain have come from corners; one facet of the game they should have an advantage in against otherwise technically superior sides.
That technical superiority also highlighted once again a major failing of all sides native to the British and Irish isles - a simple incapability of retaining possession when under pressure. Spain pressed much better than they had against Italy, but they knew they could do so with confidence as anytime they did so Ireland gifted back the very thing the Spanish most prize – the ball!
Croatia still have the Indian sign over Italy
In the group's other game a fascinating encounter between Croatia and Italy finished all square meaning it is the Croats that maintain their two point advantage going into Monday's final group games.
Italy had by far the better of the first-half and deservedly led through Andrea Pirlo's sumptuous free-kick, but Slaven Bilić must take a lot of credit for how he re-organised his side at the break and allowed his own playmaker, Luka Modric, to have far more influence on the game in the second period.
Modric moved forward to play just behind Nikica Jelavic with goalscorer Mario Mandzukic moving towards the right. This had the dual effect of pushing Modric into more dangerous areas, from where he had two shots on goal just after the break, and also quietening the influence of the previously imperious Pirlo.
The great second-half response from Bilić's men probably shouldn't have surprised the Italians though as they have still to beat Croatia in six attempts, with three defeats and three draws.
Pirlo is class
In Italy's first game he was the creator, in this one the goalscorer as his curling effort flew up and just over the Croatian wall before dipping perfectly into Stipe Pletikosa's net.
However, the problem for the Italians could be their reliance on the 33-year-old. Manager Cesare Prandelli noted afterwards, "There is a drop in our level at the 60th minute. In terms of the two games, at that stage of the game we lack fresh legs."
Pirlo has been excellent in both games but he also needs the younger legs of Claudio Marchisio, Thiago Motta and Ricardo Montolivo to step up and produce in the final half hour of games when his influence starts to wane. Italy could get screwed again.
Italy now find themselves in exactly the same situation they did heading into the final group games on Euro 2004.
Then, as now in the final game between Spain and Croatia, a 2-2 draw between Denmark and Sweden was enough to eliminate the Azzuri no matter what they did against Bulgaria in their final match.
To this day the Italians are convinced they were done by some Scandinavian conspiracy as Antonio Cassano's injury time winner counted for nothing when Mattias Jonson slotted home the Swedes second equaliser of the night late on in Porto.
Kieran Canning is watching the European Championships from the ground. You can follow him on Twitter.
More About Euro 2012
Related articles
People who read this story also read