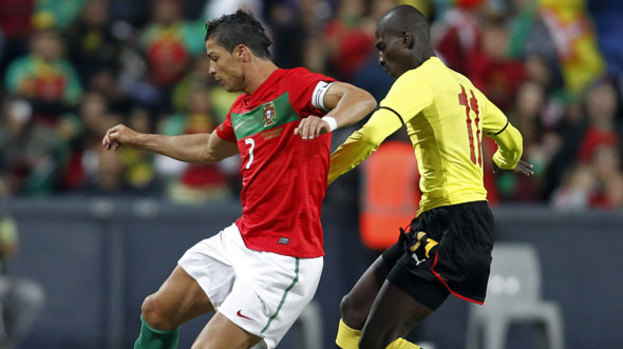 Portugal progressed to the knock out stages of Euro 2012 at the expense of World Cup finalists Holland.
The Dutch were looking to collect their first points of the tournament in a desperate attempt to prevent a humiliating group stage elimination.
Unfortunately, their seemingly half-hearted attempts were unable to do so, and they left Group B pointless. Portugal were in a healthier position following the win over Denmark on Wednesday and remained unchanged with Paulo Bento confident in his starting line up.
Early on, Portugal looked to expose the many weaknesses in Holland's permeable defence, which had been the barrier to their progression in the group, as they pressed high up with their front line of Ronaldo, Nani and Postiga. Other than keeping the ball in Holland's half, it also prevented the Dutch distributing the ball to their front lines containing Sneijder, Robben, van der Vaart and van Persie.
However, the Dutch took the lead through a fine curling finish from Rafael van der Vaart that once again highlighted the deficiency of Portugal's usually conservative midfield adopting a more attacking set up. Holland's two tier attack allowed them to expose the space between Portugal's defence and midfield and van der Vaart made no mistake as Pepe and Bruno Alves backtracked, aware of the potential of a through ball to Huntelaar.
Cristiano Ronaldo looked closer to his domestic best with Real Madrid during the game, in comparison to his previous group stage performances. Portugal's counter attacks always looked convincing and promising when they went through Ronaldo, who was enjoying teasing Gregory van der Wiel throughout the match.
He finished the game with two goals, but there is little evidence to suggest that Portugal are more than a one man team with an unhealthy reliance on their talismanic captain. This will need to be lifted when they reach the quarter finals. Yet, Nani looked in form, almost in synchrony with Ronaldo, other than his horrendous miss from two yards. Helder Postiga did little to suggest he may be beneficial to reducing this reliance with a poor miss of his own having capitalised on a crazy back pass from Gregory van der Wiel.
Ronaldo's first was indicative of his seemingly never ending talent; a perfectly timed run behind the Dutch defence matched by an equally perfect Joao Pereira through ball. The finish was cool, calm and composed and seemingly a sign that he was "in the mood."
The Portuguese looked more confident following the equaliser and the fluidity in their play increased, with the absence of Holland's Mark van Bommel allowing a fast transition between defence and attack, unlike against Germany where Khedira and Schweinsteiger were imposing themselves.
Ronaldo's second was once again a sign of the danger Portugal pose on the counter attack with the pace of Nani and the goal-scorer himself, who could have had a hat trick having hit the uprights twice, on the wings.
A 2-1 win will give Portugal a high degree of confidence heading into the knock out stages. With their wingers and attack minded fullbacks, Fabio Coentrao and Joao Pereira, mixed with the solidity and consistency of their centre backs and regularly conservative midfield, Portugal will be looking to progress to the semi-finals, with a quarter -final match against the Czech Republic.
The question now will arise over fatigue. Bento has started with the same eleven for all three group games and they have four days before their next game. However, team spirit and determination look to be in abundance during these performances and that will presumably mean players will battle through the mental barriers that they face to try and secure their country a Semi Final berth.
Next up, the Czech Republic in Warsaw on Thursday.
You can follow Kieran Buxton on Twitter.
More About Euro 2012
Related articles
People who read this story also read