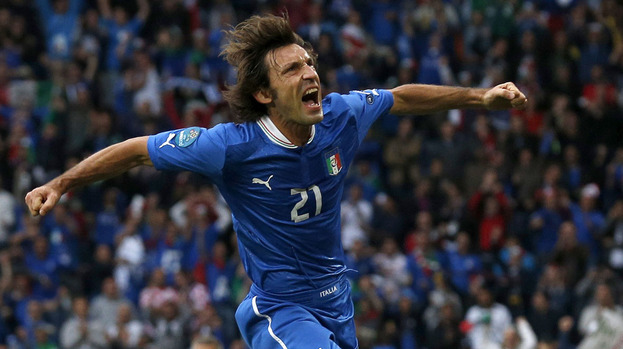 Hello, and welcome to today's Pirlo Talk.
The 33-year-old Juventus midfielder dominated England in a way that appeared almost unfair at times in Kiev.
In the interests of sport he will play future matches against English opposition wearing an eye patch and weighed down by eight stone of sand ballast.
But was his admirable swagger and self-confidence always so well founded? His stunning 'Panenka' penalty turned out rather well last night, but Euro 2012 Talk can reveal this was not his first attempt at the cheeky spot kick chip.
TOP STORIES
Italy put England in a spot of bother once again
Full highlights and match report from the goal-less but entertaining quarter final at Kiev's Olympic Stadium..
'You can't teach players the cool needed for Pirlo's Panenka penalty'
Roy Hodgson laments the nation's penalty shoot-out mental block, and yearns for players with the confidence under pressure of Pirlo. There's a video of that penalty here too, just for good measure.
England win 'would have been an injustice' says Harry Redknapp
The man widely tipped for the England job before Hodgson got the nod says Italy deserved every bit of their Euro 2012 triumph. (The Guardian)
Germany mole is a disgrace, says captain Philipp Lahm
The German camp has a mole problem. Jogi Loew's team news was released by an unknown source hours before their clash with Greece, and the hunt is on to out the double agent. (Daily Telegraph)
MUST READ
Andrea Pirlo – A God amongst men
Sam Viller lays it on the line in his blog – Andrea Pirlo is less of a lion maned midfield maestro, and more an Italiano diety. (Forza Italian Football)
Tactics: Pirlo dictates the game
The traditional tactics love lays on the line just how important Pirlo was to Cesare Prandelli's team. (Zonal Marking)
Arbeloa: 'We can't be brilliant all the time'
Boring boring Spain? Full back Arbeloa pleads that the reigning world and European champions can't be exciting in every single game. (Goal.com)
MUST WATCH
A shoot-out between Barcelona and AC Milan in 2010 gives Andrea Pirlo his first chance at executing the 'Panenka' penalty. How did it go?
More About Euro 2012
Related articles
People who read this story also read