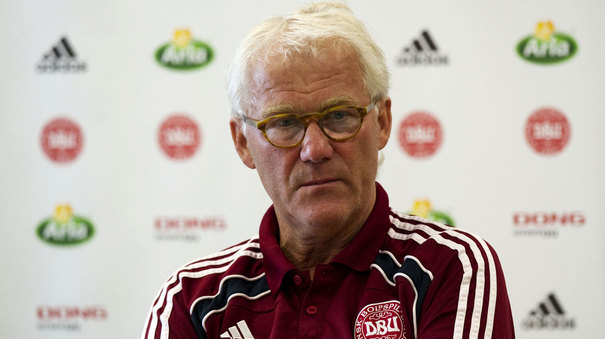 I decided to watch the game in the King's Garden in Copenhagen, on the big screens set up in front of some 10,000 people.
Some were dressed in tangerine, quite clearly coming to support the Dutch. I stood there expecting to see a demolition of the Danish team. If we were lucky we might get a draw. But that wasn't quite what happened.
After 90 minutes Denmark left the pitch victorious, with three points to their name, after the first match in the "group of death". At times they rode their luck, but the reality is that the Danes delivered an exceptional team presentation in closing down the Dutch opportunities, forcing them to shoot from distance.
The stats point to 28 Dutch shots on goal, but only eight of them were on target, compared to the Danes' four. The difference, obviously, was that Denmark scored when the opportunity presented itself.
Indeed, the Dutch started well and dominated in long periods of the game, but rarely succeeded in breaking through the Danes' back four. When they did, Stephan Andersen was there. Of course, the Danes were lucky that the Dutch strike force had an off-day. Van Persie and Robben had a multitude of chances to score, but it wasn't their day.
The dominance of the Dutch in the early stages didn't really dampen the enthusiasm of the Danish fans in the King's Garden. Things were about to get even more fun, as Morten Krohn-Dehli picked up the ball outside the box from a deflected cross on the left. With a wee shimmy, he passed by two defenders and glided into the box to fire home the winner. There was a second of stunned silence as the 10,000 tried to comprehend what they had just seen, before scenes of joy erupted.
From here on in the Danes grew in belief and started to play better. Although they could not close down Sneijder's passing game, they remained resolute and held off the Dutch throughout the rest of the game. They did so by defending well and when they got the ball they would play it from the back. In the second half particularly, they showed they haven't come here just to make up the numbers.
Krohn-Dehli and Stephan Andersen were the two outstanding Danish players. The former scored the only goal of the game and grew in stature. He was in the thick of things, creating two more chances and also backtracking and assisting Simon Poulsen in keeping Robben from doing too much damage. When the Dutch did get through, Andersen was there to save the day. The first big upset of the Euros was a reality.
Now Denmark go into Wednesday's game knowing that if they win against the Portuguese they will have done enough to reach the quarter-finals.
Neil Paterson will be commenting on Denmark throughout the tournament. You can follow him on Twitter
Related articles
People who read this story also read