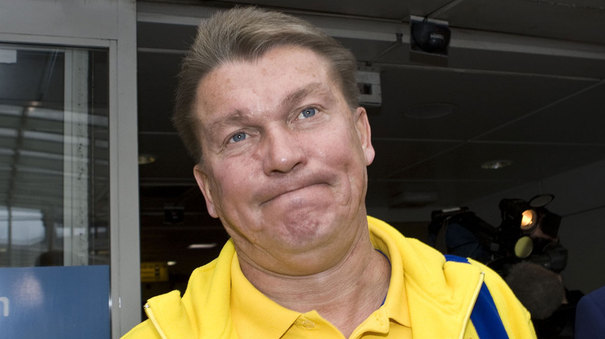 And then there were eight. We're down to the quarter-finals; the nitty-gritty, the business end, where every match is a final (particularly The Final).
If you are suddenly realising that there will be no football on tonight for the first time in ten days, then this is the right place to be.
What better place to start than with wouldn't-want-to-meet-him-on-a-dark-night Ukraine manager, Oleg Blokhin, who suggested that a local journalist "come outside for a man conversation". Quite what that entails, we don't want to know.
Away from Ukrainian justice there was some Ukrainian injustice as the hosts were beaten by a Wayne Rooney header and a distinct lack of goal-line technology. Sweden gave France Les Blues when they beat them 2-0.
Thomas Muller shows his credentials as a goalkeeper, the head of the FAI gives a rousing speech to Irish supporters and Giovanni Trapattoni announces his intention to stay on as Ireland boss.
All that and more in today's Euro 2012 talk.
Top Stories
Goal line technology debate reignites as England defeat Ukraine England progressed from Group D as winners, but the technology debate was re-opened by a ghost-goal.
Zlatan the man as Sweden end their Euro campaign on a high The Swedes picked up their first and last points of the tournament with a 2-0 win over France.
Giovanni Trapattoni signals his intention to stay and reinvent Ireland The Italian would like to rebuild the Irish team after their disappointing display in Poland and Ukraine.
David Preece gives his thoughts on England's progression from Group D As part of his continuing pieces on England's tournament, David Preece looks at counter-attack and goal-line technology.
Vicente Del Bosque hits back at critics of Spain's style of play The Spanish manager has lost patience with people who say he should always play with a striker.
England and Sweden: A tactical analysis Ross County Tactics' John Maxwell looks back at the key battles in England's game with Ukraine.
MUST READ
Oleg Blokhin offers journalist outside for 'man conversation' The Ukrainian boss was none too pleased at criticism of his way of doing things.
The Euro 2012 group stages in pictures The Daily Telegraph host some of the more dramatic and emotive pictures from the first stage of the European Championships. (Daily Telegraph)
MUST WATCH
John Delaney gives a speech to awaiting Irish fans The CEO of the FAI gives his opinion on the tournament (warning, contains some slightly blue language).
Related articles
People who read this story also read