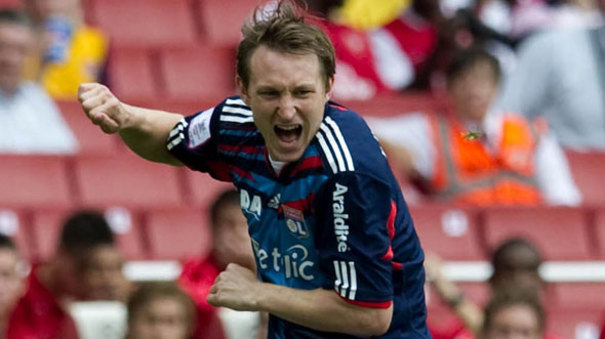 "We're unbeatable when it doesn't matter."
A phrase that sums up the Swedish reaction to their stunning win on Tuesday evening, that brought an end to a French run of 23-games unbeaten, and has made many ask: 'Why couldn't Sweden do that against Ukraine?'
Maybe it was the pressure of expectation. As the minutes ticked down to that opening kick-off against the hosts in Kyiv, thoughts had turned from having no chance in a group that also included England and France, to "what if?"
What if a good start against Ukraine and a point against England can set Sweden on the way to a quarter final place? Only it didn't work out like that.
When the final match commenced, Sweden had already booked their return flight back to Stockholm, and France were looking a tidy bet to win the whole tournament. There was never meant to be a chance of a yellow and blue victory. Many Swedes had dispensed with watching the game in a group with nothing riding on the result. Parties for the first two group games had been common while bars and restaurants had been full to bursting. This was for nothing but pride.
Erik Hamren's team selection had caused queries. Rightly included was Olof Mellberg, marking his final appearance for his country after a man-of-the-match performance against England. Anders Svensson was included, with many calling for him to be replaced by Pontus Wernbloom, the one player Sweden have who can act like a destroyer in the middle. Surely the focus should have been towards the World Cup qualifiers that arrive in September?
Yet Hamren's selection was vindicated as Svensson again delivered a performance belying his 35-years. So consistent for Elfsborg this season, the team lead the Swedish Allsvenskan by some way, with Svensson showing no sign of calling time on his career anytime soon.
After riding their luck during the early stages of the match, Sweden began to come into the game more as it progressed. Again the team looked to play the ball through the midfield and Zlatan Ibrahimovic was again impressive. He capped his performance off with a goal of real quality when he volleyed in from 12-yards keeping his eye on the ball and smashing it low into the corner. This has been the best performance at a major tournament for the Swedish captain who has shown real maturity and the ability to integrate into a squad that badly needs his world class ability.
The defence, who ultimately take the blame for the early elimination after a collective horror show in that opening defeat to Ukraine, held firm against a French forward line boasting the talents of Franck Ribery, Hatem Ben Arfa and Karim Benzema. The majestic Mellberg led the way with a series of blocks and measured tackles that showed he will be an exceptionally difficult talent to replace in the future.
Andreas Granqvist, who played the final two games at right-back, will surely form a centre-back partnership with Jonas Olsson and youngsters such as Alex Milosevic, who will likely earn a big move abroad from AIK soon, will look for inclusion in the national squad.
Yet the biggest problem that faces Sweden is at right-back. The talent in the country is solely lacking in that position where a fully fit Mikael Lustig is a certainty to start. Beyond Lustig there are only fill-in players, such as Granqvist and Seb Larsson, who can be called upon if needed.
Euro 2012 hasn't quite been a tournament to forget for Sweden; only the period before the France game. The victory in the final game gives confidence for a qualifying campaign that pits the Swedes against Germany and Ireland before the 2014 tournament in Brazil. By then, hopefully with qualification achieved, Hamren will have the defence sorted and the Swedes will play every game as though there is no pressure on them.
That's the Swedish dream at least.
You can follow Andy Hudson on Twitter.
Related articles
People who read this story also read