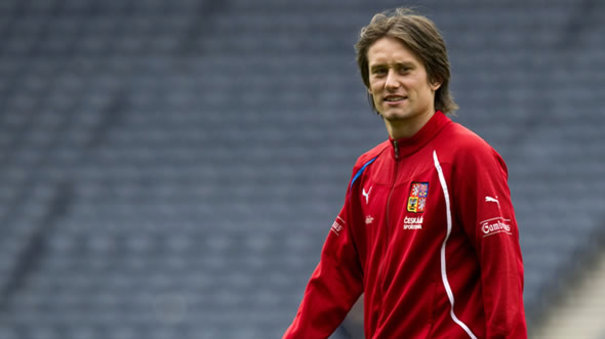 There is a popular saying within British football that notes the fact that if you do not shoot, you will not score.
This wise proverb didn't seem to reach the Czech Republic in time for their quarter-final match against Portugal. Or if it did, then they certainly weren't able to implement it in what proved to be their final match of Euro 2012.
On a day where the Czech side defended admirably and Petr Cech performed particularly well, it was the lack of attacking prowess within the ranks that meant they never even looked like progressing to the semi-finals.
Michal Bilek's side recorded just two shots in 90 minutes against a Portugal side who chalked up 19, and when it is noted that neither of the Czech's efforts where on target, this statistic becomes increasingly frustrating.
The general ethos of the Czech side at the start of their quarter-final tie was predictably aimed at soaking up pressure from their opponents before setting off on counter-attacking moves and trying to slow the game down through defensive players Plasil and Hubschmann.
This tactic however, relies on being able to convert defence into attack and break quickly, and whilst the Czechs certainly have the ability to implement this plan, they did not manage to do so against Portugal.
In this respect, the absence of Tomas Rosicky was heavily felt. The Arsenal forward missed the game through injury and his replacement Darida did not display the creative ability to create that chance out of nothing which Rosicky has previously displayed at international level.
Furthermore, the game was constantly played at the fast pace the Portuguese desired. The Czech side did not manage to get a foot on the ball and slow the tempo, and this reduced the impact of wingmen Vaclac Pilar and Petr Jirocek sizeably. They didn't receive the service they have been supplied with in the previous two matches. With Baros routinely quiet up front too, there was little hope of a creative Czech burst.
Nevertheless, the Czech team did defend admirably and, for the first 15 minutes in particular, Gebre Selassie did well to keep Cristiano Ronaldo quiet. When Ronaldo is on form however, there is not much even a brick wall could do to prevent him from netting, and despite the best efforts of a revitalised Petr Cech, the Madrid talisman broke through eventually.
Even though Ronaldo did get his goal, positives can be taken from how long the Czech team managed to keep Portugal out whilst constantly under the cosh, and they have shown vast improvements since that opening day disaster against Russia.
For the future, Czech Republic must locate a goal scoring striker and find a way to provide the kind of flowing football the likes of Nedved and Koller took part in during the Czech's Euro 2004 campaign.
If they can increase their attacking proficiency and maintain the solid defensive style they developed as the Euros progressed, then there is still hope the nation could yet be a force to be reckoned with.
You can follow Stuart Kenny on Twitter.
Related articles
People who read this story also read