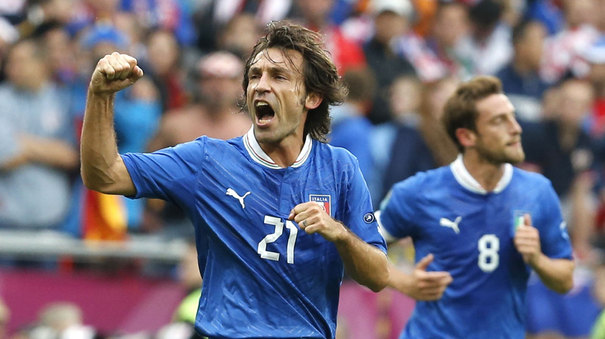 'I leoni siamo noi' – 'The Lions are ours' bellowed Italian newspaper Tuttosport on Monday morning, while La Gazzetta dello Sport shouted 'l'Italia che vince. E Andiamo!' - 'An Italy who win. Let's go!' as the country woke up to the realisation they are in the semi-finals of Euro 2012.
A dominant performance from the Azzurri, with Andrea Pirlo the star of the show, saw Cesare Prandelli's men completely overpower Roy Hodgson's England in Kiev. However, a lack of composure in front of goal meant Italy had to rely on penalty kicks to seal their place in the last four.
No one can deny that La Nazionale deserved to advance to the next round; bar a 15 minute flurry in the first half, England rarely threatened. England were Pinned back by some majestic possession play, orchestrated by the stately Pirlo.
He is labelled a metronome and fans of Italian football clearly recognise his genius, but for some he is a has-been, over the hill and doesn't 'have the legs' anymore. Oh how he proved them all wrong.
Italy executed 815 passes with Pirlo completing 114 of 131 he attempted. To put this into context, England managed just 320 passes with full-back Ashley Cole attempting the most passes for England, completing 34 of the 44 tried.
Another telling statistic was the fact that England's most successful passing combination was between Joe Hart and Andy Carroll, with just 18 completed throughout the whole game, and Carroll only entered the field after 60 minutes. In comparison, Italy's goalkeeper Gianluigi Buffon completed just 10 passes during the whole game.
However, despite this authority and power over their opponents the Azzurri struggled to find the finishing touch. Mario Balotelli, Antonio Nocerino and Riccardo Montolivo all spurned excellent chances, while Daniele De Rossi also struck the post early on, as well as scuffing a shot from about six yards.
The inability of Italy to score in normal time can, in part, be explained by the tactical set-up of Roy Hodgson's team. When they were not in possession, England dropped back and formed two banks of four, rigid in outlook and squeezing any space carved out by Italian forwards.
Prandelli thus brought on Alessandro Diamanti in an effort to find a way past Joleon Lescott, John Terry and co. But the Bologna player looked dangerous and struck the post with an ambitious cross-come-shot. Nevertheless, his moment would arrive later on in the match.
As extra-time ticked away Italy did put the ball in the back of the net, only for Nocerino's effort to be correctly ruled out of offside. The tension was rising as Italy tried, tried and tried again to find a way past Hart, but in the end they had to settle for a penalty shootout.
Balotelli and Steven Gerrard slotted home, then Riccardo Montolivo sent the ball wide allowing Wayne Rooney to put the English ahead. Next up was Andrea Pirlo, "At the moment I saw the goalkeeper making strange movements, so I waited for him to move and hit it like that," he said after the match.
"It was easier for me to chip it at that stage. Maybe my effort put some pressure on England and in fact Ashley Young missed the next one after me.
"I didn't fear an upset, as England barely created anything, just tried to defend the result and drag us to penalties. We stayed in control and in the end won out."
Most of you have probably seen the penalty; a master class in technique, psychology and nonchalance, sending Hart on a dive to nowhere as the ball floated delightfully into the centre of the goal.
As the Juventus man said, Young missed straight after, and so did Ashley Cole with Nocerino dispatching his penalty perfectly in between. Finally Diamanti had his moment.
The former West Ham forward coolly slotted the ball home sending a neurotic nation into rapture. Italy were into the semi-finals.
As the sound of car horns littered the many cities and towns in the peninsula Hodgson claimed his side were 'heroic'. I would say more tamed by the lion tamer that is Andrea Pirlo.
David Schiavone is the editor of Forza Italian Football. You can follow them on Twitter.
Related articles