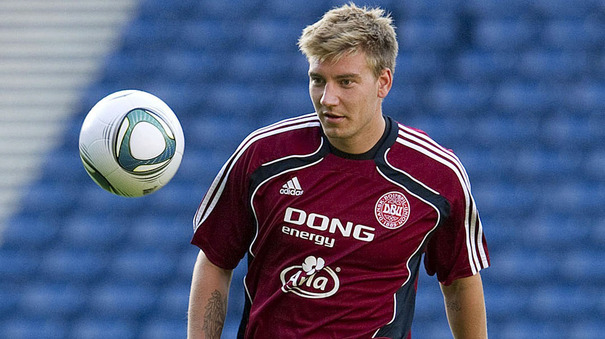 Nicklas Bendtner has been fined €100,000 and suspended for one international match after displaying a sponsor logo on his underpants.
The Denmark star celebrated one of his goals against Portugal by lifting his top, lowering his shorts and exposing a pair of green boxer shorts with the logo of a betting firm.
A statement on the UEFA site read: "Following the opening of disciplinary proceedings concerning the improper conduct of Denmark's Nicklas Bendtner at the UEFA EURO 2012 Group B match against Portugal in Lviv on Wednesday 13 June, the UEFA Control and Disciplinary Body has decided to suspend the player for one competitive fixture.
"This suspension applies to the next 2014 FIFA World Cup match, including the qualifying competition, for which Bendtner is eligible. The player has also been fined €100,000. An appeal can be lodged against this decision within three days of the dispatch of the full written decision."
Bendtner himself has denied any knowledge of the rule-break, saying: ""It is just a pair of lucky boxer shorts that I used in the first game as well and have used before the tournament.
"I didn't know that I was breaking any rules but I am aware of that now."
The striker fell foul of Rule 4, which states "players must not reveal undergarments showing slogans or advertising... A player removing his jersey or shirt to reveal slogans or advertising will be sanctioned by the competition organiser."
Related articles
People who read this story also read