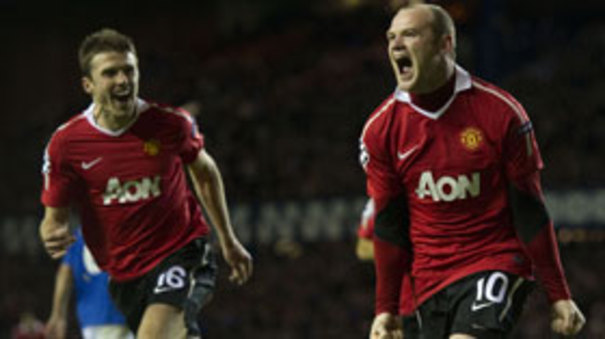 England finished top of their group with a not entirely convincing win over Ukraine.
While England looked comfortable defending their eighteen-yard box for the duration of the match, they rarely looked technically good enough to beat Ukraine. It took a goal-keeping mistake from a deep cross to get the goal.
There were key battles on England's left-hand side of the pitch, with both sides' full-backs and wide midfielders having an important part to play in the pattern of the match, especially in the first half. With England scoring a goal early in the second half, there was no obvious tactical rhythm, which suited England's counter-attacking approach.
Rooney v Tymoschuk
With plenty media coverage being focused on Wayne Rooney's prospective inclusion in the match against Ukraine, it is pertinent to first discuss his contribution in the match. Rooney has the talent to be the key player in almost any team, but his ability as an all-round international class forward naturally brings the focus of England's play on him.
However, this was Rooney's first competitive start in any form of association football in over a month. It is perhaps not surprising that he did not have his most inspirational match, with his first touch often letting him down when trying to retain possession for his team higher up the pitch.
From a tactical perspective, Ukraine's 4-1-3-2 against England's 4-4-1-1 meant that Ukraine's holding midfielder, Anatoliy Tymoschuk, matched up against Rooney in front of Ukraine's defence. Tymoschuk won the physical battle between the two when they met on the pitch. Ukraine were aware of Rooney being England's biggest threat from open play, so one of Ukraine's centre-backs would occasionally help double-mark Rooney. Yaroslav Rakitskiy, in particular, could come out of defence to double-mark, knowing that England did not have much of a threat to run behind the defence.
In order for Rooney to have a bigger influence on the match, he had to try to get away from Tymoschuk's position at the very least. Rooney occasionally dropped very deep to collect and spray the ball to the flanks, which, incidentally, co-incided with England's best spells of possession of the football.
For one moment in the match at the very least, England looked competent in possession and dangerous in open play. On around twenty-seven minutes, Rooney dropped deep off Tymoschuck to retain possession for England, before combining with the midfield who eventually passed the ball back to John Terry. Terry's long diagonal ball to Ashley Young on the left flank was followed by Young's in-swinging cross to Rooney, whose mis-timed header resulted in a wasted opportunity. England's other better attacking moves also came from switches in play from right to left, with Gerrard keen to find Young and Cole with long-range passes.
Gusev v Young; Yarmolenko v Cole
However, the first half of the match was not all in England's favour. In fact, Ukraine dominated possession and looked the better team, which was largely due to right-back Oleg Gusev's contribution going forward.
Ukraine's best play involved combinations from their deeper-lying forward Marko Devic, their inverted wingers (Yevhen Konoplayanka as a right-footed player on the left of midfield; left-footer Yarmolenko on the right) and Gusev. Yarmolenko in particular was able to play-make, between the lines of England's midfield and attack, because Gusev's high position on the right flank would distract Ashley Cole. With Ashley Young only wanting to track back so far (which turned out to be not deep enough to assist Cole, but too deep to be a danger to Ukraine on the counter-attack), Cole was left with both Gusiev and Yarmolenko to deal with.
Second Half
This writer thought that the key moments in the game would have arrived from England's left-hand side of the pitch, either from a cross by Young to Rooney or Wellbeck (facilitated by Cole's over-lapping), or by Ukraine's right-back Gusev stretching the England defence.
It turned out that the only goal of the match arrived from the other flank. Gerrard found himself with possession of the ball after a cleared corner kick, only three minutes after start of the second half. It was Yarmolenko who marked him in open play immediately following the corner. Gerrard beat Yarmolenko to put in a dangerous, dipping ball that angled across the six yard box. The ball had deflected and bounced just in front of the Ukraine goal-keeper, who only got a right-glove to it. Rooney was un-marked at the far post to calmly touch the ball over the line.
From that point onwards, there was not much of a pattern to the match. Ukraine took the ball forward from midfield at every opportunity, but a slightly more direct approach resulted in a more frequent changing over of possession, which suited England's defensive game-plan. England happily defended with two banks of four, starting from their own eighteen-yard line. On most occasions when Ukraine looked like they had a counter-attack, England's full-backs Ashley Cole and Glen Johnson were excellent in getting back into position for the transition to Ukraine's attack.
Ukraine's best opportunity in the match arrived on the one occasion that England's full-backs could not get back to defend in time. Cole and Johnson were caught higher up the pitch, from an accurate ball from Ukraine's left-back position into the inside-left channel towards centre-forward Artem Milevskiy. Milevskiy found himself goal-side of John Terry and played a ball behind Lescott for Devic. Hart saved Devic's shot, but the deflection looped towards the goal-line. Terry recovered to clear the ball, but the ball had crossed the goal-line, without the referee calling for a goal. Milevskiy was off-side in the lead up to the goal.
Conclusion
Otherwise, Ukraine never looked likely to score. England defended excellently, with countless blocks by defenders from shots outside the box. England looked the more likely team to score on the break, with Ukraine's defenders taking chances in pushing very high up the pitch. Ukraine later changed shape slightly to a 4-2-3-1, with Yarmolenko playing behind substitute Andriy Shevchenko, but in truth little changed. Ukraine could not get behind England's defence and their shooting from outside the box was not accurate enough.
England finished the group stage top of their group and will face Italy in the quarter-finals. England's deep defending is probably without peer, at least in comparison with the other Euro '12 quarter-finalists. With a reactive gameplan, pace on the flanks, a threat at set-pieces and a genuine international class forward to yet find his form, Roy Hodgson might do what his recent predecessors couldn't, by reaching a semi-final of a major international tournament.
There are 'better' teams in the tournament than England, from a technical perspective, but organisation goes a long way in knock-out football.
John Maxwell regularly writes on his own exceptional Ross County Tactics. You can follow him on Twitter.
Related articles
People who read this story also read