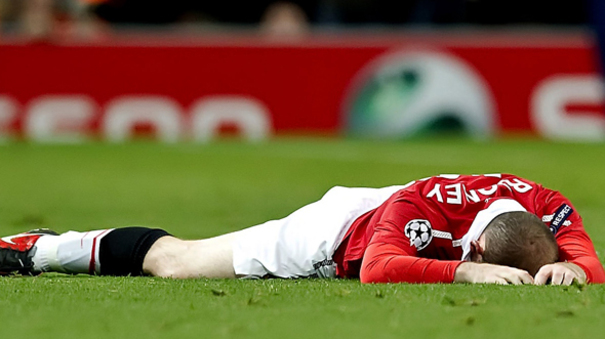 As this will be final word on England's Euro 2012 campaign, I thought I'd give myself time to digest the events of Sunday night and resist relying on an instinctive knee-jerk reaction to form the basis of what I have to say.
It's too easy to get drawn into the negativity that our usual penalty shoot-out defeat brings but for once, England's failure at a major tournament is neither glorious nor an embarrassment, but wholly acceptable.
Sat in a friend's living room watching the game, along with the understandable disappointment of exiting the tournament, the overriding feeling amongst us all was of a satisfied acceptance. We were on the bus and this was our stop.
Not since Euro '96 has a tournament ended on such notes of positivity and praise for England and as bland as that may seem, it's true. I know we want to sensationalize every result as a life and death situation but there's actually very little for the doom and gloom merchants to moan about.
There have been no rifts in the camp, no WAGS to divert attention away from the job in hand and not even the hint of a red-mist-induced sending off to give us a pantomime villain to blame. So, just what will the papers write about now? Expect some desperate scrambling around in the coming days to dig up something which could resemble a scandalous headline.
If I'm going to pick over the bones of the carcass which was once fleshed out with the hopes of a nation, there is one gripe that I have: Wayne Rooney. Wayne was supposed to make the difference upon his return to the team. He was our Pirlo, our Ronaldo, or as Roy Hodgson exaggeratedly put, our Pele. As it turns out, he ended up being our Fernando Torres, our Bosko Balaban, our Bebe.
Despite being heralded as one the person who could win any game with the flick of a boot or a flash of his newly re-turfed crown, Rooney was a major let down. Strikers may live and die by their goalscoring record and yes, he did score the winner against Ukraine, but that apart, his overall contribution to his two games was negligible.
His was a vital role in the way England set up, especially in the Italy match, but his consistent inability to be able to do his defensive duties and keep possession of the ball meant we England were constantly under pressure. His fitness, or lack of it, was noticeable in the first game as he failed to pull away from defenders he had initially gained two yards advantage over. In the past he'd have powered away from them on his way to goal but perhaps my previous statement about how a happy Wayne Rooney is a better Wayne Rooney were premature.
It's been said that a Rooney firing on all cylinders is the same one who runs the risk of a red card, because his true fiery nature contributes to what makes him so great. Take that away from him, they said, and he wouldn't be the same player. Well, whether he was Mr Happy or Mr Angry, the fact of the matter was he became Mr Anonymous during the exact type of game where he's needed most.
It's wholly acceptable to question his billing as a truly world class player after another poor showing at a major tournament and it makes me wonder if he actually ever was. A world class player has the ability to drag his team through to the winning line, and when you think of the influential performances that players such as Beckham, Ronaldo and even Steven Gerrard have produced in the past, I find it hard to remember Rooney doing the same.
Individual pieces of brilliance are what we expect from Rooney, rather than the stirring 90 minute displays that we associate with the greats. Sometimes, the measure of a player isn't how high his best level of performance is, it's how good his poor performances, are and that's where Rooney differs from his peers.
Rooney's performance aside, this defeat was no disgrace. In fact, there were so many good things to come from Euro 2012 that it's difficult for me to see it as a failure; so much so that even the negatives have made a positive impact on England's fortunes.
I truly believe there were two things that happened prior to the tournament that lifted England above the stagnation of previous campaigns. The main one was the F.A. appointing Roy Hodgson, an act which the Football Association should be roundly applauded for. Discuss his tactics as much as you like but at least there was a method in the way we played, not just the usual 'let's go out there and see how play develops' style we end up with.
Secondly, the loss of Gareth Barry and Frank Lampard so close to the start of the Euro's seemed a big loss at the time but proved to be a blessing in disguise. Just look at the Ukraine game when we were one nil to the good and under a little bit of pressure. Now, try and imagine that scenario under Fabio Capello, with a fully fit squad to choose from, and only then do you realise what a difference those injuries made to our team's dynamic.
A dearth a central midfielders meant that instead of making a defensively minded substitution, trying to hang on to the lead and therefore inviting more pressure, which Capello would've done, Roy Hodgson was proactive and brought on Theo Walcott and Alex Oxlade-Chamberlain, two speedy ball carriers, to try and move the play further away from their goal. It was a much more positive ploy from Roy and it's decisions like that which have assured he retained his own head on the back pages of the newspapers, rather than having it replaced by a vegetable.
Along with the manager's own, it's the building and restoration of reputations that has been the theme throughout the past few weeks. Steven Gerrard finally threw off the restraints and delivered the kind of commanding performances that he always produces at club level for Liverpool. Sharing the midfield with the selfless Parker rather than the equally ball-demanding Lampard, let Gerrard dictate more and play his natural game instead of the subdued performances an England shirt induced. It got to a point where I started questioning if he was actually allergic to wearing Umbro shirts.
In regards to Gerrard, John Terry also played his part in his revival, returning to simply being the wonderful never-say-die defender he is. This allowed Gerrard to captain as he saw fit, without the overbearing Terry trying to share some of the leadership limelight. Terry's performance's and the attitude he has shown has repaired so much of his damaged reputation that public opinion now considers him to be on the same level as that a Nazi war criminal. Still despised by many but it's huge improvement on how he was thought of prior to this tournament, you'll agree.
What of Andy Carroll? Six weeks ago, you never would've thought he would become such a popular choice as England's first choice striker, but that's what has happened. This newfound popularity can only do wonders for his confidence and it wouldn't surprise me if he went on to have a prolific season at Liverpool off the back of these championships. During the first twenty five minutes, crosses rained into the Italian box without the presence of Carroll, and we paid the price for his omission as Wellbeck worked hard but offered little.
Looking further into the future, this tournament could serve to be an important building block towards the next World Cup in Brazil and, providing we qualify for it, the current players who could be present there could not be better prepared. For once England will have a group of young players with big stage experience but without the baggage of failure and disappointment that has haunted the so called golden generation for a decade.
Far from being the death of English football, the passing of a group of players such as Beckham, Terry, and Lampard will prove to be the catalyst for future success.
You can follow David Preece on Twitter.
Related articles
People who read this story also read