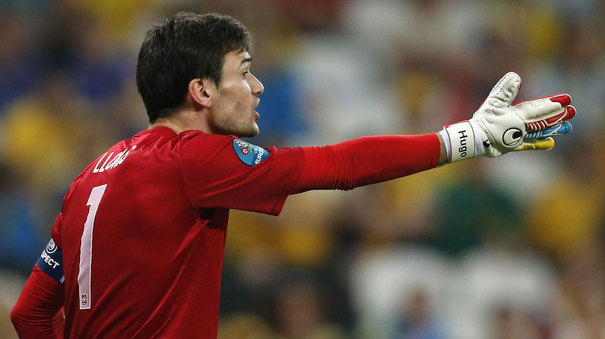 The last time France played Ukraine in Ukraine, Les Bleus ran out 4-1 winners with several notable performances from Laurent Blanc's men.
This match may not have had as many goals, but France were still able to place one foot in the quarter-finals with a 2-0 victory on the night.
The referee took the early decision to suspend play due to adverse weather conditions. This became evident when lightning overhead added extra bass to La Marseillaise. Blanc later admitted that he had wanted the match halted altogether, fearing the rain and overall conditions would affect his plans for the match.
Laurent Blanc's team selection was a big topic of discussion before the match with the inclusion of Jeremy Menez and Gael Clichy at the expense of experienced Premier League duo Florent Malouda and Patrice Evra. The choices were completely justified with Menez creating a number of chances and scoring the opening goal of the game.
Yohan Cabaye's performance in midfield was once again a highlight, netting himself France's second in the process. Against England, it was clear that France's possession and distribution of the ball was a strong point but that the side were not taking the chances presented to them. This threatened to be a problem once again with France creating opportunities but failing to find the back of the net.
It has to be said that Jeremy Menez, whose overall performance was a highlight, could not convert a number of relatively simple chances. At times, it looked like France were trying too hard for the picture-perfect goal rather than taking shots as they arise. Take nothing away from Blanc's men, though, this was a fine-tuned performance based on both attack and possession. France's victory put them in a strong position to qualify as leaders of Group D.
Sought-after Rennes midfielder Yann M'Vila featured from the bench in the second half in this fixture, ensuring some significant playing time in his return from injury. He was fit enough to make the bench against England but looked fairly sharp in possession against Ukraine in the small part he did play in the match. He should feature against Sweden in the final group match.
Before the tournament, Lyon midfielder Kim Kallstrom had some choice words to say about the notion of club-colleague Hugo Lloris as captain of France. Kallstrom hinted that Lloris didn't have the motivational technique to be an effective leader in the dressing room.
Sweden may be out of the competition but it's likely they will want to go out with a bang, and what better way than defeating France, the group favourites? Kallstrom will know a number of the French players from Ligue 1, against whom the mind-games have arguably started. He'll look to put this knowledge to good use in the final group encounter.
Make no mistakes, however, France are now on a 23-match unbeaten run and likely to make it 24 against Sweden.
Jason Milligan writes for French Football Weekly. You can follow him on Twitter.
Related articles
People who read this story also read