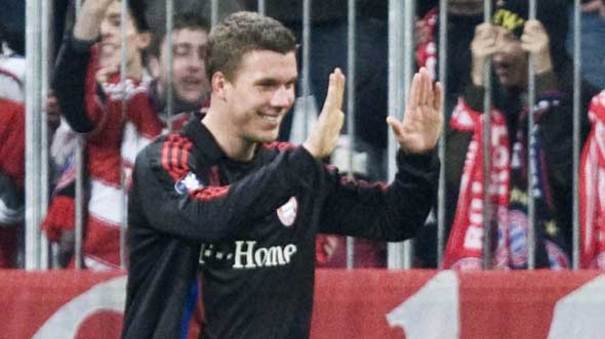 Two years on since third place at the 2010 World Cup and four years since an unfortunate second place finish in Euro 2008 would be enough to drive any nation to the point of paranoia.
Yet this Germany side look as though they have learned from their mistakes and seem stronger than ever.
In goals we have the Bayern Munich number one, Manuel Neuer, a veteran at 26 years old who already lays claim to being the second most expensive goalkeeper within the sport's history. Since his arrival at the Munich club last July, Neuer's performances have been everything one would expect from a 'keeper with such a price tag, with the most notable achievements coming in the Champions League semi-final shoot-out against Real Madrid as well as beating the club's clean sheet record originally held by Oliver Kahn.
Ever-present for Germany in the Euro 2012 qualification campaign, Neuer has cemented himself in not only the goalkeeper position but as a big game player for die Mannschaft as well as a necessity for his country's success.
Across the German backline we see a discontented puzzle of call-ups and selections that may well expose any fragility and potential weakness for Germany. At a glance, the team picks itself: Philipp Lahm, captain of club and country on the right, Marcel Schmelzer, a phenomenon for Dortmund in their past two Bundesliga winning seasons, on the left, with Badstuber and Hummels partnering each other in the middle. Yet, in reality, such a system has yet to work.
Schmelzer's form for the national team has been something of a mystery considering his performances for Dortmund and the relative similarities between the style of play at his club and his country. Similarly, Hummels' last game against Switzerland was something of a disaster, especially when compared to the record-breaking defensive standard he's used to performing at alongside Schmelzer for Dortmund.
Joachim Loew – a man who always values his players' performances under him infinitely higher than their club form – is more than likely to put Lahm on the left with Badstuber accompanying Arsenal's Per Mertesacker and Jerome Boateng on the right-hand side, despite being a natural central defender. The Bayern full back will offer pace and attacking options as well as the ability to fill in alongside the two centre backs, while Lahm pushes further up the field against lesser sides.
Despite the world-class ability between the posts, or a Lahm-led defence, the real jewel to Germans' crown is their midfield. Quick, direct, clinical and ever so attractive to the neutral fan, Germany's reinvention from brutish physicality to smart technical ability is best epitomised through the five men across this midfield.
From the back, you have the winger turned deep-lying playmaker, Bastian Schweinsteiger, alongside the galactico steam engine, Sami Khedira. Both players offer a defensive cover to the vulnerable backline, but perhaps more importantly, a competent pair of midfielders who can pass as well as they can tackle. The majority of Germany's play is based around containing opposition play in their own half and the ability to close down, dispossess and begin a new run of play is pivotal to the German model.
In front of the two holding midfielders lie the forward three of Mueller, Podolski and Ozil who will all play off the striker and provide the majority of Germany's inspiration and imagination.
In Mesut Ozil, Germany possess a playmaker with infinite strings to his bow. The Madrid-based midfielder famously provided more assists than Iniesta and Xavi put together in the past Spanish season and will be hoping to carry that form in to the coming European Championships. His role will likely be directly behind the striker in the middle of the park – or "the hole" as many pundits prefer to name it – with an emphasis on wandering throughout the final third and offering link-up play to the two wide forwards as well as the main striker.
Similarly, Lukas Podolski and Thomas Mueller on either wing offer width as well as an alternative goal threat. Mueller – the joint winner of the 2010 World Cup Golden Boot – has had a relatively poor season for Bayern Munich and is another example of Loew offering redemption to players who have served him well in the past.
At only 22 years old, the Munich midfielder still has his entire career in front of him yet walks in to his second international tournament for Germany as a key player. In spite of that, his infant, yet impressive time with Germany is easily outdone in the goal department by Arsenal-bound Podolski's 43 goals in 97 games for Germany.
The Polish-born inside forward's consistency and devotion to the national side makes him the most experienced member of the squad despite only being 27 years old, and with three goals and three assists in ten matches during the qualification round, equally important.
Both players enjoy staying wide with an emphasis on cutting inside and enjoying the odd assault on goal, although the most important attribute that both players possess is their ability to thrive in any position across the front line. In Ozil, Mueller and Podolski, Loew possesses three attacking midfielders who blur the line between midfielder and striker, and offer deadly attacking football like no other side in the competition.
Like the defence, Germany's top spot up front offers more questions than answers when considering all the options. In Mario Gomez and Miroslav Klose, Loew is faced with not only the problem of choosing between two fantastic strikers, but between his own system and what seems like an obvious decision in the face of such incredible form.
On paper, there isn't much of a comparison. Mario Gomez has scored 28 goals to Miroslav Klose's 13, for a better club in a better league. Not to mention out-scoring all but Lionel Messi in this season's Champions League with 13 goals in 14 games as his side marched to the final. Yet Loew is likely to stick with Klose if fit.
The reason behind this is the striker's enigma-like reputation in which his entire professional career has been judged upon his ability and performances for Germany, rather than anything he's ever done at club level, a fact that sits dear to Loew's general selection process. With 63 goals in 116 caps for Germany, one could label Klose a fantastic striker for Germany. With 21 assists to accompany those goals, we can call him a vital striker for Germany.
From goalkeeper to goalscorers, Germany possess an embarrassment of riches which match any team and a quick, attacking style of play that has yet to fail in overcoming the opposition. Whether this side will go on to claim the trophy is yet to be seen, but the progress this side made since 2008 and 2010 should put them in good stead to be contending for some silverware this time around.
Stefan Bienkowski is the editor of Bundesliga Football. You can also follow him on Twitter.
Related articles
People who read this story also read